Dernière mise à jour : juin 6th, 2019 at 06:03
Or, si le film de cinéma n'est pas encore mourant, il se fige doucement en une forme muséale. Quand les jeunes comprendront finalement cette situation, il n'est pas impossible d'imaginer que Cannes redevienne dans l'avenir la petite ville tranquille du Sud de la France qu'elle était auparavant, ce qui sera peut être pour le mieux.
Au sein du Marché du Film, le pavillon du Short Film Corner offre aux réalisateurs de courts-métrages un espace d'accueil convivial fait spécialement pour eux et pour leurs films. Dès l'ouverture du Marché, c'est la course à l'affichage des posters, les quelques espaces libres étant rapidement recouverts. Tsunami avec son "Golden Wedding", et VJ avec "The Pit & The Kid" sont parmi les premiers arrivés, et déjà ils ont du mal à se trouver des emplacements. Dans quelques jours, plusieurs épaisseurs de posters seront superposées.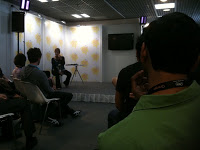 Les blogs de Sydney Levine :
– http://blogs.IndieWire.com/SydneyLevine (en anglais) ;
– http://sydneysbuzz.blogspot.com (en anglais).
Le site officiel du Short Film Corner : http://www.shortfilmcorner.com.
If, indeed, the "cinema" film isn't dying yet, it is slowly crystallizing in a museal form. In a near future, when young people will finally understand that, it is likely that Cannes might become again the nice, quiet city from the South of France that she used to be, and perhaps that will be all the better for the city.
Within the Film Market, the Short Film Corner pavillion offers the short films directors a welcoming area for themselves and their movies. Right after the Market opens, the race for poster displaying begins; the few available spots are quickly covered. Tsunami with his "Golden Wedding" and VJ with "The Pit & The Kid" are amongst the first arrived, and they're already struggling to find themselves a spot. In a few days, there are going to be several layers of posters on top of each other.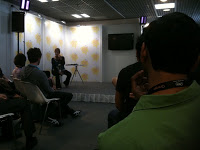 Sydney Levine's blog:
– http://blogs.IndieWire.com/SydneyLevine ;
– http://sydneysbuzz.blogspot.com.
Short Film Corner 2010 official website: http://www.shortfilmcorner.com.