Dernière mise à jour : juin 6th, 2015 at 12:13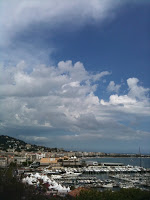 Voir le Palais depuis le Musée de la Castre remet un peu le Festival à sa place : ce qui frappe, c'est qu'il n'est pas si grand, finalement… Et les nuages nous rappellent qu'à Cannes, comme ailleurs, la nature peut à tout moment reprendre ses droits. Une vague suffirait à gâcher la fête.
To see the Palais from The Castre Museum puts the Festival in perspective: it doesn't seem that big, after all… And the clouds reminds us that, in Cannes just like anywhere else, Nature can dispose of us at any time. One wave would suffice to wreck the party.
Première montée des marches ce soir, à l'occasion de la projection en Sélection Officielle du film Chongqing Blues de Wang Xiaoshuai. De même que pour Nuits d'ivresse printanières de Lou Ye l'an dernier, on sent qu'il s'agit là d'un film qui remplit en partie la case "Chine" de la Sélection. Pas mauvais, mais pas révolutionnaire non plus, le film intrigue dans sa première moitié mais finit par traîner en longueur son histoire de relation père-fils ratée et d'enquête par le premier sur les causes du décès brutal du second. Un film comme une mise en bouche pour le reste de la Sélection.
Plus tôt dans la journée, Tournée de Mathieu Amalric a produit un effet similaire, quoique plus positif. Bénéficiant manifestement de la présence de son acteur/réalisateur – les cyniques diront que c'est parce que c'est lui que le film est en compétition -, on est tout de même en droit de se demander ce qui fait exactement sortir du lot ce film au demeurant plaisant. (PS : Franzo Curcio, si tu nous lis, congratulazioni !)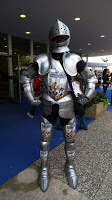 Autant que pour voir des films, le Festival de Cannes est aussi l'occasion de faire des rencontres – et parfois celles de personnages hauts en couleur. Depuis le début du Festival, Aaron Warr fait la promotion de son film, My Guaranteed Student Loan, en armure médiévale, devant les portes du Marché du Film, à la grande joie des passants. Certains ont définitivement le sens du spectacle et de la relation avec le public ! Et au fond, pourquoi pas ? Comme Aaron le dit : "Toute publicité est bonne à prendre." L'essentiel, c'est d'être remarqué.

Les soirées de Cannes fonctionnent selon un système profondément frustrant. En général, une personne que l'on connaît, connaît une personne, qui connaît une personne, qui connaît une personne… qui ne connaît personne. L'incertitude règne. Dans l'attente souvent vaine de son sésame, on se sent comme le maillon faible d'une chaîne dysfonctionnelle. Ceci étant, j'ai pu me rendre à la soirée du film Chongqing Blues, et m'y suis ennuyé.
Tsunami & Sébou세부
My Guaranteed Student Loan
réalisé par Dexter Warr et Joshua Zilm
scénario de Aaron Warr ([email protected])
Wonderphil Productions, emplacement n°22.01 au Marché du Film
[email protected]
www.wonderphil.biz
(310)482-1324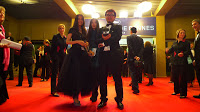 First opportunity to walk the red carpet tonight, for the screening of Chongqing Blues by director Wang Xiaoshuai, presented in Official Selection. Just like last year with Lou Ye's Spring Fever, Wang's film seems to be there to serve as the "China slot" of the Selection. Not bad, but not revolutionary either, the movie intrigues in its first half but ultimately bores its audience by lasting longer than necessary to tell its story of a failed father/son relationship, and the quest by the first to find out the reasons for the latter's brutal death. A film like an appetizer for the rest of the Selection.
Earlier, Mathieu Amalric On Tour gave a similar, although more positive, feeling. The movie takes an obvious advantage from its actor/director – the cynical shall say the movie made it to the Selection only thanks to him -, we are still allowed to wonder how exactly this movie, though pleasant, actually stood out. (PS: Franzo Curcio, if you read us, congratulazioni !)
As much as too watch films, the Festival is an opportunity to meet people – and sometimes some very colourful ones. Since the beginning of the Festival, Aaron Warr has been promoting his film, My Guaranteed Student Loan, dressed in a medieval armour, in front of the Film Market gates, to the delight of bystanders. Some people definitely know how to put on a show and how to handle public relations! And why not? Like Aaron says: "I'll take all the publicity I can." The most important is to stand out in the crowd.
Cannes parties work in a very frustrating way. Usually, one knows someone, who knows someone, who knows someone… who knows no-one. Uncertainty rules. While waiting in vain for one's sesame, one feels like the weakest link whithin a dysfunctional chain. That being said, I did make it to Chongqing Blues after-screening party, and got bored.
Tsunami & Sébou세부
My Guaranteed Student Loan
directed by Dexter Warr and Joshua Zilm
written by Aaron Warr ([email protected])
Wonderphil Productions, Film Market booth n°22.01
[email protected]
www.wonderphil.biz
(310)482-1324

Les derniers articles par Sébastien Simon
(tout voir)