Dernière mise à jour : mai 24th, 2018 at 05:45 pm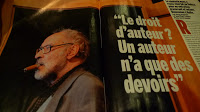 La première fois que je suis venu à Cannes, j'étais tout nerveux, comme la première fois que j'ai fait l'amour. La deuxième fois que je suis venu à Cannes, j'avais beaucoup de pression, comme si j'étais soudain devenu responsable de cette fille dès la première nuit. C'est maintenant la troisième fois que je viens à Cannes : je suis détendu, comme si je visitais simplement une grande amie.

De retour à notre squat après avoir récupéré nos badges et nous être éclatés le bide lors d'un dîner copieux à l'issue duquel nous nous sommes vus offrir deux mini-seaux (sympa), nous déballons notre attirail et gravons, il était temps, les DVD de nos films… Car c'est aussi ça, Cannes : des aventuriers modernes défendant leur passion contre vents, marées et comptes en banque facétieux, prêts à en découdre avec les pièges de l'anonymat !
À venir dans les Bulles Cannoises : Flip compétition or not Flip compétition ? Restez tunés…
Tsunami & Sébou/세부
The first time that I came to Cannes, I felt very nervous, like the first time I made love. The second time that I came to Cannes, I had a lot of pressure, as if I had suddenly become responsible for that girl right after the first night. I am now coming to Cannes for the third time: I am relaxed, like I'm simply here to visit a good friend.

Back to our squat after having got our badges and having burst our stomachs on a copious meal, which ended with the waiter offering us two mini-buckets (nice), we unpack our stuff and start burning DVDs of our films (it was about time)… For that's Cannes, too: modern adventurers defending their passion against all odds, ready to fight against the traps of anonymity!
Coming soon in Cannes Bubbles: Flip competition or not Flip competition ? Stay tuned…
Tsunami & Sébou/세부