Dernière mise à jour : décembre 17th, 2022 at 11:11 pm
The Singing Club (Military Wives en V.O.) de Peter Cattaneo est diffusé en première exclusivité à partir du mercredi 9 décembre sur les chaines payantes du groupe Canal+. La critique et l'avis film de Bulles de Culture.
Synopsis :

Yorkshire, 2011. Les soldats de la garnison de Flitcroft sont envoyés en mission à l'étranger. Pour tromper leurs angoisses, leurs compagnes décident de créer une chorale. Elle est dirigée par l'austère mais surprenante Kate Barclay (Kristin Scott Thomas), épouse du colonel.

Soudées par une envie commune de faire swinguer leur quotidien, Kate, Lisa (Sharon Horgan), Annie (Emma Lowndes) et les autres porteront leur "Singing Club" jusqu'au Royal Albert Hall pour un concert inoubliable.
Le film de Peter Cattaneo, réalisateur de The Full Monty, a connu le parcours chaotique des multiples reports de sorties en salles à cause de la crise de la COVID. Le distributeur a alors fini par renoncer à sortir le long métrage au cinéma pour lui donner une vie à travers la case "Première" de Canal+.
The Singing Club : un lien évident avec The Full Monty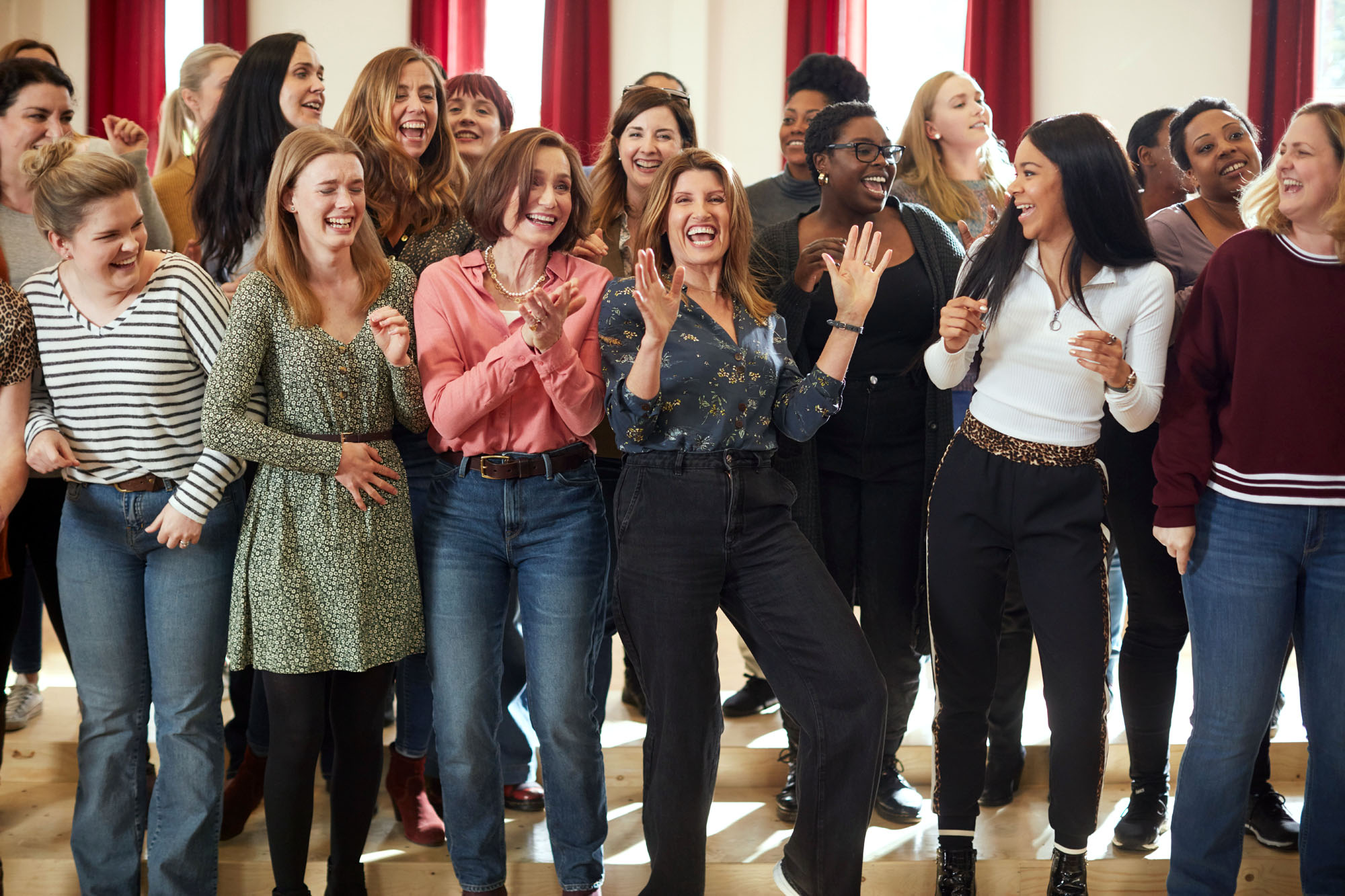 The Singing Club a en tout point de vue un lien évident avec The Full Monty (1997). Que ce soit dans le traitement de l'intrigue qui suit un groupe d'individus perdus ayant besoin d'un projet pour se recentrer sur eux-mêmes, que sur la patte artistique très british proposée par Peter Cattaneo. Les fans des joyeux strip-teaseurs retrouveront ainsi une même ambiance dans The Singing Club.
Pour autant, la minutie donnée au film de 1997 ne se retrouve pas forcément à l'écran dans cette nouvelle proposition du cinéaste. Les grosses ficelles sont plutôt ici déployées pour nous faire ressentir de la compassion envers ces femmes de militaires, recluses dans les casernes à attendre désespérément que leurs maris rentrent de la guerre.
La discorde entre les deux cheffes de la chorale, Kate et Lisa, interprétée par Kristin Scott-Thomas et Sharon Hogan, est au cœur de l'intrigue.
Un feel good movie bienveillant
Les deux femmes sont en effet foncièrement opposées : elles n'ont ni la même manière de fonctionner, ni les mêmes origines, ni les mêmes énergies. La cacophonie est naturellement de mise lorsqu'elles confrontent leurs idées autour de la tenue de la chorale.
Et pourtant, et on le prévoit dès le début, le duo va mener cette initiative très loin en réussissant un exploit artistique qui changera la vie de ces femmes esseulées.
The Singing Club coche donc toutes les cases du feel good movie bienveillant et parfait pour les longues soirées pré-noël. Le long métrage met de bonne humeur grâce à son angle très musical.
Il alterne également astucieusement scènes comiques et moments plus émouvants.
En revanche, le distributeur a eu une bonne idée de le confier directement à Canal+, car si l'œuvre est plaisante en tant que téléfilm à regarder depuis son canapé, il ne vaut pas quand même pas le déplacement en salles de cinéma.
En savoir plus :
The Singing Club a été diffusé sur Canal+ à partir du 9 décembre 2020

Réalisation : Peter Cattaneo

Casting : Kristin Scott Thomas, Sharon Horgan, Jason Flemyng, Greg Wise, Emma Lowndes

Les derniers articles par Antoine Corte
(tout voir)