Dernière mise à jour : août 5th, 2019 at 09:52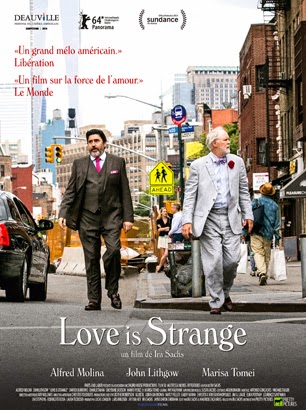 Sélectionné aux festivals de
Sundance
,
Berlin
et
Deauville
en 2014,
Love is Strange
est une jolie curiosité du cinéma indépendant américain. On range un instant les robots, les tortues mutantes, les super-héros… des films mainstream et on suit l'histoire simple d'un couple qui se marie. Mais tout ne se passera pas comme prévu…
Selected at Sundance, Berlin and Deauville festivals in 2014, Love is Strange is a nice curiosity of independent America cinema industry. Let's forget for one moment robots, ninja turtle, superhero… of mainstream films and, join the story of a simple couple who get married. Unfortunately things do not turn exactly the way they were planed.
More in English >> (Translation in progress, come bubble later)
Synopsis : Ben (John Lithgow) et George (Alfred Molina) vivent ensemble depuis 39 ans, lorsqu'ils se marient. Cet heureux événement va pourtant avoir des conséquences aussi inattendues que dramatiques. Ils vont devoir déménager et vivre séparément. Leur couple est mis à rude épreuve et leur famille aussi.
© Pretty Picture 2014
Ce qui étonne dans Love is Strange, c'est sa tonalité. Le réalisateur Ira Sachs dont c'est le premier film en tant que metteur en scène (scénariste de Keep the Lights en 2012) semble avoir eu envie de raconter un drame avec douceur, sans pousser les situations de façon trop prononcées. Tout est retenu, tout est contenu. On note ainsi des passages quasi contemplatifs, accompagnés d'une musique mélancolique qui ponctuent régulièrement le film, comme pour éviter d'être trop près des personnages. La photographie est presque trop flashy et contraste avec des situations parfois à la limite de l'explosion verbale. La lumière dit d'un côté le monde est beau alors que de l'autre côté, ceux qui y habitent se débattent pour simplement y vivre.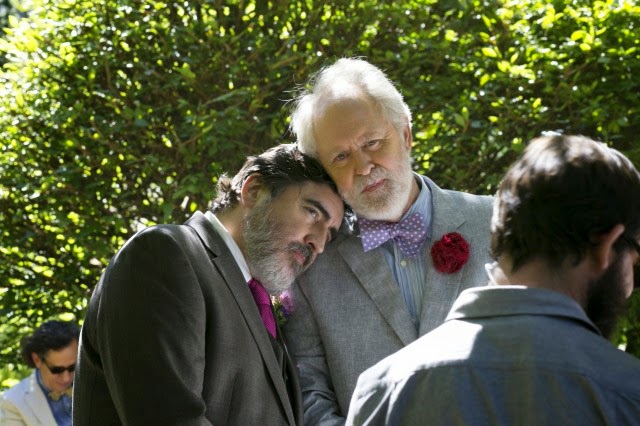 © Pretty Pictures 2014
On retrouve la même idée de contrôle par exemple chez le personnage interprétée par la belle Marisa Tomei. Écrivaine travaillant sur son nouveau livre, mère d'un adolescent en pleine adolescence… et femme d'un mari peu présent au foyer, le moindre événement peu chambouler son équilibre déjà fragile. Et le moins qu'on puisse dire c'est que des événements, elle va en avoir beaucoup. Pourtant le personnage n'explose pas et témoigne de ses difficultés avec autant de lucidité que de détresse.
Cette approche semble être une volonté du réalisateur. Mais cela peut être également un reproche qu'on peut faire au film. En jouant trop la retenue et la sobriété, le film frôle la banalité. On aurait aimé un peu plus de vivacité parfois, pas beaucoup plus, mais juste un peu plus.
C'est triste, émouvant, un peu lent (il y a peut être quelques minutes de trop, qui n'auraient pas amoindries le film si elles avaient été enlevées). Mais le duo Alfred Molina (Identity, Spider-man 2) et John Lithgow (La planète des singes : le commencement, le tueur mythique de la trinité dans Dexter saison 4) livrent une prestation incroyable et fait vivre ce couple. A la limite de la comédie dramatique, le film reste un drame doux, d'une jolie sincérité.
Maurice
Les derniers articles par Morris Rabemananjara
(tout voir)