Dernière mise à jour : août 7th, 2016 at 04:35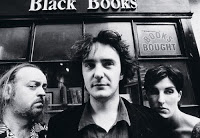 Our review on the great British librairy series Black Books, created by Graham Linehan and Dylan Moran.

Plot:

Bernard Black is a bad-tempered and misanthropic bookshop owner who shows little if no interest at all in selling his books to his costumers, whom he blatantly hates or simply can't bear to interact with.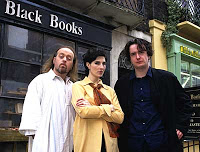 As his joyful but clumsy assistant Manny Bianco always tries to somehow improve the shop's earnings as well as its general state of advanced dirtiness, the two often clash, resulting in many surreal situations and absurd dialogues, such as:
Manny: Is space hot?
Bernard: Of course it is, where else do you think we get pineapples from?
Thankfully, they can always relate to each other and also to their neurotic and only friend Fran Katzenjammer since they all share an immoderate love for drinking, smoking and laziness.
This English situation comedy tv series of only eighteen hysterical episodes is called Black Books and is an absolute must-seen!
Summary of the first episode of Black Books in which Bernard Black looks for any excuse to avoid his tax return: http://www.youtube.com/watch?v=PsljGTKaX9M.
To learn more:
Season 1: 2000 / Season 2: 2002 / Season 3: 2004
18 episodes – 25 minutes
Creators: Graham Linehan, Dylan Moran
Director: Martin Dennis
Production: William Burdett-Coutts, Julian Meers
Music: Jonathan Whitehead
Photography : Andy Hollis
Editing: Nick Ames, Paul Machliss
With: Dylan Moran (Bernard Black), Bill Bailey (Manny Bianco), Tamsin Greig (Fran Katzenjammer)

Les derniers articles par Sébastien Simon
(tout voir)