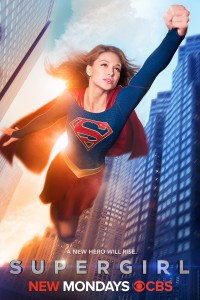 After many months of waiting, Supergirl is finally aired on October 26, 2015 on CBS in United States and in US+24 on MyTF1 VOD in France. Our YouTuber Rhomin gives his opinion about the first episode.
Synopsis :

Kara Zor-El (Melissa Benoist) is Superman's cousin who was supposed to arrive on Earth at the same time so she could protect him. Unfortunately, she arrives at destination years after once her cousin is praised by the public. She has to live like a human being until she has to use her powers again.
   
Major turn for CBS
    
     
Major turn for the channel CBS which is going to surf on the wave of superheroes while they are more used to copshows and old-school sitcoms.
Supergirl is really the ufo of the channel. tThus, having a female superhero is very rare and it is important to point it out.
Will this risky move be well-received?
Wait and see …
Meanwhile, have a look on our opinion on the pilot and the first pictures of it in the video below.
To learn more:
Supergirl is available on MyTF1VOD in US+24 in France since October 27, 2015


Les derniers articles par Rhomin Guilhem
(tout voir)