Dernière mise à jour : décembre 5th, 2016 at 12:05 am
The recent Blu-Ray release of Lone survivor by Peter Berg is an occasion to come back to this war movie, rather unnoticed during its release in theater.
Plot:

The incredible tale of four Navy SEALs on a covert mission to neutralize a high-level al-Qaeda operative.
The true story of soldiers
embushed in Afghanistan
The director of Lone survivor, Peter Berg who is – as one Michael Bay- one of these directors whom we would love to meet in order to talk about their vision of cinema… with jacks and baseball bats of course!!
True lazybones, with a lack of personnality and talent; the guy spent the last ten years making money without shame -as Michael Bay did – being a good performer in order to collect a series of movies each one less watchable than the other, from the cynical comedy (Very bad things), to the nerdy blockbuster (Hancock), ending with this huge monument of shameful that is the shipwrecked Battleship, already sunk before it could move the audience, last adaptation, transposition, teleportation (we don't really know) of a HASBRO toy after Transformers by… Michael Bay of course.
So when we learn that Peter Berg's next movie is about the true story of four soldiers embushed during a commando squad in Afghanistan, a sudden urge to puke bothers instinctively our stomachs, when remembering the terrible The kingdom, true apology of the right of intervention with which Bernard-Henry Levy would not disagree.
Nevertheless it is important to emphasize on Lone survivor conception, in order to realize that is not just an other studio order, but in fact a well-thought project by our dear friend Berg, whose purpose was to see his movie on a big screen.
Lone survivor:
the best Peter berg's movie
Like Pain and gain by Michael Bay (again), this detail is crucial because in 2014, we can proudly shout that is the best Peter berg's movie LADIES AND GENTLEMEN !!! "
"The best of the worst isn't necessarily good", some would say, but Lone survivor is a really good movie, one of these striking and human dramas that show that without being the best in the world, a director can move mountains when he has absolute faith in the story he tells.
And God knows the bet was hard to win, since here, it is not about reliving a big historic battle that would have changed the face of the world thanks to Uncle Sam's soldiers, here it is indeed about a military mission gone out of hand, like hundreds, on which History doesn't like to look down.
It is actually this subject strength that allows Berg to avoid all the redundancies due to war movies. No preponderant patriotic speeches, no old manicheism, no out of subject politic speech; but first of all a story of men and crucial choices to make in a delicate situation.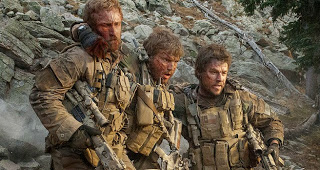 And the immersion is complete, from the training camp, to the Afghan forest, we don't feel away from these soldiers, not for a second. We share their real camaraderie, sometimes their schoolboy pranks, until the deathly fate that awaits them.
This closeness is emphasized by an absolutely perfect cast, Peter Berg seems to have fun chosing four nice and clean actors (Mark Wahlberg, Taylor Kitsch, Ben Foster, Emile Hirsch) and putting them in the worst situations. In the memory of cinema, we probably should go back to Predator by McTiernan to see stars in such a bad position.
Almost a 3D movie experience

Facing an invisible but well identified enemy as to underline the absurdity of a war that isn't one, Berg succeeds brilliantly in alternating between moments of pure bravery and others much more poetic, but hard to bear. He avoids glorifying or minimazing the function of soldier, on the contrary, he underlines the courage of his characters as humans facing in difficult situations. It is an emotional elevator.
We live everything with them as if we were the invisble fifth soldier. Almost a 3D experiment, actually.

Sincerity is the key
of all film projects
Of course the criticism of war is no big news in Hollywood cinema, but unlike on Terence Malick's poetry or Steven Spielberg's grime, few directors share with he spectators as much of the suffering of men who go to war.
Lone survivor proves that sincerity is the key of all film projects and even if we shouldn't doubt that Berg's next movie will once again be an order from Hollywood with the result hat might be feared, Berg won the bet and can considered a better thanks to his moving work that will stand an exception in his filmography.
Lots of his colleagues can't say the same thing for themselves.
[amazonjs asin="B00HEPEBWC" locale="US" title="Lone Survivor (Blu-ray + DVD + Digital HD with UltraViolet)"]
To learn more:
Lone survivor is available on DVD and Blu-ray in France since May 26th, 2014 with M6 Vidéo
Les derniers articles par Thomas G.
(tout voir)