Dernière mise à jour : septembre 10th, 2016 at 11:26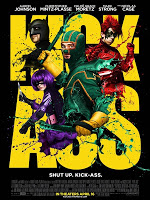 Who has never dreamed of being a hero one day? Dave Lizewski (Aaron Johnson), yes! By boredom and envy to exist in the eyes of girls, this teenager, fan of comics, decides to bridge the gap between fiction and reality and to become a superhero: Kick Ass is born!
Dave Lizewski is an average teenager who wonders why nobody in real life has ever decided to become a superhero like the ones in the comic books, so he decides to become a real-life superhero himself, despite having no superpowers or training of any kind…
The first scene sets the tone: a pseudo-Superman jumps off a New York skyscraper in front of the admiring eyes of the crowd before crashing miserably on the roof of a taxi. Playing with the codes and references, "Kick-Ass" is a pleasing action movie, kind of big gap between the realism of a "Fight Club" and the irrealism of a "Spiderman". Indeed, the original principle of the film is to deal with the most possible realism we can the superheroes theme. Thus, from its first going out like a super-hero, "Kick-Ass" is stabbed and run over by a cab. Treated realistically by the effective and successful direction of Matthew Vaughn ("Layer Cake," "Stardust"), "Kick-Ass" is just an extension of a character of Jackass ("American television series featuring people performing various dangerous, crude, ridiculous, and self-injuring stunts and pranks", Wikipedia) who would take himself seriously in his delirium and would want to save the widow and orphan.
Placed under the sign of this new generation of kids who like new medias (web page, mobile phone, webcam, social network, …), it is through internet that Kick-Ass will become a super- hero, even without any real gift. With his green/yellow diving suit bought on the internet, our jackass Kick-Ass will find himself quickly overwhelmed by the phenomenon he has created and it is at this moment that the film becomes really original and interesting.
For, struck, beaten, wounded, metal plates ("like Wolverine") in all his body making him insensitive, Kick-Ass will continue his mission and this dichotomy between the world of his youth and the violence of the outside world refers to the eternal theme of to become an adult where the "no power, no responsibility" launched by our hero not only refers to "Spiderman" ("with a great power comes great responsibility") but also to a necessary and traumatic passage to adulthood.
But Kick-Ass as a new star will also meet other people, other geeks, as Big Daddy (Nicolas Cage) and Hitgirl (Chloe Grace Moretz) whom costumes make explicit reference to Batman and to Robin. 11 year old girl in the movie but played by an actress of 13 years old, Hitgirl is the most interesting character of the film. For full of talent, this character would be a bit of Natalie Portman in "The Professional" by Luc Besson (1994) who would have decided to take over after the death of Jean Reno's character. Shooting lighted by a stroboscope, vision of video game, slow motions like Matrix, the agility and control of Hitgirl in fight are breathtaking.
But this is where the film is becoming interesting with its realism: she fights only because her more experienced dad (former cop in the film) is watching over her and advising her. But it is undeniably her character that allows the film not to fall into too realistic and to mitigate the violence of the film by making it unreal (bouncy music when she cut legs or shot someone) .
Created at the same time of the creation of the comics, the film takes a direction more optimistic (see LITERATURE/COMICS: "Kick Ass", the perfect combination of loneliness and despair). And we must thank the director who has spared us the endless restless camera and the jerky editing (of which shamelessly abused films like "Green Zone" by Paul Greengrass) to allow us to see exactly what happens and to enjoy it.
Finally, it should be noted that in France, a movie, "La femme invisible (d'après une histoire vraie)" (litteraly, "The Invisible Woman (based on a true story)") by Agatha Teyssier, has also treated the concept of everyday heroes. But despite its merits, the weakness of the film (for lack of means or interest) was to interest itself in this topic only socially (being an invisible woman to others) and not to expand the theme and to confront her heroine to other superheroes (a need that the director has however felt by adding an unnecessary epilogue to her film).
Geeks pleasure, action movies pleasure with a successful nasty mobster (perfect Mark Strong), "Kick-Ass" is a pleasurable and violent film that you can finally hope to be the super-hero… but at your own risk!
"Kick-Ass" (2010)
Direction: Matthew Vaughn
Script: Jane Goldman and Matthew Vaughn from the eponyme comic books by John S. Romita Jr and Mark Millar Image: Ben Davis
Editing: Eddie Hamilton, Jon Harris and Pietro Scalia
Cast: Aaron Johnson, Chloe Grace Moretz, Christopher Mintz-Plasse, Mark Strong, Nicolas Cage…
Official website: http://www.kickass-themovie.com

Les derniers articles par Jean-Christophe Nurbel
(tout voir)