Dernière mise à jour : avril 5th, 2019 at 01:34
Celui qui déclare qu'il a eu le déclic en tant que réalisateur lorsqu'il a arrêté de vouloir raconter sa propre histoire pour parler des autres est en train de devenir l'artiste audacieux de ces dernières années. Après avoir porté un regard incisif sur les dérives de l'affaire d'Outreau dans Présumé Coupable (2011), Vincent Garenq s'attaque dans son dernier film, L'Enquête, à l'un des plus grands scandales économiques et politiques français : l'affaire Clearstream. Arborant un cinéma dénonciateur, le réalisateur livre une réflexion sur ce monde méconnu de la finance.
The one who declares that things fell into place as a director when he stopped wanting to tell his own story to speak about others is becoming the most audacious artist of this last year. After giving a sharp look at the drifting Outreau affair in Présumé Coupable (2011), in his last movie, L'Enquête, Vincent Garenq seizes one of the biggest French economic and political scandals: the Clearstream affair. By raising a kind of informer cinema, the director brings another reflection to the unknown world of finance.
More in English >> (Translation in progress, come bubble later)
© Mars Distribution
Les rouages en sont obscurs et pourtant le film va accompagner pas à pas son spectateur dans le monde trépidant de l'économie
. On s'en souvient, en 2001, le journaliste indépendant, Denis Robert (
Gilles Lellouche
), fait des révélations détonnantes en sortant son livre. Il met au grand jour le fonctionnement opaque d'une grande société bancaire, Clearstream. Celle-ci détournerait de l'argent sale pour les plus grands acteurs financiers du marché, dont certains grands politiciens français. Pour l'aider dans cette quête de vérité, le juge Renaud Van Ruymbeke (
Charles Berling
) va se saisir du dossier et essayer de faire tomber les têtes pensantes de cette machination. Néanmoins, le combat semble être le pot de fer contre le pot de terre. Le mécanisme bancaire va vite se retourner contre le journaliste esseulé.
Un éclairage sur le milieu de la finance

Avec un pouvoir didactique inouï, l'oeuvre de Vincent Garenq pourrait être tournée comme un documentaire si elle ne distillait pas tout au long du récit une technique de construction fictionnelle. Caméra à l'épaule, lumière froide, L'Enquête présente un artistique léché. Il reflète un choix du cinéaste de montrer avec simplicité un univers méconnu. A l'instar de Wall Street (Oliver Stone, 1987) ou de Margin Call (J.C. Chandor, 2011), on se repère très vite dans un univers obscur et dérangeant.
Une prise de position mesurée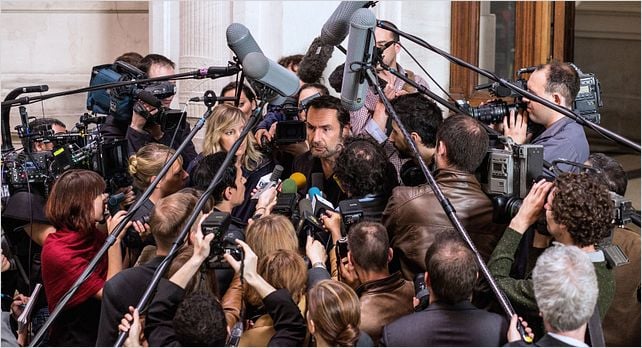 © Mars Distribution
Pour autant, le réalisateur fait très attention à la portée de ses propos. Il prend le soin de n'écorcher personne en laissant derrière lui les allégations diffamatoires. À l'inverse, il semble concentré sur le soutien de Denis Robert qu'il dépeint comme une personne d'une force absolue. Néanmoins, il choisit d'en montrer toutes les fêlures dès la première scène où son protagoniste subit un malaise suite à une perquisition à son domicile. Ce dernier est la résultante d'un engrenage psychologique qui montera crescendo durant tout le film, auquel même un individu au tempérament surhumain ne peut résister.
Une justice intègre et juste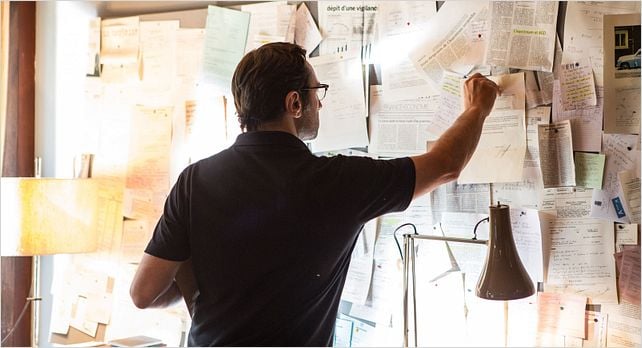 © Mars Distribution
Vincent Garenq est également soucieux de garder une image de la justice saine et intègre. Pour cela, il traite avec une bienveillance absolue le personnage du juge Renaud Van Ruymbeke, interprété par le sympathique Charles Berling. Ce dernier est un adjuvant efficace dans la lutte contre la délinquance en col blanc.
Une interprétation décevante de Gilles Lellouche

Il est cependant dommage que Gilles Lellouche, en protagoniste principal, ne transcende pas son interprétation. Il livre un jeu monocorde qui se différencie peu de ses expériences récentes telles que dans Gibraltar (2013) de Julien Leclercq ou La French (2013) de Cédric Jimenez. On aurait aimé une prise de risque plus importante et une position plus engagée de l'acteur.
Éclairage du monde d'aujourd'hui, le film ressort quand même avec l'ambition réussie d'avoir été utile, s'inscrivant avec parcimonie entre l'œuvre engagée et le débat de société.
Antoine Corte
En savoir plus :
– https://www.facebook.com/lenquete.lefilm?fref=ts (Facebook officiel du film)
– http://www.marsdistribution.com/ (site officiel du distributeur)
– Date de sortie France : 11/02/15

Les derniers articles par Antoine Corte
(tout voir)