Dernière mise à jour : mars 28th, 2020 at 07:51 pm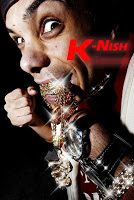 "Car moi c'est K-Nish Mortel, alors reste tranquille !
J'ai cassé des verres, j'ai mangé d'la harissa,
Et j'ai même craché par terre – j'suis un gangster !
Wouf-wouf ! West Coast…"
"I am K-Nish Mortel, so stay put!
I've broken glasses, i've eaten harissa,
And even spitted on the floor – I'm a gangster!
Wouf-wouf! West Coast…"
Le buzz musical de cette fin de mois de janvier sur Dailymotion, c'est lui : K-Nish Mortel, gangster autoproclamé quoiqu'inoffensif, le rapeur des bacs à sable ! Trouvé dans la rue et élevé par les braves bêtes auxquelles il a emprunté son nom, K-Nish a forgé son âme de poète nihiliste aux States avant d'émigrer récemment à Châtelet, où il terrorise depuis les braves gens à coups de rimes piquantes, de vannes bien senties ou de coups pendables plus mignons que malfaisants. Car au fond, c'est aussi ca un caniche : ça aboie plus fort que les autres pour se faire remarquer mais ça ne fait pas bien mal – à part dans ce cas à nos zygomatiques.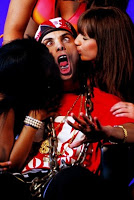 Personnage au départ créé par l'humoriste Ophir Azoulay pour ses one-man-shows et ayant déjà sévi dans de nombreuses pastilles vidéos sur le web, K-Nish Mortel sort donc aujourd'hui son premier tube, "Wouf-Wouf". Son clip est une satire assez gonflée de ces vidéos de rapeurs bling-bling qui impressionnent davantage par les danses langoureuses des jeunes femmes autour d'eux que par leurs textes, trop souvent eux-mêmes des caricatures. Mais au-delà de la simple parodie, les paroles de K-Nish évoquent en fait les origines du rap : la rue, la rage et la révolte qui ont forgé l'âme et l'identité de ce genre musical avant que certains artistes ne cèdent aux exigences commerciales, voire prostituent leurs principes.
De ce côté, aucun risque avec K-Nish Mortel, mais méfiez-vous : comme il le dit dans son clip, il va foutre la merde, et il ne la ramassera pas !
Sébou/세부
Site officiel : http://www.knish-mortel.fr
Vidéos sur Dailymotion : http://www.dailymotion.com/K-nish-mortel
Facebook : http://www.facebook.com/ophirshowman
Myspace : http://www.myspace.com/ophir75
Clip K-Nish Mortel – Wouf Wouf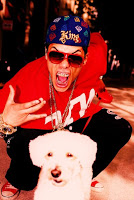 His name has been buzzing a lot on Dailymotion in the last days of January: K-Nish Mortel, self-proclaimed though harmless gangster, the sandbox rapper! Found in the streets and raised by the fluffy beasts he later took on the name, K-Nish forged his nihilistic poet's soul in the US until he recently migrated to Châtelet, where he has since been terrorizing the good folks with his witty rhymes, his well said wisecracking or his more-cute-than-wrong deeds. Because that's what a poodle ("caniche" in French, same pronunciation as K-Nish) actually is: it barks louder than the other dogs to be noticed but he doesn't hurt that much – except in this case to our zygomatics.
Created by comedian Ophir Azoulay for his one-man-shows and having already made numerous humoristic videos on the web, K-Nish Mortel now releases his first hit, "Wouf-wouf". His videoclip is a rather bold satire of those shiny rap videos where the singers impress more with the ladies lasciviously dancing next to them rather than with their actual lyrics, which too often are caricatural themselves. However, beyond easy parody, K-Nish's lyrics actually evokes the origins of rap: the street, the rage, the rebellion that have forged its soul and identity before some artists gave in to commercial demands, or alas sometimes even prostituted their own principles.
Anyway, no risk of that happening with K-Nish Mortel, but beware: just like he says in his clip, he's gonna beat the shit out of you, and he won't be cleaning up afterwards!
Sébou/세부
Officiel website (in French): http://www.knish-mortel.fr
Videos on Dailymotion (in French): http://www.dailymotion.com/K-nish-mortel
Facebook (in French): http://www.facebook.com/ophirshowman
Myspace (in French): http://www.myspace.com/ophir75
LA FOUINE CLASH SINIK

Les derniers articles par Sébastien Simon
(tout voir)