Dernière mise à jour : novembre 4th, 2016 at 10:15 am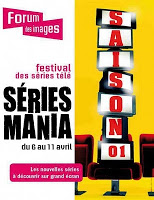 Bilan de la 1ère édition d'un festival consacré aux séries télévisées nationales et internationales,
Le Festival Séries Mania
, organisé à Paris par le Forum des Images.
Results of the 1st edition of a festival devoted to national and international television series, Le Festival Séries Mania (literally, The Festival Series Mania), organized in Paris by the Forum des Images.
Succès donc pour un premier festival consacré aux séries avec diffusion de séries sur grand écran("24 heures chrono", "Breaking Bad", "Engrenages", "Skins"…), des conférences avec des créateurs (400 personnes pour écouter Clyde Phillips, créateur de "Dexter") et la découverte de séries moins connues de pays comme le Brésil, le Canada, la Chine, Israël et le Mexique.
Les séries occupant une place de plus en plus croissante à la télévision et au cinéma, il n'est donc pas étonnant d'avoir assisté à un tel engouement du public pour ce festival (jusqu'à regarder d'une seule traite l'intégrale d'une saison de "True Blood" et/ou de "Mad Men") et donc à la réussite d'une telle initiative (annoncée par le nombre de forums de discussion, de sites de fans, des blogs, etc. sur ce thème).
On ne peut donc qu'attendre avec impatience la saison 2 de ce Festival.
jici
En bonus : évocation des deux séries qui ont ouvert et clôturé le festival : "Flashforward" de Brannon Braga et David S. Goyer et "How to make it in America" de Ian Edelman.
"FlashForward", qu'avez-vous vu?
Synopsis : Le 6 octobre 2009, tous les êtres humains ont soudainement perdu connaissance au même moment et, pendant 2 minutes et 17 secondes, ont eu une vision de leur vie six mois dans le futur. Lorsqu'ils se réveillent, le chaos règne et beaucoup sont morts brutalement, notamment ceux qui étaient alors en voitures, en avions ou dans des moyens de transport. Une fois le moment de panique passé, les agences fédérales commencent leur investigation. Menés par les agents Mark Benford (Joseph Fiennes) et Demetri Noh (John Cho), une équipe du FBI de Los Angeles entreprend de recueillir le plus de témoignages possibles via un site appelé "Mosaïque", dans le but d'élucider la cause du blackout. La vision de Benford, notamment, leur donne une longueur d'avance : en effet, il s'est vu six mois plus tard, dans son bureau, en train de contempler le tableau sur lequel sont accrochés les indices de leur enquête !
Avec sa scène d'ouverture estomaquante, son mystère à base de sciences expérimentales et de paradoxe temporel, sa structure narrative en flashbacks et (forcément) forwards, certains acteurs (Dom Monaghan, Sonya Walger), mais aussi de part son look général et sa citation directe (le panneau de publicité pour la fameuse compagnie aérienne "Oceanic Airlines") difficile, dès le pilote de FlashForward, de ne pas penser à l'autre série fantastique phare de la chaîne ABC : Lost. FF semble en fait avoir été clairement monté pour prendre le créneau que la série de J.J. Abrams va bientôt laisser vacant après la fin de la saison finale actuellement en cours de diffusion aux États-Unis. Tiendra-t-elle autant en haleine les spectateurs ? Lorsque, à la fin du premier épisode, une vidéo de surveillance provenant d'un stade de baseball montre un homme se levant durant le blackout au milieu des gradins remplis de gens inconscients et sortant tranquillement du stade, la surprise nous clout littéralement à notre fauteuil !
Et vous, qu'avez-vous vu ?
Sébou/세부
"Flashforward" (2009)
Saison : 1
Episodes : 16
Créateur : Brannon Braga et David S. Goyer
Avec : Joseph Fiennes, John Cho, Dom Monaghan, Sonya Walger…
Production : ABC Studios
Chaîne d'origine : ABC
Site officiel : http://abc.go.com/shows/flash-forward
"How to make it in America", le rêve américain
Essayant de se faire un nom sur la scène de la Mode new-yorkaise, Ben Epstein (Bryan Greenberg) et son partenaire Cam Calderon (Victor Rasuk) se servent de leur connaissance de la rue et de leurs relations pour accomplir leur rêve, avec l'aide de leur ami Domingo Dean (Kid Cudi) et du cousin de Cam : Rene (Luis Guzmán), qui a lui l'ambition de creer sa propre marque de boisson énergisante du nom de "Rasta Monsta".
Habituée des séries innovantes d'une dizaine d'épisodes ("Angels in America", "Band of Brothers"…), la chaîne câblée américaine Home Box Office (ou HBO) tente après le succès de ses séries dramatiques de ces dernières années ("Sur écoute", "Rome"…) un retour à des comédies de qualité plus légères comme "How to make it in America". Avec un générique clipé (images à vitesse variable de New York et chanson entraînante "I Need A Dollar" de Aloe Blacc), des chansons à la mode (Goldfrapp, Phoenix, Tuung…), l'équipe du comédien-producteur Mark Wahlberg ("En Analyse", "Entourage"…) navigue dans cette nouvelle série entre comédie légère et comédie sociale mais le peu de crédibilité de leur entreprise (vente de jeans puis de t-shirts…) émousse rapidement l'intérêt du spectateur de la série (avec un relatif échec d'audience lors de sa diffusion aux Etats-Unis). Naviguant sans cesse entre le milieu arty new yorkais avec Ben et le milieu de la mafia dominicaine avec Domingo, Cam servant de relais entre les deux milieux, cette série courte (10 épisodes de 26 minutes) a dû mal à trouver son rythme de croisière par manque de temps et par la multiplication des personnages et intrigues secondaires. Cependant, même sans être innovante, cette série se laisse agréablement regarder et une certaine curiosité subsiste à la fin de cette première saison : que va devenir le rêve américain de tous les personnages attachants de la série ?
jici
"How to make it in America" (2010)
Créateur : Ian Edelman
Avec : Bryan Greenberg, Victor Rasuk, Lake Bell, Kid Cudi, Shannyn Sossamon, Eddie Kaye Thomas
Production : Mark Wahlberg, Stephen Levinson, Rob Weiss, Julian Farino, Ian Edelman
Chaîne d'origine : HBO
Saison : 1
Episode : 8
Site officiel : http://howtomakeitinamerica.com
Success so for a first festival devoted to the series with broadcast series on the big screen ("24", "Breaking Bad," "Engrenages", "Skins "…), conferences with creators (400 people to listen to Clyde Phillips, creator of "Dexter") and the discovery of less known series of countries such as Brazil, Canada, China, Israel and Mexico.
The series occupying an increasingly growing place in television and in cinema, it is not surprising to have witnessed such a public appetite for this festival (as watching the full a season of "True Blood" and/or "Mad Men") and therefore the success of such an initiative (announced by the number of discussion forums, fan sites, blogs, etc.. on this theme).
We can only wait impatiently the season 2 of this Festival.
jici
Bonus: an evocation of the two series that have opened and closed the festival: "Flashforward" by Brannon Braga and David S. Goyer and "How to Make It in America" by Ian Edelman.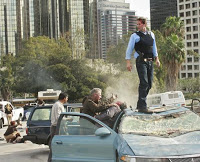 "FlashForward, what did you see?
On October 6th, 2009, the whole mankind lost consciousness at the exact same time and, for 2 min and 17 seconds, had a vision of their lives six months in the future. When they wake up, there's chaos everywhere and many people have brutally died, especially those who were in cars, planes or public transportation. Once the panic wears off, all federal agencies start investigating. Led by agents Mark Benford (Joseph Fiennes) and Demetri Noh (John Cho), the Los Angeles FBI team set about gathering as many visions testimonies as possible via a website they called "Mosaic", in the hope of finding out the cause of the blackout. Benford's vision in particular gives them a headstart: he saw himself six months later standing in his office and looking at his board on which all the clues from the case are pinned up!
With its stunning opening sequence, its fringe sciences-based mystery filled with time paradoxes, its narrative structure made of flashbacks and (of course) forwards, a part of the cast (Dom Monaghan, Sonya Walger), but also with its general look and explicit quotation (the advertisment sign for the infamous company "Oceanic Airlines"), FlashForward pilot makes it hard not to think about ABC's other fantastic serie and flagship: Lost. Arguably, FF clearly seems to have been created to pick up the spot after J.J. Abrams' hit serie soon comes to the end of its season finale, currently being aired in the US. But will FF catch the audience's breath and imagination as much as Lost has? When, in the end of episode 1, we see a surveillance tape from a stadium in which a man stands up during the blackout among the unconscious people and quietly leaves the stadium, the surprise litteraly hammers us down!
And you, what did you see?
Sébou/세부
"Flashforward" (2009)
Season: 1
Episodes: 16
Creator: Brannon Braga and David S. Goyer
With: Joseph Fiennes, John Cho, Dom Monaghan, Sonya Walger…
Production: ABC Studios
Original channel: ABC
Official website: http://abc.go.com/shows/flash-forward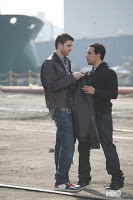 "How to make it in America", the American dream
Trying to make a name for themselves in New York's competitive fashion scene, Ben Epstein (Bryan Greenberg) and his friend and business partner Cam Calderon (Victor Rasuk) use their street knowledge and connections to bring their ambitions to fruition. With the help of Cam's cousin Rene (Luis Guzman), who is trying to market his own high-energy drink, and their well-connected friend Domingo (Kid Cudi), the entrepreneurs set out to make it big, encountering obstacles along the way that will require all their ingenuity to overcome.
Used to make innovative series of ten or so episodes ("Angels in America", "Band of Brothers "…), the U.S. cable channel Home Box Office (or HBO) try after the success of its drama series of recent years ("The Wire", "Rome"…) a return to quality and lighter comedies like" How to Make It in America ". With a clip opening credits (variable speed of images from New York and catchy song "I Need A Dollar" by Aloe Blacc), fashion songs (Goldfrapp, Phoenix, Tuung …), the actor-producer team of Mark Wahlberg ("In Treatment", "Entourage "…) navigate in this new series between light comedy and social comedy, but the lack of credibility of their business (sales of jeans and t-shirts…) quickly dulls the viewer interest in the series (with a relative failure of audience when it was broadcasted in the U.S.). Sailing without cease between arty New York with Ben and the middle of the mafia with Domingo Dominican, Cam bridging the gap between the two backgrounds, this short series (10 episodes x 26 minutes) had trouble to rto find its cruising rhythm due to lack of time and the multiplication of characters and subplots. However, even without being innovative, this series leaves a pleasant look and a certain curiosity remains at the end of the first season: what will become the American dream of all the fun characters in the series?
jici
"How to make it in America" (2010)
Creator: Ian Edelman
With: Bryan Greenberg, Victor Rasuk, Lake Bell, Kid Cudi, Shannyn Sossamon, Eddie Kaye Thomas
Production: Mark Wahlberg, Stephen Levinson, Rob Weiss, Julian Farino, Ian Edelman
Original channel: HBO
Season: 1
Episodes: 8
Official website: http://howtomakeitinamerica.com

Les derniers articles par Bulles de Culture
(tout voir)