Dernière mise à jour : mai 10th, 2015 at 04:56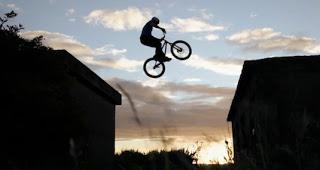 Trialiste VTT professionnel écossais, Danny MacAskill conjugue le verbe
sauter
à toutes les surfaces qu'il croise sur son trajet. La vidéo « Way Back Home » réalisée par son ami Dave Sowerby en est bluffante.
Scottish street trials pro rider, Danny MacAskill conjugates the verb to jump at any surface that crosses its path. The video « Way Back Home » about it made by his friend Dave Sowerby is bluffing.
Site officiel/Official website: hhttp://www.dannymacaskill.co.uk.

Les derniers articles par Bulles de Culture
(tout voir)