Dernière mise à jour : novembre 25th, 2018 at 12:59 am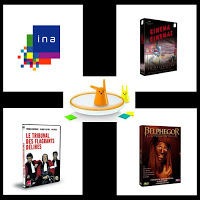 Pour les fêtes, voici les bulles de conseils d'achat web proposés par l'équipe de Bulles de Culture.
For the holidays, here are some bubbles of web consumer advices proposed by the Bulles de Culture team.
Vous avez peut-être déjà vu, au détour d'un rayon de votre magasin informatique, cet objet étrange et cute en forme de lapin. Est-ce une lampe ? non. Un jouet pour enfants ? presque. C'est un Nabaztag et c'est tout simplement LE gadget en vue de ces dernières années ! Fonctionnant avec votre connexion Wi-Fi, ce lapin bavard aux oreilles gyroscopiques vous donne l'heure, vous salue quand vous rentrez chez vous, vous prévient si vous recevez un e-mail, vous lit des blogs, vous joue des chansons, vous aide à apprendre une langue étrangère, ou vous dit qu'il vous aime – entre autres innombrables applications que vous pouvez ajouter par téléchargement, voire en créer si vous êtes développeur. Vous pouvez également le décorer ou l'habiller selon vos désirs, voire pourquoi pas changer ses oreilles. Sorte de Nabaztag de poche, le Nano:ztag est disponible en dix coloris à l'achat et peut être emporté avec vous, tandis que le Mir;ror reconnaît les puces RFID contenues dans les "Ztamps", active les fonctions qu'ils contiennent et que vous aurez au préalable programmés avant de coller ces timbres sur… à peu près n'importe quoi, de votre trousseau de clés jusqu'à une carte postale ou vos chaussures !

Et si vous vous demandez : "Pourquoi un Lapin ?", le site du créateur Violet vous répond : "Parce qu'il s'agit de faire la route d'Alice au Pays des Merveilles dans l'autre sens, de revenir de l'autre côté du miroir pour rompre la frontière entre le monde virtuel et le monde réel… et aussi parce que ça a des oreilles… et enfin parce que, dès lors que vous pouvez connecter un Lapin au réseau, vous pouvez connecter n'importe quoi". Inutile ? peut-être. Nécessaire ? bien sûr !

Site officiel :
http://www.nabaztag.com/
en/index.html

You may have already seen, while wandering in your computer shop, this odd and cute objet which looks like a rabbit. Is is a lamp? no. A children's toy? almost. It's a Nabaztag and it's just THE most fashionable gadget of the past four years! This gyroscopic-eared and very chatty rabbit only needs Wi-Fi to give you the time, greet you when you come home, warn you if yo receive an e-mail, read you blogs, play music, help you learn a foreign language, or tell you that he loves you – among many other applications which you can download or even create yourself if you're a developer. You can also decorate it, put clothes on it or change its ears. A kind of pocket-Nabaztag, the Nano:ztag is available in ten different colors and can easily be transported, while the Mir:ror recognizes RFID microships on "Ztamps" and activates the apps they contain and that you'll have pre-programmed before sticking the Ztamps on… pretty much anything from keys to shoes to postcards!

And if you wonder "Why a Rabbit?", creator Violet's website answers you: "To follow the same path as Alice in Wonderland but in reverse, to come back to our side of the looking glass and to tear down the barriers between the virtual world and the real world… and because a Rabbit has ears… and finally, because if you can connect a Rabbit to the network, you can connect pretty much anything". Useless? perhaps. Necessary? of course!

Official website:
http://www.nabaztag.com/
en/index.html.
Pour les fêtes, voici une belle occasion de découvrir les produits vendus par l'INA (Institut National Audiovisuel).

Ici, nous mettons en avant le très beau coffret dvd de la meilleure émission de cinéma ayant existé en France, "Cinéma, Cinémas". Sous l'impulsion d'un Jean-Pierre Jeunet cinéphile, l'ancien réalisateur de l'émission, Claude Ventura, nous fait revivre les grands moments pendant plus de 22H et en compagnie des plus grands (Martin Scorsese, Orson Welles, Samuel Fuller, John Cassavetes, Jean-Luc Godard, Lino Ventura, Robert Mitchum, Maurice Pialat, Charlotte Gainsbourg jeune et bien d'autres).

N'hésitez donc pas à découvrir les autres pépites radio (l'émission "Le Tribunal des flagrants délires" de Claude Villiers, Pierre Desproges et Luis Rego) et TV (le feuilleton "Belphégor ou le fantôme du Louvre") dénichées par l'INA : http://boutique.ina.fr.

For the holidays, here is a great opportunity to discover the products sold by INA (French National Audiovisual Institute).

Here, we will highlight the beautiful DVD pack of the best program about cinema that existed in France, called "Cinema, Cinemas". Under the leadership of the French director Jean-Pierre Jeunet, the former director of the program, Claude Ventura, relive us the great moments for over 22H and with the best ones (Martin Scorsese, Orson Welles, Samuel Fuller , John Cassavetes, Jean-Luc Godard, Lino Ventura, Robert Mitchum, Maurice Pialat, young Charlotte Gainsbourg and many others).

So feel free to find other Radio ( "La Cour des flagrants délires" by Claude Villiers, Pierre Desproges and Luis Rego) and TV (the serie "Belphegor ou le fantôme du Louvre") nuggets unearthed by the INA : http://boutique.ina.fr.
Joyeuses bulles festives à tous !
Happy festive bubbles to everybody!
jici, Sébou/세부

Les derniers articles par Bulles de Culture
(tout voir)