Dernière mise à jour : mars 1st, 2021 at 03:14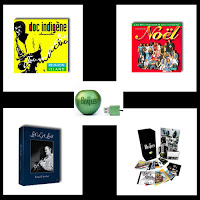 Pour les fêtes, voici les bulles de conseils d'achat musical proposés par l'équipe de Bulles de Culture.
For the holidays, here are some bubbles of music consumer advices proposed by the Bulles de Culture team.
Télécharger en mp3
"Les Moutardiers Et Doc Indigène Chantent Noël"
à partir de 1.00€

Download in mp3
"Les Moutardiers Et Doc Indigène Chantent Noël"
from 1.00€
En 1995, le groupe "Doc Indigène" débarque à l'Île de la Réunion avec le tube reggae "Chamacha". S'ensuivent plusieurs albums aux résonances métissées.

Que ce soit une chanson de noël avec une chorale de collégien ("Le Père Noël") ou la mélodie entraînante d'un reggae ("Chamacha"), laissez vous tenter pour les fêtes par la musique ensoleillée de Doc Indigène.

In 1995, the group "Doc Indigène" land on Reunion Island with the reggae hit "Chamacha". Then follow several albums with multiracial resonances.

Whether with a Christmas song with a college choir ("Le Père Noël", litteraly "Santa Claus") or a catchy reggae melody ("Chamacha"), let's be attempted for holidays by the sunny music of Doc Indigène.
Télécharger en mp3
le single "Chamacha"
pour 1.00€

Download in mp3
the single "Chamacha"
for 1.00€
| | | | | |
| --- | --- | --- | --- | --- |
| Pour Noël je vous donne une idée cadeau, le film "Let's get lost" de Bruce Weber. Ce documentaire sur la vie du trompettiste Chet Baker est sorti en DVD avec plein de bonus intéressant. Il contient de magnifiques photos, un making of, des clips et des courts-métrages et un cd audio. Alors, Amateur de cinéma et de jazz, faites-vous plaisir. | | For Christmas here is a good idea for a gift: the movie "Let's get lost" by Bruce Weber. This documentary on the life of trumpeter Chet Baker was released on DVD with lots of interesting bonus. It contains beautiful pictures, a making of, music videos and short films and an audio CD. So if you like cinema and jazz go ahead and enjoy it. | | |
| | | | | |
| --- | --- | --- | --- | --- |
| | | Cette année, les Beatles sont à l'honneur. Toujours aussi modernes et inépuisables, on ne peut que saluer les rééditions de l'intégralité de leurs albums, dans des éditions magnifiques (en stéréo ou en mono pour les puristes). EMI a même pensé aux réfractaires au CD avec cette clé USB à la gloire d'Apple Records. | | This year, the Beatles are honored. Still as modern and inexhaustible, we can only welcome the reissue of all their albums, in beautiful editions (in stereo or mono for purists). EMI has even thought of CD hostiles with this USB key at the glory of Apple Records. |
Joyeuses bulles festives à tous !
Happy festive bubbles to everybody!
Dave, Didier, jici

Les derniers articles par Bulles de Culture
(tout voir)