Dernière mise à jour : février 13th, 2016 at 10:12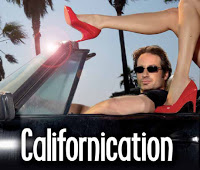 "It's the edge of the world
And all of western civilization
The sun may rise in the East
At least it settles in the final location
It's understood that Hollywood
sells Californication…"
Red Hot Chili Peppers
(Californication)
Synopsis : Hank Moody (David Duchovny) est un romancier new-yorkais exilé à Los Angeles. D'un tempérament auto-destructeur, il traverse les épisodes de la série entre drogue, alcool et femmes tout en souhaitant récupérer son ex-femme, Karen van der Beek (Natascha McElhone), et sa fille, Rebecca (Madeleine Martin), pour vivre une vie de famille pépère.
"Oh, look at the time….
The big hand says Fuck, and the little hand says Off…
Good thing there's not a second hand. I'm goin' in."
Hank Moody
Sexe, drogue et rock 'n' roll. Le ton de la série est donné dès son générique qui évoluera de saison en saison. Ainsi, le premier plan sur une jetée est comme en feu (flare sur la pellicule) puis le bord du cadre de la caméra avec ses "poils" est conservé pour présenter des images de Los Angeles, avec souvent ce flare – ce feu – sur le côté du cadre dont la présence augmentera de saison en saison, métaphore du comportement toujours plus destructeur de Hank.
"You can't snort a line of coke off a woman's ass 
and not wonder about her hopes and dreams, 
it's not gentlemanly."
Hank Moody
Et à propos de Hank, quand et comment apparaît-il dans ce générique ? Dès le second plan après la jetée en feu, caché derrière un journal (titré "Book Critic"). Ce plan sur lui signifie deux choses :
un, Hank vit de sa plume (bloguer, scénariste, romancier…) ;
deux, en choisissant ce geste de dévoilement (en baissant son journal, le visage de Hank nous apparaît), ce plan signifie : attention, vous allez voir David Duchovny comme vous ne l'avez jamais vu !
Oui, car en flirtant ouvertement du côté de l'écrivain américain Charles Bukowsky, le personnage joué par David Duchovny est à des années lumière du personnage lisse qui l'a rendu célèbre dans "X-Files : Aux frontières du réel" (1993-2002).
"Don't tell me what to feel. 
All my fuckin' life people have been telling me I do things wrong, 
I'm always the fucking asshole, 
and I look around and I see 
everyone else is infinitely more fucked up than I am."
Hank Moody
Ce personnage pourrait nous être antipathique à force de tout détruire autour de lui mais la morale reste sauve : il aime sa femme et sa fille. Ainsi, à l'image de la double personnalité d'un Nicky Larson (manga japonais), Hank est capable de jongler entre des comportements totalement irresponsables et des tête-à-têtes sérieux avec ces deux êtres qui lui sont chers.
"Dans un système économique où le licenciement est prohibé, chacun réussit plus ou moins à trouver sa place. Dans un système sexuel ou l'adultère est prohibé, chacun réussit plus ou moins à trouver son compagnon de lit. En système économique parfaitement libéral, certains accumulent des fortunes considérables ; d'autres croupissent dans le chômage et la misère. En système sexuel parfaitement libéral, certains ont une vie érotique variée et excitante ; d'autres sont réduits à la masturbation et la solitude."
Michel Houellebecq (Extension du domaine de la lutte)
Traverser de références rock, metal et grunge (références musicales et look gothique de la fille de Hank notamment), "Californication" est donc une série où son personnage principal est le symbole décrit par l'écrivain Michel Houellebecq d'un libéralisme ayant atteint la sphère privée.
Plongez donc dans cet univers libéral où des personnages haut en couleur cherchent à exister sous le regard d'un Hank Moody (nom formé du personnage récurrent, Hank Chinaski, des romans de Charles Bukowsky et du mot anglais moody qui veut dire "changeant, lunatique, morose, maussade) en roue libre et laissez vous tenter par les bande annonces des trois premières saisons de la série (une quatrième est déjà prévue) ci-dessous.
"To quote The Clash, should I stay or should I rock the casbah?" (Hank Moody)
"Californication" (depuis 2007)
12 épisodes de 26 minutes par saison
Chaîne de télévision : Showtime
Equipe technique
Créateur : Tom Kapinos
Production : David Duchovny, Tom Kapinos et Stephen Hopkins
Casting
Hank Moody : David Duchovny
Karen van der Beek : Natascha McElhone
Rebecca "Becca" Moody : Madeleine Martin
Charlie Runkle : Evan Handler
Marcy Runkle : Pamela Adlon
En savoir plus :
http://www.sho.com/site/californication/home.do?source=shocom_nav (site officiel en anglais)

Les derniers articles par Jean-Christophe Nurbel
(tout voir)