Dernière mise à jour : février 13th, 2016 at 10:12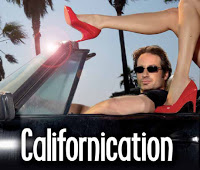 « It's the edge of the world
And all of western civilization
The sun may rise in the East
At least it settles in the final location
It's understood that Hollywood
sells Californication… »
Red Hot Chili Peppers
(Californication)
Plot: Hank Moody (David Duchovny) is a New York novelist in exile in Los Angeles. From a self-destructive temperament, he crosses the episodes of the serie between drugs, alcohol and women while wishing to recover while his ex-wife, Karen van der Beek (Natascha McElhone) and his daughter Rebecca (Madeleine Martin), to live a quiet family life.
 « Oh, look at the time…. The big hand says Fuck, and the little hand says Off… Good thing there's not a second hand. I'm goin' in » (Hank Moody).
Sex, drugs and rock 'n' roll. The tone of the series is given since its opening credits which evolves from season to season. Thus, the first shot with a pier is like on fire (flare on the film) then the edge of the frame of the camera with « hair » is kept to present images of Los Angeles, often with the flare – the fire – on the side of the frame whose presence will increase from season to season, metaphor of the ever more destructive behavior of Hank.
« You can't snort a line of coke off a woman's ass and not wonder about her hopes and dreams,  it's not gentlemanly » (Hank Moody).
 And what about Hank, when and how he appears in these opening credits? On the second shot after the pier on fire, hidden behind a journal (titled « Book Critic »). This shot means two things:
one, Hank lives with his pen (blogger, writer, novelist …);
two, choosing the gesture of unveiling (by lowering his newspaper, Hank's face appears), this plan means: attention, you will see David Duchovny as you've never seen him before.
Yes, because flirting openly on the side of the American writer Charles Bukowsky, the character played by David Duchovny is light years away from the smooth character that made him famous in « X-Files » (1993-2002).
« Don't tell me what to feel. All my fuckin' life people have been telling me I do things wrong, I'm always the fucking asshole, and I look around and I see everyone else is infinitely more fucked up than I am » (Hank Moody).
This person could be antipathic to us by always destroying everything around him but the moral remains intact: he loves his wife and his daughter. Thus, like the dual personality of a the character of « City Hunter » (Japanese manga), Hank is able to juggle between totally irresponsible behaviors and serious head-to-heads with the two persons who are dear to him.
<
p style= »text-align: justify; »>« In an economic system where unfair dismissal is prohibited, every person more or lee manages to find their bed mate. In a totally liberal sexual system certain people accumulate considerable fortunes, others stagnate in unemployment and misery. In totally liberal sexual system certain people have varied and exciting erotic life, others are reduced to masturbation and solitude » (Michel Houellebecq, Whatever).
Crossing by rock, metal and grunge references (musical references and gothic look of Hank's daughter in particular), Californication is a serie where the main character is the symbol specified by the writer Michel Houellebecq of the liberalism which has reached the private sphere.
Dive in this liberal world where colorful characters are trying to exist under the gaze of Hank Moody – name consisting of the recurring character, Hank Chinaski, in the Charles Bukowsky's novels and by the English word moody which means « sullen, sulky, gloomy, changeable » – in freewheeling and let yourself be tempted by the trailers of the first three seasons of the series (a fourth is already planned) below.
 « To quote The Clash, should I stay or should I rock the casbah? » (Hank Moody)
« Californication » (since 2007)
12 episodes of 26 minutes per season
Original channel : Showtime
Crew
Creator : Tom Kapinos
Production : David Duchovny, Tom Kapinos and Stephen Hopkins
Cast
Hank Moody : David Duchovny
Karen van der Beek : Natascha McElhone
Rebecca « Becca » Moody : Madeleine Martin
Charlie Runkle : Evan Handler
Marcy Runkle : Pamela Adlon
To learn more:
http://www.sho.com/site/californication/home.do?source=shocom_nav (official website)

Les derniers articles par Jean-Christophe Nurbel
(tout voir)