Dernière mise à jour : mai 28th, 2015 at 04:59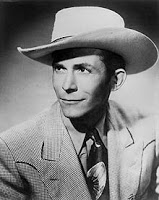 You know maybe not Hank Williams, but you probably know one of his songs: "Cold Cold Heart", "Jambalaya", "Hey Good Looking", "Your cheating heart".
Vous ne connaissez peut-être pas Hank Williams, mais vous connaissez sans doute une de ses chansons : "Cold Cold Heart", "Jambalaya", "Hey Good Looking", "Your cheating heart".
Seriously? You don't know any of these songs. It does not matter. This post will give you an overview of this exceptional artist.
Hank Williams was a true icon of country music equally at home in folk, gospel and blues. His songs have survived the ages and inspired many musicians today. "Cold Cold Heart" has been interpreted by Tony Bennett, Norah Jones, Jerry Lee Lewis and many others. His songs have been recorded by rock'n'roll artists like Elvis Presley and Gene Vincent to name the most famous.
Hank Williams has not lived very long. He died at 29 years and thus become one of the first popular musicians to experience drugs, depression along with glory.
He leaves us a legacy of beautiful melodies and very poetic lyrics. In my opinion, these songs can still touch a lot of people so I'll let you discover it.
Didier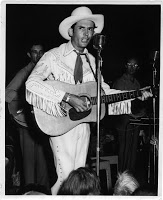 Sérieusement vous n'en connaissez aucune ? Ce n'est pas grave. Voilà un billet qui vous donnera un aperçu de cet artiste exceptionnel.
Hank Williams était une vraie icône de la country aussi à l'aise dans la musique folk, gospel et blues. Ses chansons ont traversé les époques et inspiré de nombreux musiciens actuels. "Cold cold heart" a été interprété par Tony Bennet, Norah Jones, Jerry Lee Lewis et bien d'autres encore. Ses chansons ont été reprises par des artistes de rock'n'roll comme Elvis Presley et Gene Vincent pour ne citer que les plus célèbres.
Hank Williams n'a pas vécu très longtemps. Il est mort à 29 ans et devient ainsi un des premiers musiciens populaires à avoir connu la drogue, la dépression en même temps que la gloire.
Il nous laisse en héritage de superbes mélodies et des paroles très poétiques. A mon avis ces chansons peuvent encore toucher plein de gens alors je vous laisse découvrir tout ça.
Didier
Site officiel : http://www.losthighwayrecords.com/hankwilliams.
Les derniers articles par Didier D.
(tout voir)