Dernière mise à jour : septembre 8th, 2015 at 04:20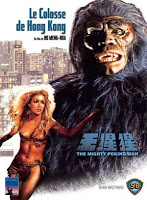 In 1977, studios of the Shaw Brothers, that flooded the screens of the world with wu xia pan and kung-fu movies, begin to show a slight decline. It must be said that Bruce Lee films showed up and the audience began to ask for something new and more dynamic. Since that time Shaw Brothers started to diversify. The year before, King Kong by John Guillermin has proved a worldwide success. Sir Runme Shaw will then decide to launch production of a remake: The Mighty Peking Man (猩猩王, 1977).
Plot:

In the Indian jungle, a giant gorilla spreads terror in villages. In Hong Kong, a wealthy businessman hears about this phenomenon. To capture the beast, he decides to organize an expedition. But the Indian jungle is merciless and almost all members of the expedition perish. Only Zhengfeng (Danny Lee) survives and meet in the heart of the jungle, a beautiful amazon, Wendy (Evelyn Kraft), who survived years ago the plane crash in which her parents died. She has since been collected and brought up by Utam, the giant gorilla that Zhengfeng wanted to capture. With her help, he will succeed in bringing the beast in Hong Kong…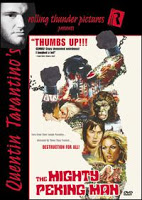 First of all, The Mighty Peking Man is a very peculiar movie. A turkey, but also a blockbuster. Like all Shaw productions, it uses exotic locations, many extras and has a quite good quality image. But, oddly, the special effects have not suffered the same care and each rigged plan is a disaster (miniature village destroyed by a man in a gorilla suit, stock shots of wild animals stuck in overlay…) will trigger widespread laughter . This mismatch between the film's ambitions and insufficient technical means, which provides a real pleasure to viewers.
Unlike a lot of very quickly boring turkeys, The Mighty Peking Man is full of ideas and inventiveness. The film is well paced, rapidly varying scenes, and especially Ho Meng-Hua seems to believe in his story, it deals in the first degree. It is this total lack of irony that makes this film endearing, because it follows an adventure film quite playful and funny comic whose appearance is reinforced by the lack of means. Since the introduction of the film, attacking the Indian village in cardboard by a man in a King Kong suit, will leave you speechless. Not to mention that inserts a poor set was run over by a false bottom of a giant gorilla.
Then follows the expedition where you will see with pleasure a member of the expedition devoured by a real tiger. Obviously, looking at the shot, you will not prevent you from thinking that the poor animal is completely anesthetized by sleeping pills and that extra rolls in the grass with it. But this is nothing compared to the care of elephants, where there is actually stock-shots where the actors before shooting into space have been incredibly badly encrusted. Following these incidents, the expedition finally decimated. For your pleasure, then come the best sequences of the film.
The meeting between Zhengfeng and Wendy, played by Evelyn Kraft, sex symbol of several B movies of the time, offers the most memorable sequences from this misunderstood masterpiece. Thus, after being bitten in the crotch by a snake, Zhengfeng will suck the venom, with a situation that will boost the libido of male spectators. Follows an absolutely incredible musical montage that will give you also the will to live in the forest with your favorite pet. This hedonist sequence, who will make the young people to regret not having experienced the '70s, is shown below.
I could continue to describe the absolutely incredible sequences that this movie contains. But that would spoil the pleasure of discovery. Because if you do see a turkey before dying, I can only advise you that cult film called The Mighty Peking Man.
P.S. And thanks to this movie, you have proof that ridicule does not kill, because Danny Lee will meet the consecration a few years later, while playing as a cop in pursuit of Chow Yun-Fat in John Woo's masterpiece, The Killer.
Les derniers articles par David Paté
(tout voir)