Dernière mise à jour : juin 1st, 2016 at 03:07
Allez un coup de projecteurs sur un de mes guitaristes favoris,  Warren Haynes.
Élevé au son du rock, du blues et même du hard rock,  Haynes a commencé sa carrière au sein du légendaire Allman Brothers Band. C'est une tâche difficile que celle de prendre la place de  Duane Allman, guitariste virtuose de la slide guitare (si, si, souvenez-vous de la chanson « Layla » de Derek and the Dominos, les longs solos de slide, c'est lui).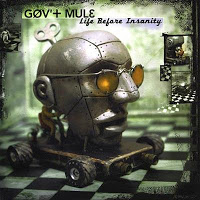 Il s'est approprié le style de Duane et a réussi le challenge de garder  sa propre personnalité et de s'intégrer dans la  musique du groupe.  Mais il ne s'est pas contenté d'être slideman et a fondé son propre groupe Gov't Mule en 1994 et a joué depuis avec d'autres groupes tels que Dereck trucks Band, The Dead et The Dave Matthews Band.
Au-delà de ses talents de guitariste c'est aussi un bon chanteur et compositeur.
Sa discographie est assez importante. Et je n'ai pas pu écouter tous les albums officiels ou pirates : il y doit y en avoir plus d'une centaine. Je recommande pour commencer les albums suivants :
« Where it all begins » (Allman Brothers Band)
« Life before insanity » (Gov't Mule)
Mais le vrai trip de Warren Haynes, c'est la scène et ses longues  improvisations. Alors je vous conseille d'écouter les albums live comme « Live with a little help from my friends » (Gov't mule).
En savoir plus :
http://www.allmanbrothersband.com
http://www.mule.net
Les derniers articles par Didier D.
(tout voir)