Dernière mise à jour : juillet 29th, 2015 at 08:29 pm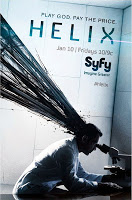 Diffusion en France de l'ambitieux huis-clos SF de la chaîne Syfy, vu au dernier Festival Séries Mania :
Helix
. Retours sur nos premières impressions après avoir vu le double premier épisode.
Broadcasted in France the ambitious SF series of Syfy, seen at the last Festival Séries Mania: Helix. Returns on our first impressions after watching the first double episode.
Synopsis : Dans un centre de recherches en Arctique, une équipe de scientifiques de la CDC (Centers for Disease Control and Prevention) enquête sur un mystérieux et dangereux virus.
Avec notamment Ronald D. Moore (Battlestar Galactica) en producteur exécutif, Helix est une série de 13 épisodes de 42 minutes. Ronald D. Moore a une prédilection pour placer des scénarios réalistes dans un univers de science-fiction.
La série prend du temps avant de trouver son rythme de croisière et il ne faut surtout pas s'arrêter sur la mise en place de l'intrigue un peu trop soap opéra. Jugez-vous même : le chef d'équipe du CDC, le Dr. Alan Farragut (Billy Campbell), part pour sa mission avec son ex-femme, le Dr. Julia Walker (Kyra Zagorsky). Il découvre sur place que le seul patient infecté et encore vivant est son frère, le Dr. Peter Farragut (Neil Napier). Ce dernier a été en plus l'amant de sa femme.
Heureusement, passé ce passage obligé, la suite de l'épisode est anxiogène à souhait avec notamment une énorme référence au film Alien : Le 8ème Passager de Ridley Scott, quand les personnages partent à la recherche du Dr. Peter Farragut malade dans les conduits d'aération.
Avec un slogan "Play God, pay the price" ("Jouez à Dieu, payez-en le prix"), la série Helix nous promet un huis-clos haletant. La scène finale sous la douche (référence explicite à Pulsions de Brian de Palma) annonce une suite et un thriller plein de promesses.
Pourvu que ça dure,
jici
En savoir plus :
– http://www.syfy.fr/shows/helix (site officiel)
– Nos séries coups cœur Séries Mania : https://www.bullesdeculture.com/search/label/series%20mania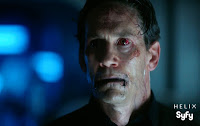 Plot: In a research center in the Arctic, a team of scientists from the CDC (Centers for Disease Control and Prevention) are investigating a mysterious and dangerous virus.
With a tagline "Play God, pay the price", Helix promises us an exciting in camera. The final scene in the shower (explicit reference to Dressed to Kill by Brian de Palma) announces a following and a thriller with full of surprises.
We hope it stays that way,
jici
To learn:
– http://www.syfy.com/helix (official website)
– Our series coups cœur of Séries Mania: https://www.bullesdeculture.com/search/label/series%20mania

Les derniers articles par Jean-Christophe Nurbel
(tout voir)