Dernière mise à jour : juin 24th, 2016 at 08:47 am
 <br />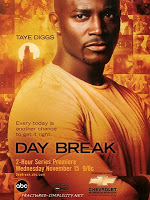 En 2006, la future série culte
Lost
se cherche et marque une pause de trois mois à partir du mois de novembre. Pendant ce laps de temps, la chaîne de télévision américaine ABC en profite pour diffuser une nouvelle série au concept novateur mais qui ne durera hélas qu'une seule et unique saison :
Day Break
.
In 2006, the future cult serie Lost stops for three months from the month of November. During this time, the U.S. television network ABC uses this opportunity to broadcast a new serie with an innovative concept but which will unfortunately only last for one and only season: Day Break.
Créée par Rob Bowman (producteur et réalisateur sur
X-Files : Aux frontières du réel
) et Paul Zbyszewski (scénariste et co-producteur exécutif sur
Lost, les disparus
),
Day Break
est donc une série télévisée américaine en treize épisodes d'une quarantaine de minutes et diffusée en 2006-2007. Le concept original de la série reprenait l'idée géniale du film de Harold Ramis,
Un jour sans fin
(1993), où le personnage principal interprété par Bill Murray se retrouvait à revivre encore et encore la même journée dans une petite ville américaine. Même idée donc pour Brett Hopper, le héros de
Day Break
interprété par Taye Diggs (
Ally McBeal
,
Grey's Anatomy
), inspecteur de police injustement accusé du meurtre du procureur Alberto Garza. Piégé, il a la chance de revivre chaque matin la même journée pour pouvoir prouver son innocence et sauver ses proches tout en déjouant une machiavélique conspiration. De l'anti-héros (il voudra au départ seulement se disculper et sauver ses proches), il deviendra un héros (il voudra déjouer la conspiration) avant d'atteindre le statut de super-héros (sauver lui, ses proches et déjouer le complot).
Si les deux premiers épisodes où Brett Hopper accuse le coup et reste passif sont plutôt mous, la série prend son véritable envol à partir du moment où Brett perd de sa naïveté et prend enfin le parti de changer les choses. C'est alors un rythme à la 24 heures chrono que la série adopte (avec en plus une théorie de la conspiration si récurrente dans la série du récent retraité Jack Bauer) et un plaisir de plus en plus grand apparaît au fur et à mesure que les scénaristes envisagent les multiples possibilités d'une seule et même journée, possibilités reprises dans le titre même de chaque épisode : "Et s'ils s'enfuyaient ?", "Et s'il la laissait partir ?", "Et si elle mentait ?", etc.. L'habituel "et si, et si" prend donc ici tout son sens ainsi que le leitmotiv d'un des personnages de la série : "Pour chaque décision, il y a une conséquence".
Ce principe était déjà usité dans le jeu vidéo Blade Runner (1997) où son intérêt résidait dans le fait que chacune des actions du joueur influençait différemment le jeu et offrait donc la possibilité d'une dizaine de fins différentes au jeu.
Pendant que Brett Hopper reconstitue peu à peu le puzzle diabolique, chacune de ses actions se répercute dans le jour "suivant" (il se réveille blessé, il se réconcilie avec sa famille, il apprend à connaître son équipière, etc.) et c'est donc au fur et à mesure des épisodes que l'on prend conscience de l'intérêt du concept et du plaisir que cela peut procurer. En effet, combien de fois n'avons-nous pas marqué notre incompréhension devant telle ou telle réaction incompréhensible du personnage de notre série ou de notre film favori ? Or, ici, chaque cas est envisagé. Et la série pousse son principe encore plus loin avec par exemple, la situation ironie où lorsqu'après que Brett Hopper ait pour la énième fois vécu la même journée, sa petite amie se réveille un matin en ne le reconnaissant plus du tout (épisode 11 : "Et s'il prenait des vacances ?"). Réaction normale de sa part puisque lui change mais pas les autres (sauf cas où Brett a réussi à changer dans un épisode sa relation à l'autre – ex. il se réconcilie avec sa sœur – et que ce changement sera inconsciemment pris en compte par l'autre dans les jours "suivants").
Day Break est donc une série qu'il faut suivre de bout en bout pour pouvoir l'apprécier, ce qui explique peut-être l'échec de sa diffusion aux États-Unis (en plus, de la concurrence des autres séries). En effet, après une diffusion à la télévision, la série a difficilement poursuivi et clos sa seule et unique saison sur le site internet de la chaîne.
Mais cette déclinaison à la fois identique et différente d'une seule et même journée procure un réel plaisir et même si cette série n'est pas parfaite, il serait vraiment dommage de ne pas chercher à la voir ou la revoir, ne serait-ce que pour son passionnant concept.
jici
En savoir plus :
– "Day Break" (epguides.com) ;
-"Day Break" (Allociné) ;
-Audiences Lost (Allociné) ;
– Rob Bowman (IMDb) ;
– Paul Zbyszewski (IMDb) ;
– ABC (Wikipédia) ;
– Cahiers du Cinéma, N°658, juillet-août 2010 ;
– "Un jour sans fin" (Wikipédia) ;
– Taye Diggs (IMDb) ;
– "Blade Runner", jeu vidéo (Wikipédia).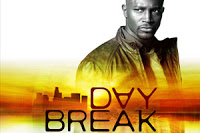 Created by Rob Bowman (producer and director on
The X-Files
) and Paul Zbyszewski (screenwriter and co-executive producer on
Lost
),
Day Break
is an American television serie with thirteen episodes of forty minutes and aired in 2006-2007. The original concept of the serie used the brilliant idea of the film by Harold Ramis,
Groundhog Day
(1993), where the main character played by Bill Murray found himself to relive again and again the same day in a small American town. So same idea with Brett Hopper, the hero of
Day Break
played by Taye Diggs (
Ally McBeal
,
Grey's Anatomy
), detective unjustly accused of the murder of Attorney Alberto Garza. Trapped, he has the chance to relive the same day each morning in order to prove his innocence and save his family while thwarting a Machiavellian conspiracy. Anti-hero at first (he just try to exonerate himself and to save his family), he became a hero (he will thwart the conspiracy) before reaching the status of super heroe (to save him, his friends and to thwart conspiracy).
If the first two episodes where Brett Hopper is still under shock and stays passive, the serie really takes off when Brett loses his innocence and finally starts to try to change things. Then the serie adopts a rythm like 24 (plus a conspiracy theory that recurred in the serie of recent retiree Jack Bauer) and a pleasure appears more and more in proportion as the writers consider the multiple opportunities for one and same day, possibilities included in the title of each episode: "What If They Run", "What If He Lets Her Go", " What If She's Lying", etc. .. The usual "and if and if" means here its full meaning like the leitmotif of a character in the serie: "For every decision, there is a consequence".
This principle was already in use in the video game Blade Runner (1997) where his interest lay in the fact that each player's actions influenced the game differently and thus offered the possibility of a dozen different endings for the game.
While Brett Hopper gradually reconstructs the diabolical puzzle, each of his actions is reflected in the day "after" (he wakes up wounded, he reconciles with his family, he learns to know his partner, etc..) and it is therefore in proportion as each episode that we realize the interest of the concept and the pleasure it can bring to us. Indeed, how many times have we marked our failure to understand a particular and incomprehensible reaction of the character of our favorite serie or movie? But here, each case is considered. And the serie pushes the principle even further, for example with the ironic situation when as Brett Hopper has lived for the umpteenth time the same day, his girlfriend wakes up one morning and does not recognize him at all (episode 11: "What If He Walks Away"). Normal reaction for her as he changed but not the others (except when Brett has managed to change his relationship with someone – eg. he makes it up with his sister – and that this change will be unconsciously kept by the other in the "following" days).
Day Break is a serie that must be followed from beginning to end in order to appreciate it, which may explain the failure of its broadcasting in the U.S. (in addition, the competition with other series). Indeed, after a broadcast on television, the serie has barely ended and continued his one and only season on the website of the channel.
But this both identical and different variation for one day gives real pleasure and even though this serie is not perfect, there would be a shame not to try to watch it, even if it is only for its exciting concept.
jici
To learn more:
En savoir plus :
– "Day Break" (epguides.com) ;
-"Day Break" (Allociné) ;
-Audiences Lost (Allociné) ;
– Rob Bowman (IMDb) ;
– Paul Zbyszewski (IMDb) ;
– ABC (Wikipedia) ;
– Cahiers du Cinéma, N°658, juillet-août 2010 ;
– "Groundhog Day" (Wikipedia) ;
– Taye Diggs (IMDb) ;
– "Blade Runner", video game (Wikipedia).

Les derniers articles par Jean-Christophe Nurbel
(tout voir)