Dernière mise à jour : April 9th, 2021 at 02:57 pm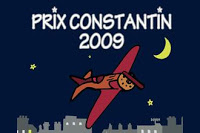 The Prix Constantin rewards an artist with an album produced and distributed in France (live albums or reissues are not accepted) and who have never won Gold Disc (50 000 albums sold). The jury of the "Prix Constantin" consists of at least 17 persons chosen from among professionals of the press, radio and television, record stores and music retailers online.


So November 9th, the Jury, chaired by the singer Olivia Ruiz, will designate the Prix Constantin 2009 among ten candidates:
Babx ("Cristal Ballroom", Warner Music France)
Birdy Nam Nam ("Manual for successfull rioting", Jive Epic/Sony Music France);
Diving with Andy ("Sugar Sugar", Universal Music Classics/Jazz France) ;
Dominique A ("La Musique", Cinq7/Wagram Music) ;
Emily Loizeau ("Pays Sauvage", Polydor/Universal Music) ;
Fred Viola ("The Turn", Because Music) ;
Hugh Coltman ("Stories from the safe house", Mercury/Universal Music) ;
Orelsan ("Perdu d'avance", 3ème bureau/Wagram Music) ;
Piers Faccini ("Two grains of sand", Tôt ou tard/VF Musiques) ;
Yodelice ("Tree of life", Mercury/Universal Music).
A short audio overview of these artists with the journalist Marie-Hélène Chabert on the website of the weekly French magazine Telerama: http://www.telerama.fr/musique/playlist-en-lice-pour-le-constantin,34860.php (in French).
Previous winners of the Prix Constantin:
2007 – Daphné ("Carmin") ;
2006 – Abd Al Malik ("Gibraltar") ;
2005 – Camille ("Le Fil") ;
2004 – Cali ("L´amour parfait") ;
2003 – Mickey 3D ("Tu vas pas mourir de rire") ;
2002 – Avril ("That Horse Must Be Starving).
Official website of the Prix Constantin : Prix Constantin (in French).

Latest posts by Bulles de Culture
(see all)