Dernière mise à jour : avril 9th, 2021 at 02:57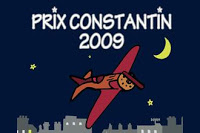 Le Prix Constantin récompense un artiste dont l´album a été produit et distribué en France (les albums live ou rééditions ne sont pas acceptés) et qui n´a jamais obtenu de Disque d´or (50 000 disques vendus). Le jury du Prix Constantin est choisi parmi les professionnels de la presse écrite, de la radio et de la télévision, les disquaires et distributeurs de musique en ligne.

Donc le 9 novembre 2009, le Jury, présidé par la chanteuse Olivia Ruiz, désignera le Prix Constantin parmi dix candidats :
Babx ("Cristal Ballroom", Warner Music France)
Birdy Nam Nam ("Manual for successfull rioting", Jive Epic/Sony Music France);
Diving with Andy ("Sugar Sugar", Universal Music Classics/Jazz France) ;
Dominique A ("La Musique", Cinq7/Wagram Music) ;
Emily Loizeau ("Pays Sauvage", Polydor/Universal Music) ;
Fred Viola ("The Turn", Because Music) ;
Hugh Coltman ("Stories from the safe house", Mercury/Universal Music) ;
Orelsan ("Perdu d'avance", 3ème bureau/Wagram Music) ;
Piers Faccini ("Two grains of sand", Tôt ou tard/VF Musiques) ;
Yodelice ("Tree of life", Mercury/Universal Music).
Les précédents vainqueurs du Prix Constantin :
2007 – Daphné ("Carmin") ;
2006 – Abd Al Malik ("Gibraltar") ;
2005 – Camille ("Le Fil") ;
2004 – Cali ("L´amour parfait") ;
2003 – Mickey 3D ("Tu vas pas mourir de rire") ;
2002 – Avril ("That Horse Must Be Starving).
Site officiel du Prix Constantin : Prix Constantin

Les derniers articles par Jean-Christophe Nurbel
(tout voir)