Dernière mise à jour : décembre 10th, 2015 at 06:23 pm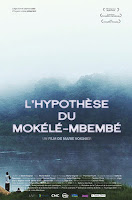 Dans notre monde considéré comme entièrement cartographié et numérisé en haute définition, Michel Ballot est un excentrique : il est chercheur indépendant en cryptozoologie1. À ce titre, il multiplie depuis une dizaine d'années les expéditions au cœur de la forêt camerounaise pour prouver l'existence d'un animal africain inconnu : le Mokélé-Mbembé.
In our considered fully mapped and digitized in high definition world, Michel Ballot is an eccentric: he is an independent researcher in cryptozoology 4. As such, he multiplies for the past ten years expedition in the heart of Cameroonian forest to prove the existence of an African unknown animal: the Mokele-Mbembe.
"Pour le voir comme je vous vois, ce n'est pas facile", dit un des guides pygmées à Michel. Si dans ses expéditions effectuées à pied, en 4*4, en bac ou en pirogue, Michel Ballot a interrogé plusieurs témoins et fait plusieurs croquis de l'animal, celui-ci reste désespérément hors-champ, flirtant entre le réel et le mythologique : "Il est plus fort que nous, il a la puissance du diable. C'est le diable", dit un autre homme à Michel.
Fascinée par cette quête, l'artiste et réalisatrice Martine Voignier la prend comme sujet de son premier long-métrage, L'Hypothèse du Mokélé-Mbembé. Mais pas de sensationnel ici : il n'y pas de dramatisation par la musique ou par une voix over. Martine Voignier se fait discrète, prend son temps, consulte les archives de Michel Ballot et revient en sa compagnie sur les lieux où l'animal a été aperçu. Comme Namir Abdel Messeehv2, elle interroge dans son film "les registres de la croyance, de la vérité et de la vraisemblance"3. Ainsi, entre le premier et le dernier plan du film, si le cadre se resserre sur le fleuve et la jungle luxuriante, le mystère n'est pas davantage percé. Cela peut frustrer mais sa description de cet explorateur des temps modernes réveille en nous – toutes proportions gardées – les souvenirs littéraires des grands auteurs de romans d'aventures du 19ème siècle, de Jules Verne à Robert Louis Stevenson. Et ce n'est déjà pas si mal.
jici
Site officiel : http://www.age-or.fr/lhypothese-du-mokele-mbembe.
1 La cryptozoologie est l'étude scientifique d'animaux dont l'existence est contestée (pieuvre géante, yéti, etc.).
Source : Larousse.
2 Hasard des sorties en salles, cette recherche sur les croyances se retrouve également dans le premier long métrage
de Namir Abdel Messeehv, "La Vierge, les Coptes et Moi" (2012).
cf. CINEMA: "La Vierge, les Coptes et Moi" (2012).
3 Marie Voignier in Entretien avec Marie Voignier, Dossier de Presse, p.8.
"To see it as I see you, it's not easy", says one of the Pygmy guides to Michel. If his expeditions on foot, on 4*4, by ferry or by canoe, Michel Ballot interviewed several witnesses and made several sketches of the animal, it remains desperately off screen, flirting between real and mythology. "It is stronger than us, it has the power of the devil. It is the devil", tells an other man to Michel.
Fascinated by this quest, artist and filmmaker Martine Voignier takes it as subject of her first feature film, The Mokele-Mbembe Hypothesis. But no sensational will here: there is no use of drama music or voice over. Martine Voignier is discreet, takes her time, consults Michel Ballot's archives and returns with him to the places where the animal was seen. As Namir Abdel Messeehv5, she interrogates in her film "the belief, the truth and the likelihood"6. Thus, between the first and the last shot of the film, if the frame is contracting and focusing on the river and the luxuriant jungle, the mystery is not much more elucidated. This can be frustrating but the description of this modern days explorer awakens in us – relatively speaking – the memories of the great authors of literary adventure novels of the 19th century, from Jules Verne to Robert Louis Stevenson. And it is not so bad.
jici
To learn more: http://en.unifrance.org/movie/33590/the-mokele-mbembe-hypothesis.
4 Cryptozoology is the scientific study of unknown animals with insufficient material evidence of their existence (giant
octopus, Abominable Snowman of the Himalayas, etc.)."
Source: The Canadian Encyclopedia.
5 Despite the relatively random theatrical releases, this research on beliefs is also treated in the just released first feature film
by Namir Abdel Messeehv, "The Virgin, the Copts and Me" (2012).
cf. CINEMA: "The Virgin, the Copts and Me" (2012).
6 Marie Voignier in Entretien avec Marie Voignier, French Press-Kit, p.8.

Les derniers articles par Jean-Christophe Nurbel
(tout voir)