Dernière mise à jour : mai 10th, 2021 at 04:54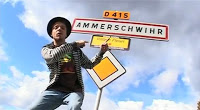 En vue des élections régionales de mars 2010, Patrick Binder, tête de liste du Front National en Alsace, utilise une photo du village d'Ammerschwihr (Haut-Rhin) sur sa camionnette de campagne. En effet l'image du village typique alsacien (vignes, clocher, montagnes…) appuie l'un des thèmes principaux de sa campagne : l'identité régionale.
In view of regional elections in March 2010, Patrick Binder, head of the National Front list in Alsace, has been using a photo of the Ammerschwir village (Haut-Rhin) on his campaign van. Indeed the image of the typical Alsatian village (vines, tower, mountains…) supports one of the main themes of his campaign: regional identity.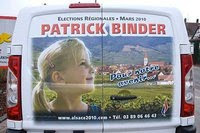 Ne supportant pas de voir leur beau village associé aux valeurs du FN, l'idée d'exprimer leur mécontentement gagne rapidement les esprits des jeunes habitants. C'est alors que Ty, Jo, Ben et toute la bande forment le Collectif 6.8.7.7.0 (tout simplement le code postal d'Ammerschwihr) pour l'occasion, et créent le buzz sur Internet avec le clip « Tu prends mon bled comme étiquette ». Le principe : dénoncer Patrick Binder et son parti sur un fond de reggae et de rap des campagnes à la Kamini.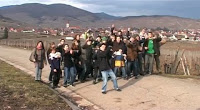 Le clip est tourné fin février dans les rues du village et réunit une quarantaine de personnes de tout âge. Avec la participation des Hopla Guys, de Spirit Revolution et de Chud, trois groupes locaux, et l'aide du Bon Home Studio, le Collectif 6.8.7.7.0 nous offre une vidéo pleine d'auto-dérision, mais toutefois avec des lyrics qui sonnent comme une déclaration de guerre envers Patrick Binder. À quelques jours du premier tour des élections, le clip comptabilise plus de 90 000 vues sur Youtube notamment grâce a Facebook qui a permis à cette vidéo une diffusion mondiale – car oui, elle a été visionnée au moins une fois dans la quasi-totalité des pays. Qui l'aurai cru ? Pas eux en tout cas !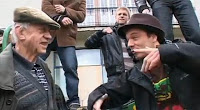 Présentés comme un exemple de la lutte anti-Front National par les plus grands médias nationaux, de M6 à Europe 1, en passant par LCI et RTL, les 6.8.7.7.0 font la promotion de leur village, mais par extension de l'Alsace en général, atténuant un peu son image de région « trop à droite ». On espère que ce buzz ne sera pas une pub pour Patrick Binder, mais au contraire que cette musique résonnera jusque dans les bureaux de votes des mairies alsaciennes le 14 mars !
MatChard
Facebook : tapez « Collectif 6.8.7.7.0. » dans l'outil de recherche
Page Myspace des Hopla Guys : www.myspace.com/hoplaguys
Site Internet de Spirit Revolution : www.spiritrevolution.fr
Site Internet de Chud : www.chud.fr
Page Myspace du Bon Home Studio : www.myspace.com/lebonhomestudio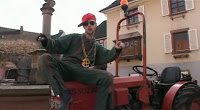 Because they couldn't bear to see their beautiful village associated with the values of FN, the idea of expressing their discontent rapidly gained the minds of young people. Ty, Jo, Ben and their gang therefore formed the 6.8.7.7.0. Collective (simply the zip code of Ammerschwir) for the occasion and created buzz on the Internet with their videoclip « Tu prends mon bled comme étiquette » (literally: « You take my village as a label »). The principle: denounce Patrick Binder and his party on a background of reggae and Kamini-like countryside rap.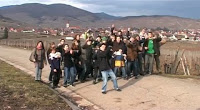 The clip was shot late February in the village streets and attended by forty people of all ages. With the participation of Hopla Guys, Spirit Revolution and Chud, three local bands, and using the Bon Home Studio, the 6.8.7.7.0. Collective offers a video full of self-mockery yet with lyrics that sound like a declaration of war against Patrick Binder. A few days before the first round of elections, the clip has received more than 90.000 views on Youtube, especially thanks to Facebook which has made this video a worldwide distribution – because yes: it was viewed at least once in almost every country. Who would've thought? Not them anyway!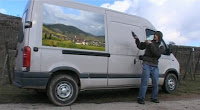 Presented as an example of anti-National Front by most major national media, from M6 to Europe 1 through RTL and LCI, the 6.8.7.7.0. promote their village as well as Alsace in general, somewhat reducing its image as a « too right-wing » region. Hopefully this buzz won't be an ad for Patrick Binder; instead we hope that on March 14th the music will resonate into the polling stations of all Alsatian town halls!
Facebook : type « Collectif 6.8.7.7.0. » in the Search tool
Hopla Guys' Myspace page: www.myspace.com/hoplaguys
Spirit Revolution's Internet website: www.spiritrevolution.fr
Chud's Internet website: www.chud.fr
Bon Home Studio's Myspace page: www.myspace.com/lebonhomestudio
Les derniers articles par MatChard
(tout voir)