Dernière mise à jour : février 3rd, 2021 at 05:00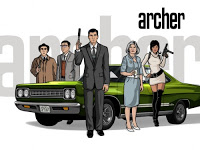 Here's the formula : Shocking Sex jokes + Politically Incorrect One-Liners + Stupid Characters In Spy Cartoon = You'll Laugh Until You Vomit What you Ate For Lunch!
Voici la formule : blagues de sexes choquantes + répliques politiquement incorrectes + personnages stupides dans une animation d'espionnage = Vous allez rire jusqu'à ce que vous vomissiez ce que vous avez mangez au déjeuner !
La suite en Français >>
Archer is a brand new 20 minutes cartoon series, targeted at adult audiences. The setting is the following : Isis is the acronym for International Secret Intelligence Service (ISIS). The title refers to the agency's principal spy, Sterling Archer, who is the main star of the show : egocentric, charming but uncaring, utterly stupid, completely self-obsessed and sex-obsessed, naïve and incompetent. He also harbors mouth-opening « mother issues ». But Sterling Archer is not the only funny character in this series. All the characters are loony and insane (a pretty but strangely sadomasochistic secretary, an evil professor, a tough no-nonsense girl spy, a sex-starved slutty zoophile old woman).
This animated series delves into the politically incorrect and shines with sadistic one-liners, depraved situations and completely insane character reactions. But unlike, other shows similar in tone, the creators of the show know that only one thing matters : laughter. So, instead of coming off as puerile, gratuitous and just plain stupid, the show appears fun and light in tone and puts all its power in the jokes. It is not condescending and does not pretend to have a message, to denounce society's failings, criticize cheaply some tabloid star scandals or show a political message of any kind.
It is pure fun and that is what makes this show special. It is an entertaining spy show with great jokes (whether they be slapstick, sexual, visual or gory). Don't look for a meaning in the intrigue, the characters team up fight enemies (and each other) and some more enemies (and double cross each other) and just screw themselves (in every way imaginable).
Ever since Futurama was off the air, we haven't found anything that rivaled the level of humor it managed. And while Archer is no « Futurama », it can become something of that calibre given time and while actual choices for « funny » cartoons are the over-rated Simpsons, Family Guy and South Park, Archer stands far above the rest. It is already slated for a second season.
So, send the kids to bed, turn on your TV and get ready to laugh hysterically like a little girl (or a little boy…).
VJ
"Archer"
Creator: Adam Reed
Writers: Adam Reed, Matt Thompson
Actors: Jessica Walter, Chris Parnell, Judy Greer, Aisha Tyler, Adam Reed
Music: Michael Kohler
Original channel: FX
Original run: 2009
Official Web Site : http://www.fxnetworks.com/shows/originals/archer
Archer est une toute nouvelle série animée de 20 minutes pour les spectateurs adultes. Le principe est le suivant : Isis est l'acronyme de International Secret Intelligence Service (ISIS). Le titre fait référence à l'espion principal, Sterling Archer, la star de la série : égocentrique, charmant mais indifférent, totalement stupide, obsédé de lui-même et de sexe, naïf et incompétent. Il éprouve des sentiments "inappropriés" vis-à-vis de sa mère. Mais Sterling Archer n'est pas le seul personnage drôle dans cette série. Tous les personnages sont loufoques et fous (une jolie mais sadomasochiste secrétaire, un professeur diabolique, une très vieille femme assoiffée de sexe et zoophile).
Cette série animée se plonge dans le politiquement incorrect et brille de brillantes répliques sadiques, de situations dépravées et de réactions de personnages complètement dingues. Mais à la différence d'autres séries similaires dans l'esprit, les créateurs de la série savent qu'une seule chose compte : faire rire. Donc, au lieu d'être puéril, gratuit et tout simplement stupide, la série est, en fait, amusante, légère et met toute sa force dans les blagues. Elle n'est pas condescendante et ne prétend pas avoir un message. Elle ne dénonce pas les manquements de la société, les derniers scandales ridicules des tabloïds et ne revendique aucun message politique.
C'est un pur divertissement et c'est ce qui rend cette série spéciale. C'est une série d'espionnage divertissante avec d'excellentes blagues (qu'elles soient burlesques, sexuelles, visuelles ou gores). Ne cherchez pas un sens à l'intrigue, les personnages affrontent des ennemis (et s'affrontent aussi entre eux), couchent entre eux (et aussi avec des ennemis) et s'arnaquent mutuellement (de toutes les façons possibles).
Depuis la fin de "Futurama", nous n'avons pas trouvé quelque chose qui rivalise avec ce niveau d'humour. Et tandis que "Archer" n'est certainement pas "Futurama" en terme de qualité, il peut atteindre avec le temps ce niveau et tandis que le choix de séries animées "drôles" sont les sur-évaluées "Simpsons", "Family Guy" et "South Park", Archer est bien au-dessus du lot et est déjà programmé pour une deuxième saison.
Alors, envoyez les enfants au lit, allumez votre téléviseur et préparez-vous à rire hystériquement comme une petite fille (ou un petit garçon …)
VJ
"Archer"
Créateur : Adam Reed
Scénaristes : Adam Reed, Matt Thompson
Casting : Jessica Walter, Chris Parnell, Judy Greer, Aisha Tyler, Adam Reed
Musique : Michael Kohler
Chaîne d'origine : FX
Diffusion d'origine : 2009
Site officiel : http://www.fxnetworks.com/shows/originals/archer
Les derniers articles par Vijay R.
(tout voir)