Dernière mise à jour : avril 16th, 2021 at 04:48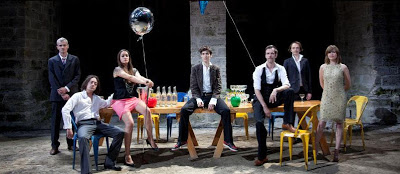 Actuellement et jusqu'au 22 décembre, le metteur en scène français François Orsoni et la compagnie NéNéKa investissent pendant 2h le plateau de la grande salle du Théâtre de la Bastille avec la première pièce du plus grand dramaturge et metteur en scène du 20ème siècle : "Baal" de Bertolt Brecht.
Nowadays and until December 22nd, the French producer François Orsoni and the NéNéKa company are investing for 2 hours the great stage of the Théâtre de la Bastille with the first play of the greatest playwright and producer of the 20th century: "Baal" by Bertolt Brecht..
Au sortir de la Guerre 14-18 où il fut mobilisé en tant qu'infirmier, Brecht a tout juste 20 ans et écrit sa première pièce achevée : "Baal". Le dramaturge est marqué par son expérience de guerre et pour se démarquer de son milieu bourgeois d'origine, il raconte ici l'histoire d'un poète jouisseur et auto-destructeur.
Après "Jean la Chance" en 2008, François Orsoni présente un nouveau texte du jeune Brecht au Festival d'Avignon 2010. D'un texte plusieurs fois remanié par son auteur (y compris l'année précédant sa mort en 1956), Orsini en choisit la deuxième version écrite en 1919 où la jeunesse de Brecht se déchaîne dans un ton anarchiste, cru et lyrique.
"Baal joué par une femme, ça crée une confusion, une forme de distanciation, la frontalité homme-femme est troublée."
François Orsoni
Une table dressée de verres toujours pleins, des ballons, une ambiance de fête, le décor à transgresser est planté. Après avoir fait exploser le couple Ludivine Sagnier et Louis Garrel dans le film de Christophe Honoré ("Les chansons d'amour", 2007), Chlotilde Hesme s'empare du poète maudit Baal qui va remettre en question la société bourgeoise dans laquelle il naviguait. En une vingtaine de scènes, Orsini et sa jeune compagnie nous donne une vision à la fois ironique et distante de cet anti-héros brutalement poétique que sa folie éthylique mènera du viol au meurtre.
"Baal" a une distribution de sept comédiens jouant plusieurs rôles : Clothilde Hesme ("Les Amants réguliers", "Les chansons d'amour") dans le rôle de Baal donc, mais aussi Mathieu Genet en jeune premier ("Les Amants réguliers", "Les Destinées sentimentales"), Alban Guyon en meilleur ami de Baal, rocker camé et fou, Thomas Landbo en transexuel extraverti, Estelle Meyer en jeune vierge, Jeanne Tremsal en femme adultère et Tomas Heuer, ancien musicien du groupe punk Bérurier Noir qui a écrit les différentes musiques interprétées dans la pièce.
"Baal est un jouisseur chaotique, repoussant et fascinant. Il s'extrait de la société et sa trajectoire est une chute progressive, un suicide lent et assumé – paradoxalement une quête de plaisir – de bonheur ? comme un sentiment de puissance."
François Orsoni
Provocateur et anarchiste, usant de drogues, d'alcools et de femmes, Baal se détruit tout doucement tout au long de la pièce et son "ciel violet" s'obscurcit peu à peu au-dessus du Théâtre de la Bastille.
Un bloc de glace, un club de golf et tout vole en éclat : un spectacle à ne surtout pas manquer !
jici
"Baal" (1919)
Auteur : Bertolt Brecht
Mise en scène : François Orsoni
Avec : Mathieu Genet, Alban Guyon, Clotilde Hesme, Tomas Heuer, Thomas Landbo, Estelle Meyer, Jeanne Tremsal
Musique : Tomas Heuer
<A HREF="http://ws.amazon.fr/widgets/q?ServiceVersion=20070822&MarketPlace=FR&ID=V20070822%2FFR%2Fbulldecult-21%2F8003%2Fc7c36003-298e-4d06-9e42-4399313adc8d&Operation=NoScript">Widgets Amazon.fr</A>
Entre autres sites pour en savoir plus sur Brecht, "Baal" et la compagnie NéNéka, n'hésitez pas à parcourir les fichiers du FBI sur Bertolt Brecht rédigés dans les années 40 (http://foia.fbi.gov/foiaindex/brecht.htm) :
– http://www.theatre-bastille.com (site officiel) ;
– http://web.me.com/julie.allione/Site_n%C3%A9n%C3%A9ka/accueil.html (site officiel) ;
– http://fr.wikipedia.org/wiki/Baal_%28pi%C3%A8ce_de_th%C3%A9%C3%A2tre%29 ;
– http://fr.wikipedia.org/wiki/Bertolt_Brecht ;
– http://blogdessine.festival-avignon.com/post/2010/07/24/Baal-/-Fran%C3%A7ois-Orsoni ;
– http://www.telerama.fr/scenes/lever-de-rideau-4-francois-orsoni-monte-baal,63131.php ;
– http://fr.wikipedia.org/wiki/Clotilde_Hesme ;
– http://www.allocine.fr/personne/fichepersonne_gen_cpersonne=68852.html ;
– http://www.thomaslandbo.com (site officiel) ;
– http://www.jeanne.de (site officiel) ;
– http://fr.wikipedia.org/wiki/B%C3%A9rurier_Noir.
After the War 1914-1918 where he was called up as a nurse, Brecht is just 20 years and writes his first achieved play "Baal". The play is marked by his war experience and to differentiate himself from his middle-class background, here he tells the story of a sensualist and self-destructive poet .
After "Hans lm Glück" in 2008, François Orsoni presents a new text of the young Brecht at 2010 Avignon Festival. From a text revised several times by its author (including the year preceding his death in 1956), Orsini chooses the second version written in 1919 when Brecht's youth is unleashed in anarchist and lyrical thoughts.
"Baal, played by a woman, it creates confusion, a form of distance, the border man-woman is troubled."
François Orsoni
A table set with always full glasses, balloons, a party atmosphere, the stage to transgress is set. After breaking the couple Ludivine Sagnier and Louis Garrel in the film by Christophe Honoré ("Love Songs", 2007), Chlotilde Hesme seizes the cursed poet Baal who will challenge the middle-class society in which he was born. In twenty scenes, Orsini and his young company give us an ironic and distant vision of this roughly poetic anti-hero whom his ethylic madness will lead from rape to murder.
"Baal" has a cast of seven actors playing multiple parts: Clothilde Hesme ("Regular Lovers", "Love Songs") in the part of Baal but also Mathieu Genet as leading man ("Regular Lovers", "Les destinées"), Alban Guyon as best friend of Baal, crazy and junkie rocker, Thomas Landbo as extrovert transsexual, Estelle Meyer as young virgin, Jeanne Tremsal as adulterer woman and Tomas Heuer, a former musician from the French punk band Bérurier Noir who wrote the different tunes played in the play.
"Baal" is a chaotic, repulsive and fascinating sensualist. He gets out of the society and his trajectory is a gradual fall, a slow and assumed suicide – paradoxically, a quest of fun – of happiness? as a sense of power."
François Orsoni
Provoker and anarchist, using drugs, alcohol and women, Baal is destroying himself slowly throughout the play and his "purple sky" is becoming darker and darker over the Théâtre de la Bastille.
A block of ice, a golf club and everything shatters: a show not to be missed!
jici
"Baal" (1919)
Author: Bertolt Brecht
Direction: François Orsoni
With: Mathieu Genet, Alban Guyon, Clotilde Hesme, Tomas Heuer, Thomas Landbo, Estelle Meyer, Jeanne Tremsal
Music: Tomas Heuer
<A HREF="http://ws.amazon.fr/widgets/q?ServiceVersion=20070822&MarketPlace=FR&ID=V20070822%2FFR%2Fbulldecult-21%2F8003%2Fc7c36003-298e-4d06-9e42-4399313adc8d&Operation=NoScript">Widgets Amazon.fr</A>
Among other websites to learn more about Brecht's "Baal" and the theatrical company NéNéka, feel free to browse the files on Bertolt Brecht's done by FBI in the 40s:
– http://www.theatre-bastille.com (official website) ;
– http://web.me.com/julie.allione/Site_n%C3%A9n%C3%A9ka/accueil.html (official website) ;
– http://en.wikipedia.org/wiki/Baal_%28play%29 ;
– http://en.wikipedia.org/wiki/Bertolt_Brecht ;
– http://blogdessine.festival-avignon.com/post/2010/07/24/Baal-/-Fran%C3%A7ois-Orsoni ;
– http://www.telerama.fr/scenes/lever-de-rideau-4-francois-orsoni-monte-baal,63131.php ;
– http://en.wikipedia.org/wiki/Clotilde_Hesme ;
– http://www.imdb.com/name/nm0312795/ ;
– http://www.thomaslandbo.com (official website) ;
– http://www.jeanne.de (official website) ;
– http://en.wikipedia.org/wiki/B%C3%A9rurier_Noir ;

Les derniers articles par Jean-Christophe Nurbel
(tout voir)