Dernière mise à jour : juillet 4th, 2019 at 06:05

Ce lundi 6 décembre 2010 sera diffusé le premier des cinq derniers épisodes de la saison 6 de « The Closer : L.A. enquêtes prioritaires ». La célèbre Chef-adjoint Brenda Leigh Johnson (interprétée par l'actrice américaine Kyra Sedgwick, Emmy Award 2010 et Golden Globe 2007 pour ce rôle), va reprendre du service après sa
désillusion
de ne pas avoir été choisi pour être le nouveau chef de la police. Mais avec un nouveau chef à la tête de la police, cela promet !
This Monday, December 6, 2010 will be aired the first of the last five episodes of Season 6 of « The Closer ». The famous Deputy Chief Brenda Leigh Johnson (played by American actress Kyra Sedgwick, 2010 Emmy Award and 2007 Golden Globe for this part), will resume service after her disillusion to have been not chosen to be the new police chief. But with a new chief to head the police department, it promises!
En savoir plus :
– http://www.tnt.tv/series/closer ;
– http://the-closer-wiki.tnt.tv ;
– http://epguides.com/Closer ;
– http://fr.wikipedia.org/wiki/The_Closer_:_L.A._enqu%C3%AAtes_prioritaires ;
– http://the-closer.hypnoweb.net ;
– http://programmes.france2.fr/the-closer ;
– http://fr.wikipedia.org/wiki/Kyra_Sedgwick ;
– http://fr.wikipedia.org/wiki/Turner_Network_Television.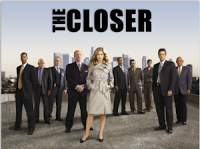 Flashback: « The Closer » is an American television serie created by James Duff and broadcasted since 2005 on the television channel TNT (Turner Network Television). In the footsteps of the character of Brenda Leigh Johnson, a former CIA officer and appointed to head a special unit of police in Los Angeles specializing in crimes classified as « priority » (Major Crimes Division), we follow at first sight an ordinary police serie where each episode ends with the resolution of an investigation. But the originality of this serie is in its main character. Indeed, if the pitch of the series is « They'll bring you In. She'll make you talk », it is no coincidence. In her manner of speaking, managing her team and resolving her investigation, « The Closer », it is her: she is the one that
closes
the folders. In each episode, all the spectators and her colleagues are waiting for this moment: the strong interrogation of the suspect by Brenda until his full confession. And this little lady obtains it almost every time, with rare exceptions.
<A HREF= »http://ws.amazon.fr/widgets/q?ServiceVersion=20070822&MarketPlace=FR&ID=V20070822%2FFR%2Fbulldecult-21%2F8010%2F80ca2d06-e050-4d13-afee-02fbb95e60d5&Operation=NoScript »>Widgets Amazon.fr</A>
Woman with strong character in a man's world (the only female character of her team left in the season 5), Brenda Leigh Johnson is, like a Gregory House, surrounded by a whole team to help her to solve her investigations and has always the last word at the end.
Her team consists of:
– Detective Sergeant David Gabriel (Corey Reynolds)
– Detective Lieutenant Louie Provenza (George W. Bailey)
– Detective Lieutenant Andy Flynn (Tony Denison)
– Detective Lieutenant Michael Tao (Michael Paul Chan)
– Detective Julio Sanchez (Raymond Cruz)
– Former assistant chief for operations and ex-lover Will Pope (J.K. Simmons),
– Commander Russell Taylor (Robert Gossett)
– Civilian surveillance coordinator Buzz Watson (Phillip P. Keene),
– Detective Irene Daniels (Gina Ravera) from season 1 to 4,
– Her husband and FBI Special Agent Fritz Howard (Jon Tenney) since season 6.
Through the investigations, we also follow the love life of Brenda who over the seasons is developping because after finally imposed herself as a chief (seasons 1 and 2), she starts to live with a partner (season 2), to assume it in front of her family and colleagues (season 3), to get married (season 4), to get used to her life as a young bride (season 5) and to work officially with her husband (season 6).
While the entire serie is about Brenda, the sharpness of its authors is to make alive all the characters around her with details, justified by the fact that Brenda refuses to mix personal and professional lives. For example, we learn that Detective Sergeant Detective Gabriel and Detective Daniels are separating by the fact they are fighting all the time without reason. Similarly, we learned about the new love life of the excellent Detective Lieutenant Provenza by new clothes with flowers that suddenly he starts to wear at work.
« The Closer »
Creator: James Duff
Producers: James Duff, Greer Shephard and Michael Robin
Date of creation: 2005
Number of seasons: 6 (in course)
Original channel: TNT (United States)
Running time : 42 min
Opening titles song: « Secret » by Howie Day
Below, the making of of episode 3 of season 6 can give you an idea of conception and direction of the serie. For 20 minutes, we are behind the scene of this episode and we discover all the people who have shot during seven and a half days and have made postproduction during four weeks of one episode among all the episodes of the series.

Les derniers articles par Jean-Christophe Nurbel
(tout voir)