Dernière mise à jour : octobre 11th, 2015 at 09:36
Par/by Jici
Rédacteur en Chef/Editor in Chief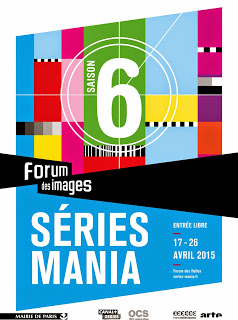 Oyez, oyez, braves sérivores, la grande messe des séries est de retour pour votre plus grand plaisir ! Direction le
Forum des Images
dès ce vendredi 17 avril 2015 pour
une 6ème édition de Séries Mania
pleine de promesses. Envie d'en savoir plus ?
Hear ye, hear ye, brave series fans, the great Mass of the series is back for your entertainment! Let's go to Forum des Images from this Friday, April 17, 2015 for a very promising 6th edition of Séries Mania. Want to know more?
More in English >> (Translation in progress, come bubble later)
Chaque année, le
Forum des Images
offre à un public de plus en plus friand de séries des projections sur grand écran de séries du monde entier.
Du 17 au 26 avril 2015
, la programmation proposera donc un panel toujours aussi large, de la série très attendue et véritable succès aux États-Unis,
Empire
– en présence qui plus est de son créateur, réalisateur et producteur
Lee Daniels
-, à la série politique et d'anticipation très étonnante,
Occupied
, pour laquelle ses créateurs
Erik Skjoldbjærg
et
Karianne Lund
ont mis en image l'idée du romancier
Jo Nesbø
d'une Norvège envahie par la Russie.
Ainsi, en plus des habituelles séries américaines (American Crime, Mozart in the Jungle, Olive Kitteridge, The Walking Dead, Togetherness, Transparent…), britanniques (Cucumber Banana, Glue, Indian Summers, The Game) et séries françaises (Le Bureau des légendes, Disparue, La Vie devant elles, Nina…), le festival va nous permettre de parcourir le monde à travers des séries allemande (Deutschland 83), argentine (La Casa), australienne (Gallipoli, The Principal), belge (Strikers) canadienne (Le Clan), danoise (Follow the Money), finnoise (Tellus), islandaise (The Cliff – Depth of Darkness), israélienne (False Flag, Sirens), italienne (1992), polonaise (Wataha), roumaine (Umbre), suédoise (Blue Eyes, Jordskott) et suisse (Station Horizon).
Au niveau des invités, la présence de Lee Daniels sera notamment accompagnée par celle des créateurs Matthew Weiner (Mad Men), Diego Lerman (La Casa) et Hagai Levi (The Affair) ainsi que des acteurs Alex Dimitriades (The Principal) et Julie Walters (Indian Summers).
Des marathons en mode binge watching – ce sera notamment l'occasion de voir les 3 épisodes de la série créée par J.K. Rowlings, The Casual Vacancy -, une sélection de webséries internationaux – dont la websérie Thomas et Thomas s'en vont au Groenland des auteurs de Inupiluk) -, des conférences et des débats publics qui s'annoncent passionnants – notamment autour de la question de la place de la femme dans l'univers des séries -, des rendez-vous professionnels, des remises de prix – Prix du public, Prix de la presse internationale, Prix des internautes, Prix des blogueurs -…
Le chemin parcouru par le festival et la croissance de son offre chaque année sont tout simplement impressionnants !
Alors vous êtes prêts ?
Coup d'envoi du festival Séries Mania à 16h par une amusante table ronde animée par Thomas Destouches (Tous critiques de séries TV ?) puis par une soirée d'ouverture très, très prometteuse en compagnie de la première série produite par – il en a aussi réalisé le pilote – M. Night Shyamalan, Wayward Pines.
Vive les séries, vive le festival !

En savoir plus :
– https://twitter.com/search?q=%40bullesdeculture%20%40FestSeriesMania&src=typd & & https://twitter.com/search?q=%40bullesdeculture%20%28SeriesMania&src=typd (live-tweets de Bulles de Culture)
– https://www.bullesdeculture.com/search/label/series%20mania (tous les articles de Bulles de Culture sur le festival)
– https://www.bullesdeculture.com/search/label/serie (toutes les séries chroniquées par Bulles de Culture)
– http://series-mania.fr (site officiel)
– Séries Mania se tiendra du 17 au 26 avril 2015 au Forum des Images (Paris, France)

Les derniers articles par Jean-Christophe Nurbel
(tout voir)