Dernière mise à jour : juin 20th, 2019 at 04:07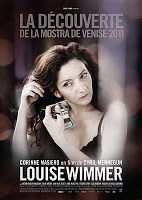 Insoumise et révoltée, Louise Wimmer a tout perdu. Armée de sa voiture et de la voix de Nina Simone, elle va tout faire pour reconquérir sa vie.
Rebellious and enraged, Louise Wimmer has lost everything. With her car and Nina Simone's voice, she will do everything to recover her life.
Armé de cette trame, le réalisateur Cyril Mennegun va nous plonger au cœur de la précarité et donner à celle-ci un corps, un visage, celui de l'étonnante comédienne Corinne Masiero, surtout connue pour ses apparitions à la télévision ("Engrenages", "P.J.").
En choisissant de mettre en avant des visages peu vus au cinéma (Corinne Masiero, Jérôme Kircher, Anne Benoît et les autres comédiens), de filmer des bouts de décors (voiture, rue, café, etc.) et d'adopter une lumière froide, Cyril Mennegun offre une vrai vision cinématographique de la précarité dans un pays (la France) mais aussi un monde de plus en plus en enfoncé dans une crise économique sans fin.
Une idée de cinéma qui symbolise parfaitement la pensée du film est ces plan très Laurent Cantet (Cyril avoue d'ailleurs la parenté de son film avec "L'Emploi du temps" de Cantet) quand la caméra placée sur le siège arrière de la voiture de Louise la filme au volant en gros plan.
L'espace est réduit par le cadrage : le visage de Louise est cadré en gros plan dans le rétroviseur intérieur.
Tandis que le temps dans lequel évolue le personnage est sous-entendu par l'image : elle ne peut pas se retourner sur son passé (on ne voit pas l'arrière de la voiture dans le rétroviseur), son futur est incertain (la route qui défile à travers le pare-brise est toujours floue) et elle n'arrive pas à saisir son présent, à reprendre le fil de sa vie (ce n'est pas le visage de Louise que l'ont voit mais son reflet dans le rétroviseur).
Et c'est en dansant sur le leitmotiv de la chanson de Nina Simone, "Sinnerman", face à la ville lointaine et en contrebas qu'elle arrivera enfin à élargir son horizon (du gros plan à des plans plus larges) et à reconquérir (peut-être) sa vie.
Avec "Louise Wimmer" (2011), Corinne Masiero et Cyril Mennegun nous invitent à la rencontre d'un personnage féminin beau et fort à la recherche de sa dignité d'être humain dans un monde de plus en plus précaire. À ne pas manquer.
jici
Site officiel : http://www.hautetcourt.com/fiche.php?pkfilms=181
With this script, the director Cyril Mennegun will dive us into the heart of the precariousness and give to it a body, a face, the one of the stunning actress Corinne Masiero, best known for her television appearances ("Spiral" "C.I.D.").
By choosing to highlight faces rarely captured on the big screen (Corinne Masiero, Jérôme Kircher, Benoît Anne and other actors) and to shot pieces of locations (car, street, café, etc.) under a cold light, Cyril Mennegun offers a true cinematic vision of in precariousness in a country (France) but also a world increasingly driven into an economic crisis without end.
An idea of ​​cinema that perfectly symbolizes the thought of the film is the very Laurent Cantet's shot (Cyril admits also the link between his film and Cantet's "Time Out") when the camera placed in the back seat of the car shot Louise driving in close-up.
The space is reduced by the frame: Louise's face is shot in close-up in the driving mirror.
While the time is implied in the shot: she can not return to her past (we do not see the back of the car in the driving-mirror), her future is uncertain (the road through the windshield is blurred), and she can not capture her present, to regain control over her life (we do not see Louise's face but its reflection in the mirror).
And she has to dance on the leitmotif of the song of Nina Simone, "Sinnerman", in front of the distant city below to finally expand her horizon (from close-up to larger shots) and recover perhaps her life.
With "Louise Wimmer" (2011), Corinne Masiero and Cyril Mennegun invite us to meet a beautiful and strong female character looking for her human dignity in an increasingly precarious world. Not to be missed.
jici
To learn more: http://en.unifrance.org/movie/31648/louise-wimmer.

Les derniers articles par Jean-Christophe Nurbel
(tout voir)