Dernière mise à jour : juin 1st, 2021 at 04:39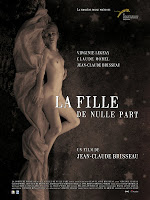 Léopard d'or du 65ème Festival international du film de Locarno, le dernier film de Jean-Claude Brisseau, « La Fille de nulle part », a probablement séduit le festival et son président du jury Apichatpong Weerasethakul (« Oncle Boonmee, celui qui se souvient de ses vies antérieures ») par son histoire fantastique et sa réalisation faite de bouts de ficelle (film auto-produit avec un budget de 400 000 euros).
Golden Leopard at the 65th Locarno International Film Festival,, the latest film by Jean-Claude Brisseau, « The Girl from Nowhere », has probably seduced the festival and its president of the jury Apichatpong Weerasethakul (« Uncle Boonmee who remembers his past lives ») with its fantastic story and its direction made ​​with not much (self-produced movie with a budget of 400 000 euros).
« La Fille de nulle part » est un quasi huis-clos entre un professeur de mathématiques retraité (Jean-Claude Brisseau) et une jeune SDF (Virginie Legeay) qu'il a recueilli dans son appartement où des phénomènes étranges vont se multiplier. Comme les histoires de fantômes sont relativement rares en France, il est très plaisant de voir Brisseau confronter avec beaucoup d'humour l'esprit très cartésien du français (l'incrédulité du professeur face aux phénomènes) aux figures du paranormal (fantômes, spiritisme). Si le film souffre par instant de son manque de moyens – absence d'effets spéciaux, décors limités, interprétations pas toujours justes et quelques longueurs -, il reste tout de même quelques beaux moments de rencontres cinématographiques entre les humains et les esprits dont une effrayante et surprenante première apparition.
jici
En savoir plus :
http://www.unifrance.org/film/34533/la-fille-de-nulle-part#

Les derniers articles par Jean-Christophe Nurbel
(tout voir)