Dernière mise à jour : juin 6th, 2015 at 12:10 pm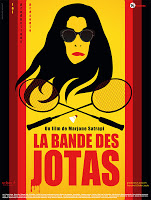 Il arrive parfois qu'après de gros projets, certains réalisateurs ont envie de décompresser en tournant des films aux conditions de production plus libres et moins contraignantes. C'est le cas ici de la réalisatrice Marjane Satrapi (
Persepolis
,
Poulet aux Prunes
) avec une histoire de tueurs à gages, de mafieux et de vengeance :
La Bande des Jotas
(2012).
Sometimes after big projects, some filmmakers want to unwind by making films freer and less restrictive production conditions. This is the case here with the director Marjane Satrapi (Persepolis, Chicken with Plums) with this story of hitmen, mafia and revenge in Spain: The Gang of the Jotas (2012).
Ce film s'inscrit dans un projet plus vaste d'une collection de plusieurs films tournés à chaque fois dans un pays différent (ici, l'Espagne). Le principe est de partir avec une équipe réduite (Marjane Satrapi est par exemple actrice, décoratrice, productrice, réalisatrice et scénariste sur le film) et d'en écrire l'histoire au jour le jour. Bref, un film sans prétention si ce n'est celle de divertir. Cependant, si le besoin de décompresser est légitime, il n'est pas toujours nécessaire de le filmer et de le partager.
Vivement que Marjane Satrapi se remette à écrire et nous redonne à voir et à entendre des films aux histoires plus conséquentes.
jici
En savoir plus : http://www.unifrance.org/film/34778/la-bande-des-jotas#
To leran more: http://en.unifrance.org/movie/34778/gang-of-the-jotas

Les derniers articles par Jean-Christophe Nurbel
(tout voir)