Dernière mise à jour : mai 15th, 2016 at 07:49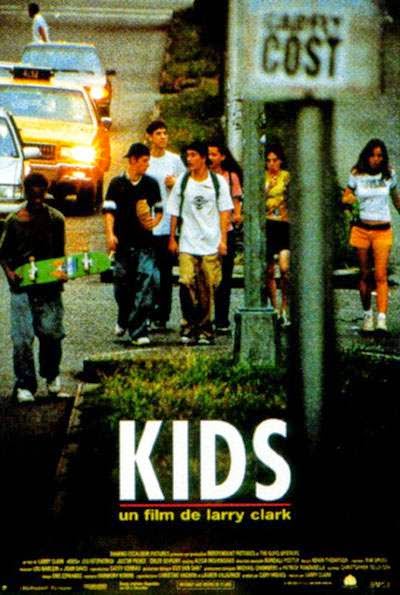 Dernier week-end pour profiter du Cycle Contamination au Forum des Images !
On a été séduits par sa programmation riche et variée. Après
Le Masque de la mort rouge (1964)
,
Nosferatu (1922)
et
Under the Skin (2013)
, on a revu
Kids
(1995), le premier film du controversé de
Larry Clark
(
Ken Park
,
Wassup Rockers
). Retour dans l'univers sordide d'une jeunesse new-yorkaise paumée qui a désormais des petits frères parisiens en ce moment avec
The Smell of Us
(2014). C'est par le sexe, la drogue et la violence que sont contaminés ces « kids » sans repères ni éducation… Brrr ! On en frissonne encore.
Last weekend to enjoy the Cycle Contamination at the Forum des Images (Paris, France)! We were pleased by its rich and various program: after The Masque of the Red Death (1964), Nosferatu (1922) and Under the Skin (2013), we went to see Kids (1995), the first film of the controversial Larry Clark. A dive into the sordid world of lost young people from New York, which now has Parisian brothers in theaters with The Smell of Us (2014). These kids without landmarks or education are contaminated by sex, drugs and violence… Brrr! We are still shuddering.
More in English >> (Translation in progress, come bubble later)
Synopsis: Telly (Leo Fitzpatrick), accro au dépucelage de vierges, et Casper (Justin Pierce), adolescent violent et malsain, sont deux jeunes skaters paumés errant dans New York au début des vacances d'été. Alors que leur journée ponctuée de violences gratuites et d'abus sexuels avance, Jennie (Chloë Sevigny) cherche Telly pour lui annoncer une affreuse nouvelle.
Le photographe Larry Clark a commandé le scénario de ce premier film édifiant à un ado de 19 ans, un certain Harmony Korine (Spring Breakers, Mister Lonely). Il y montre avec quelle facilité les dérives d'une bande de petit cons basculent dans le drame, sans qu'ils en prennent conscience à aucun moment.
Ce film hué lors de sa projection au
Festival de Cannes
est-il pour autant une provocation gratuite ? Il faut bien admettre que non, puisque l'idée originale est inspirée par le quotidien de jeunes skaters de San Francisco et développée par
Harmony Korine
à partir de sa propre expérience. Les comédiens, non professionnels, ont été recrutés alors qu'ils faisaient du skate dans les parcs de New York, et deux d'entre eux (
Justin Pierce
et
Sajan Bhagat
) ont « poussé le vice » jusqu'à connaitre des destins tragiques.
Œuvre choquante et brillante, Kids aurait pu devenir un plaidoyer constructif pour l'éducation d'une jeunesse qui perd pied. Malheureusement, Larry Clark semble depuis s'être engouffré dans une observation perverse des tourments sexuels de jeunes garçons plus que dans la tenue d'un réel propos cinématographique…
Marie D.
En savoir plus:
– https://www.bullesdeculture.com/search/label/Cycle%20Contamination (tous les articles de Bulles de Culture sur le cycle)
– https://twitter.com/search?q=%40bullesdeculture%20%23ContaminationFDI (live-tweet de Bulles de Culture sur le cycle)
– http://www.forumdesimages.fr/les-films/les-programmes/contamination (site officiel du cycle)
– http://www.imdb.com/title/tt0113540/ (page IMDb du film)
– http://larryclark.com/ (site officiel)

Les derniers articles par Zoé Klein
(tout voir)