Dernière mise à jour : août 17th, 2016 at 05:45 pm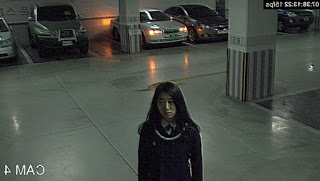 Le festival fini, suite de nos retours sur les trois sections de la programmation.
The festival finished, here is our next post about the three sections of it.
Présenté en section Compétition n°4, "The Beholders" de Park Seok-jae est un film brutal raconté uniquement via des images de caméras de surveillance, occasionnellement présentées en split-screen. Impuissants, on y voit le passage à tabac et l'humiliation répétés d'une jeune fille par ses camarades de classe. Quand ils ont fini de la frapper, ses camarades se marrent tandis qu'ils la font s'habiller comme une fille de joie et la forcent à se prostituer. La sécheresse objective de la mise en scène révèlent la cruauté des uns, la souffrance des autres et l'indifférence des certains. Les âmes de tous. L'absence totale de son impose la concentration sur ce qu'on voit, amplifiant notre empathie pour la jeune victime dont la vie semble être la répétition d'une violence banale sans raison, sans objet et surtout sans but.
Un passage en particulier provoque une émotion et un suspense insoutenables : alors que la jeune fille s'enfuit et que le groupe la poursuit dans la rue, un split-screen présente des rues en courbes, formant une sorte de cercle. Passant d'un écran à l'autre, la jeune fille tourne alors littéralement en rond, et l'on sent que son calvaire est sans échappatoire. Elle se laisse rattraper à un endroit où elle sait qu'il y a une caméra de surveillance. Ils la tabassent, ignorant qu'ils sont filmés. C'est alors leur violence à eux, mais son piège à elle. Pourtant, le lendemain matin, elle voit une femme de ménage nettoyer les traces de sang sans s'en inquiéter. La femme de ménage partie, la fillette laisse éclater sa rage et donne un grand coup de pied dans une voiture. Le son surgit alors, la salle entière sursaute et c'est comme une claque en plein visage. La fillette s'approche de la caméra de sécurité et la (nous) fixe intensément. Et l'on se demande alors à quoi bon en placer partout dans nos villes si personne ne réagit à l'horreur souterraine qu'elles filment. En fait, quelqu'un les regarde-t-il seulement ?
Les autres films de la section Compétition n°4 étaient :
"Cold January" (Romany Saad) : Pour combler le trou béant laissé par la porte d'entrée que son mari a vendu avant de les abandonner, une mère utilise un panneau sur lequel un portrait de Mubarak est collé à l'envers. Dès le début, le réalisateur nous fait comprendre de quel côté de la révolution arabe il se situe, et le reste du film le revendique même très frontalement. Pour gagner sa vie et pouvoir nourrir ses deux enfants, la jeune mère vend des drapeaux aux révolutionnaires. La comparaison entre la petite famille et le pays, qui luttent tous deux pour remplacer leurs pères, retransmet avec passion la ferveur d'un peuple avide de changements en même temps que les individus filmés se font les porte-voix du réalisateur. Les questions finales, posées en voix-off par les enfants, traduisent les attentes du peuple, et l'on souhaite sincèrement qu'elles seront entendues.
"Antique Camera" (Chung Hae-il) : un couple se sépare. Elle vient chercher les affaires qu'elle a laissées au studio photo du jeune homme. Non-dits, regards qui s'évitent, gêne mutuelle. Un appareil photo (support de mémoire, témoin objectif de ce qu'était leur relation) capte l'attention de la jeune femme, et elle se met à photographier tout et n'importe quoi. Il la ramène chez elle en voiture ; en fait c'est elle qui a voulu la séparation, et elle est surprise d'être la seule à sembler le regretter. Elle développe le rouleau qu'elle a photographié plus tôt au studio, comme pour figer un morceau de ce qui appartient déjà à son passé.
"The Drunken Boat" (Kim Ha-na) : film sur les rapports père/fille. Elle trouve une photo dans un livre qu'elle a emprunté au père de son amie, pour lequel elle s'entiche car il est "tout" ce que son père n'est pas. Lorsqu'elle le croise par hasard alors qu'il va aux putes, elle perd alors son dernier idéal et décide de lui rendre tous les bouquins qu'il lui avait offerts. Renonçant au fantasme du père idéal, elle redécouvre le sien et se décide à l'accepter. Touchant.
"Snowbound" (Alexis Fortier Gauthier) : le film s'ouvre sur deux ados qui s'embrassent, puis elle a mal au ventre et s'éloigne. Après le carton-titre, elle vole un test de grossesse dans la supérette où bosse sa mère narcissique et légèrement négligente, quoique aimante. Sa mère trouve le test en préparant une machine à laver : positif. Angoisse des femmes enceintes trop jeunes, la fille faisant sûrement comme sa mère. Elle n'arrive pas à parler au jeune père, camarade de classe insouciant et désinvolte. Elle s'arrange alors pour mettre fin violemment à sa grossesse. La prise en main de son destin s'accompagne d'une souffrance immédiate. Sortant finalement de la salle de bains, où elle vient littéralement de tirer la chasse sur son embryon, la fillette semble soudain bien plus mûre que sa mère. Mais davantage que du passage à l'âge adulte, ce film traite en fait du renoncement à l'enfance.
Sébou/세부
En savoir plus :
– CINEMA: BISFF 2012 ;
– http://www.bisff.org (site officiel).
Screened in Competition n°4, "The Beholders" by director Park Seok-je is a brutal film narrated only via security camera footage, which are sometimes presented in splitscreen. We remain powerless as a young girl repeatedly gets beaten up and humiliated by fellow class comrades. When they've hit her enough, they make her dress as a whore and prostitute herself to their benefice. The mise-en-scene's objective harshness reveal the cruelty of some people, the suffering of others, and the indifference of a few. Everybody's souls. The utter absence of sound forces us to concentrate on what we see, adding to our empathy for the young victim whose life seems like the repetition of an endless, pointless and goalless, mundane violence.
One scene in particular provokes unbearable emotion and suspens: as the girl attempts to escape and the group chases her in the streets, four curb streets are made to form a circle through the use of a splitscreen. Running from one screen to the other, the girl effectively appears to be going in circles, and we fear there will be no way out of her ordeal. She then allows herself to be caught in a place where she noticed a security camera before. They beat her up, not knowing they're being filmed. It may be their violence, but it's her trap. The next morning however, she walks by as a cleaning lady is washing the blood without it worrying her. Once she's gone, the girl lets her repressed rage coming out and kicks a car. The sound suddenly irrupts like a slap in the face, making the whole audience jump in their seats. The girl approaches the security camera and stares at it (us). And we wonder what the point is installing those cameras everywhere if nobody bothers to react at the underground horror that they record. In fact, is somebody even watching them?
The other films in the Competition section No. 4 were:
"Cold January" (Romany Saad): To fill the gaping hole left by the front door that her husband sold before leaving them, a mother uses a panel on which a portrait of Mubarak is stuck in the opposite direction. Since the beginning, the director makes us understand on which side of the Arab revolution we are, and the rest of the movie tells it very frontally. To earn a living and to feed her two children, the young mother sells flags to revolutionaries. The comparison between small family and country, both struggling to replace their fathers, retransmits a passionate fervor of a people hungry for change while at the same time the individuals are filmed as the voice of the director. The final questions, asked in voice-over by children, reflect expectations of the people, and we sincerely hope they will be heard.
"Antique Camera" (Chung Hae-il): a couple is separating. She picks the stuffs she has left at the studio photo of the young man. Unspoken remarks, avoiding glances, mutual trouble. A camera (memory support, objective witness of what their relationship was) captures the attention of the young woman, and she started to photograph everything and anything. He brings her back to her place with his car, in fact she was the one who wanted the separation, and she is surprised to be the only one to seem to regret it. She develops the roll she photographed earlier in the studio, as to freeze a piece of what already belongs to the past.
"The Drunken Boat" (Kim Ha-na): film about the relationship father/daughter. She finds a picture in a book she borrowed from her friend's father, for whom she becomes infatuated with because he is "everything" that her father is not. When she sees him by accident when he goes to prostitutes, she looses her last ideal and decides to give him all the books he had offered her. Giving up the fantasy of the ideal father, she rediscovers her own and decides to accept him as he is. Touching.
"Snowbound" (Alexis Fortier Gauthier): The film opens with two teenagers kissing, then she has a stomach ache and walks away. After the title of the film, she steals a pregnancy test in the supermarket where her narcissistic and slightly careless mother, though loving. Her mother finds the test by preparing a washing machine: positive. Anxiety of too young pregnant women, the daughter surely doing as her mother. She can not talk to the young father, carefree and casual classmate. She then arranges herself to end violently her pregnancy. The grip of her fate is accompanied by an immediate suffering. Finally coming out of the bathroom, where she has literally flushing out the embryo, the girl suddenly seems much more mature than her mother. But more than the transition to adulthood, this film is about the renunciation of childhood.
Sébou/세부
To learn more:
– CINEMA: BISFF 2012 ;
– http://www.bisff.org (official website).

Les derniers articles par Sébastien Simon
(tout voir)