Dernière mise à jour : juillet 7th, 2016 at 09:55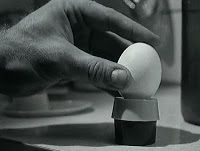 « L'Oeuf » (« Das Ei », 1993), magnifique court-métrage de l'allemand Hans Georg Andres ou comment psychoter en préparant un oeuf. De « Psychose » (« Pyscho », 1960) d'Alfred Hitchcock, tout y est, les plans, la bande son, la mythique musique et pourtant.. Have fun!
En savoir plus :
http://www.imdb.com/title/tt0106795/
« The Egg » (« Das Ei », 1993), here is a wonderful short film by German Hans Georg Andres or how to psycho while cooking an egg. From « Psycho » (1960) by Alfred Hitchcock, everything is there, shots, sound design, the legendary music and still.. Have fun!
To learn more: http://www.imdb.com/title/tt0106795/

Les derniers articles par Jean-Christophe Nurbel
(tout voir)