Dernière mise à jour : avril 5th, 2019 at 01:31
La grande nef du Grand Palais n'est pas qu'un musée. Elle peut accueillir des soirées évènements comme la Superb, organisée par Urban Legend, qui se déroulera le 9 juillet 2016. Demandez le programme !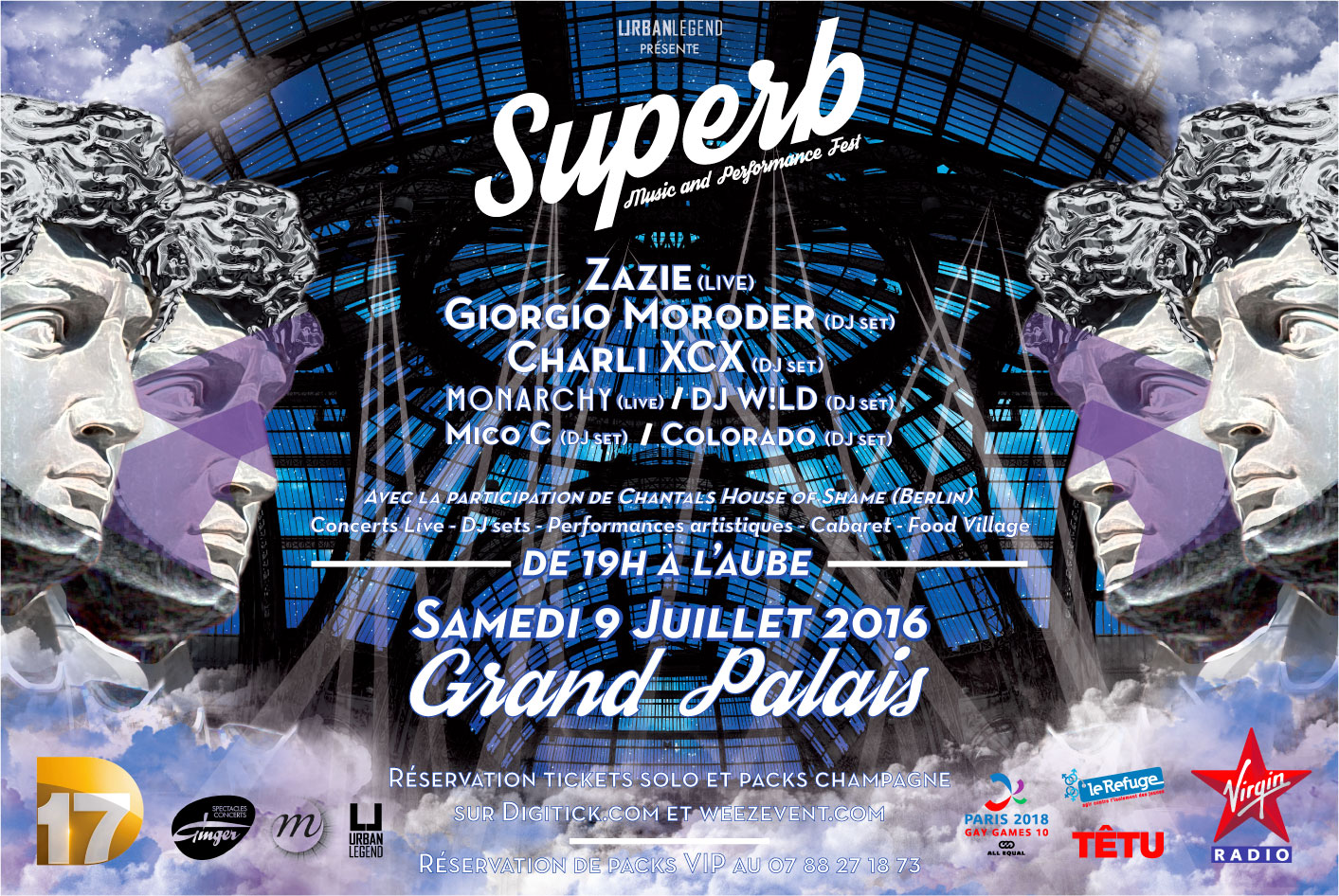 De 19h à l'aube, la Superb va prendre ses droits à l'intérieur du Grand Palais. 
Au programme, on pourra y écouter tous les artistes actuels de la scène électro-pop internationale dans une scénographie à grande ampleur mélangeant effets spéciaux, vidéos et décors ahurissants. Les artistes déjà annoncés sont notamment :  Zazie, Giorgio Moroder, Charli XCX ou encore Monarchy. 
La SuperB sera ponctuée de performances acrobates de la troupe Black Circus et de spectacles de cabaret assurés par l'Artishow et the Chantals House Of Shame.
Bien sûr, il y aura tout au long de la SuperB de quoi se restaurer dans le « food village » et également de quoi se reposer dans la "chill zone", un espace de relaxation.
Ne restez pas cloués à votre fauteuil le 9 juillet et venez en compagnie de Bulles de Culture faire la fête !
PROGRAMMATION DE LA SOIRÉE Superb
19h : Ouverture des portes
20h – 20h30 : Défilé jeunes créateurs
20h30 – 21h30 : Colorado (live)
21h30 – 22h45 : Monarchy (live)
22h45 – 23h : Chantals House Of Shame (Cabaret show from Berlin)
23h – 0h15 : Zazie (live)
0h15 – 1h15 : Mico C (DJ set)
1h15 – 1h30 : Black Circus (circus performance)
1h30 – 2h45 : Giorgio Moroder (DJ set)
2h45 – 3h : Artishow (Cabaret show from Paris)
3h – 4h30 : Charli XCX (DJ set)
4h30 – 4h45 : Chantals House Of Shame & the Parisian gay life guests 4h45 – 6h : DJ W!LD (DJ set)
En savoir plus :
Superb le 9 juillet 2016 au Grand Palais (Paris, France)
Site officiel de Urban Legend 
Tarifs : à partir de 55 euros – Ticket solo ou plusieurs packs champagne et VIP disponibles

Les derniers articles par Antoine Corte
(tout voir)