Dernière mise à jour : septembre 20th, 2015 at 09:11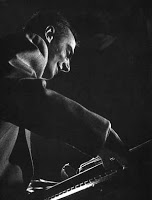 Playlist Lennie Tristano
by Didier
More in English >>
Didier
The great turning point in his career is arrival in New York in 1946. He stepped into the era of bebop and sits next to the great musicians of the era like Bud Powell or Charlie Parker.
He started making records with different formations. He will mostly play bebop but quicklyhe develops a personal style.
Inspired by jazz standards, he built his own compositions and creates a new universe with ryhtmic and harmonic innovations. He also brings his passion for Jean-Sebastien Bach in his music. It is regarded by some as one of pionneer of free jazz.
The best example of his work is on the album entitled "Lennie Tristano" (Atlantic).
His uncompromising attitude earned him many critics. He was accused of lacking technique and of making a cold and abstract music. Those criticism were unjustified because there is considerable sensitivity in his work.
Towards the end of his life, he retired from the jazz scene and devoted himself to education.
There will be almost a Tristano school". Musicians such as Warne Marsh, Lee Konitz, Connie Crothers will greatly influenced by this teaching. Joe Satriani has even briefly studied with him.
He died in 1978 and leaves us a rich work, which I believe is not just for aficionados of jazz. I believe that his music can reach a wider audience.