Dernière mise à jour : mai 19th, 2019 at 10:22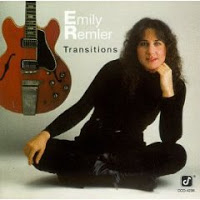 Like rock, jazz has seen a lot of musicians dying young like Charlie Parker or Charlie Christian. But most of them became very famous. That was not the case for Emily Remler who died at 32. She was a truly exceptional guitarist who studied in the Berklee School and then succeeded in making her own place in the very male orientated world of jazz guitar.
Her influence ranged from Pat Martino, Wes Montgomery, Charlie Christian to Jimi Hendrix. She evolved from a bebop style to something more personal with strong latin influences.
Discography: http://www.allthingsemily.com/lifeworks/solo-recordings.
My favourite records are "Transition" and "Take two" but they are all worth listening to.
For the guitar players I recommand her two pedagogics videos from "Hot Licks": "Bebop & Swing Guitar" and "Advanced Latin & Jazz Improvisation". It´s a good occasion to have a good insight on her playing and on jazz in general.
Some fans have made a very complete site about her where you can find biography, pictures, partitions, discography, interviews and a lot more. Everything is on: http://www.allthingsemily.com.
I hope that this post will make her a little less anonymous this great guitarist who had an amazing swing.
Les derniers articles par Didier D.
(tout voir)