Dernière mise à jour : novembre 18th, 2019 at 08:21 am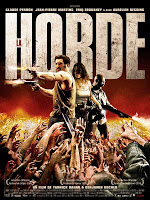 Après avoir fait partager sa passion pour le cinéma fantastique depuis plusieurs années à travers son émission Opération Frisson, Yannick Dahan passe derrière la caméra (accompagné de Benjamin Rocher) pour livrer le premier film de zombies français : "La Horde".
Having shared his passion for horror films for several years through his program Operation Frisson, Yannick Dahan goes behind the camera (with Benjamin Rocher) to deliver the first French zombie movie: "The Horde".
Quatre flics décident d'aller venger la mort impunie d'un des leurs, en attaquant directement les trafiquants de drogue responsables planqués au sommet d'une tour HLM. Mais, au beau milieu du règlement de comptes, une horde de zombies arrive. Pour survivre, flics et truands vont devoir s'allier…
Un cadavre au milieu d'une décharge. Un homme penché dessus serre le poing de rage. Un enterrement. Dès le début, "La Horde" fait l'économie des mots et pose une ambiance nerveuse et tendue juste par la force de ses images et de l'excellente bande originale composée par Christopher Lennertz. Après une rapide exposition où la bande de flics décide de la marche à suivre pour venger leur collègue décédé, nous voilà pour une séquence d'infiltration dans une barre HLM… Caméra portée nerveuse, ambiance glauque, décors délavés… Nous n'avons plus l'impression d'être dans un film français mais dans un épisode de "The Shield".
On l'attendait, on l'espérait, mais on n'y croyait plus. Pour la première fois depuis longtemps (Christophe Gans, Florient Emilio-Siri), des réalisateurs français semblent avoir un vrai sens de l'image et de la mise en scène de films d'actions. Malgré des faiblesses scénaristiques (les liens entre les personnages sont assez succincts, une situation de départ vite expédiée), le film frappe par son identité visuelle forte.
En retravaillant des thèmes déjà largement balayés (les zombies, le survival), Dahan & Rocher arrivent à trouver leur ton propre, un mix improbable entre John Carpenter (l'alliance d'ennemis face à une menace extérieure), Romero (l'arrière-plan social de la banlieue) et "28 jours plus tard" (l'agressivité des zombies), le tout saupoudré de quelques touches d'humour étonnantes mais bienvenues (certains combats avec les zombies; le personnage de René, vétéran de la guerre d'Indochine, à la gouaille Audardienne, magistralement interprété par Yves Pignot).
Certes, on pourra reprocher au film quelques défauts (une mise en place bancal, certains personnages sous-exploités comme Audrey). Mais, malgré cela, "La Horde" transpire un amour du genre certain, et une véritable énergie. Il ne reste qu'à souhaiter un franc succès au film pour que d'autres productions de ce calibre lui emboîtent le pas.
Dave
"La Horde" (2009)
Réalisation : Yannick Dahan & Benjamin Rocher
Scénario : Yannick Dahan, Benjamin Rocher, Arnaud Bordas & Stéphane Moïssakis
Image : Julien Meurice
Montage : Dimitri Amar
Casting : Jean-Pierre Martins, Eriq Ebouaney, Claude Perron, Aurélien Recoing, Jo Prestia, Doudou Masta, Antoine Oppenheim, Yves Pignot
Site officiel : http://www.lahorde-lefilm.com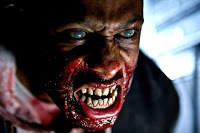 Four cops decide to avenge the unpunished death of one of them, directly attacking the responsible drug dealers. But in the middle of reckoning, a horde of zombies comes. To survive, cops and crooks are going to have an alliance…
A corpse in the middle of a landfill. A man bent over clutching the hand of rage. A funeral. From the start, "The Horde" choose the economy of words and puts a nervous and tense atmosphere just by the strength of its images and the excellent soundtrack composed by Christopher Lennertz. After a quick scene where the band of cops decide the way forward to avenge their fallen comrade, starts a sequence of infiltration into a building… Nervous camera, murky atmosphere… We no longer feel in front of a French film but in an episode of "The Shield".
We waited, hoped, but we no longer believed. For the first time in years (Christophe Gans, Florient-Emilio Siri), French directors seem to have a true sense of the image and the staging of action movies. Despite weaknesses in scriptwriting (links between the characters are fairly brief, a starting position quickly dispatched), the film is striking for its strong identity.
In reworking the themes already largely wiped out (zombies, the survival), Dahan & Rock arrive to find their own tone, an unlikely mix between John Carpenter (the alliance of enemies facing an external threat), Romero (rear social roots in the suburbs) and "28 days later" (the aggressiveness of zombies), all sprinkled with surprising but welcomed touches of humor (some battles with the zombies; the character of Rene, a veteran of the war of Indochina, masterfully interpreted by Yves Pignot).
While we may criticize the film a few flaws (a flawed implementation, some underused characters like Audrey). But despite this, "The Horde" sweats a certain kind of love, and true energy. It remains only to wish a great success to the movie so other productions of this caliber could follow.
Dave
"The Horde" ("La Horde", 2009)
Direction: Yannick Dahan & Benjamin Rocher
Script: Yannick Dahan, Benjamin Rocher, Arnaud Bordas & Stéphane Moïssakis
Image: Julien Meurice
Editing: Dimitri Amar
Cast: Jean-Pierre Martins, Eriq Ebouaney, Claude Perron, Aurélien Recoing, Jo Prestia, Doudou Masta, Antoine Oppenheim, Yves Pignot
Official website (in French): http://www.lahorde-lefilm.com
Les derniers articles par David Paté
(tout voir)