Dernière mise à jour : avril 5th, 2019 at 01:36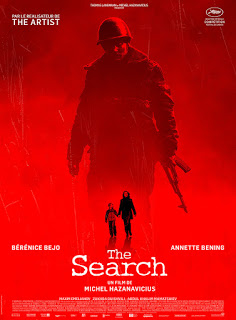 Vu, en compétition Cannes, le nouveau film de la fierté cinématographique française :
The Search
de
Michel Hazanavicius
. Pour ce film, le réalisateur transpose l'histoire de la Seconde Guerre Mondiale du film américain
Les Anges marqués
(1948) de
Fred Zinnemann
en pleine guerre de Tchétchénie en 1999.
Seen, in competition at Cannes Film Festival, the new film of the French filmmaker pride, The Search by Michel Hazanavicius. For this film, the director adapts the story of World War II of the American movie The Search (1948) by Fred Zinnemann in the war in Chechnya in 1999.
More in English >> (Translation in progress, come bubble later)
Synopsis :
Celle de Carole (
Bérénice Béjo
) est envoyée par la commission des Droits de l'homme, pour faire un rapport sur le conflit aux instances européennes. Elle recueille un jeune orphelin pour lequel elle se prend d'affection. De son côté, Kolia (
Maxim Emelianov
) est un jeune russe embrigadé de force dans l'armée nationale. Il va découvrir la rudesse de cette nouvelle vie, faite d'humiliations et de lavages de cerveaux.
Véritable pamphlet contre la Russie, le film trouve une utilité dans un contexte ukrainien révoltant. L'histoire étant un éternel recommencement, on fait une comparaison immédiatement entre les faits de 1999 et ceux d'aujourd'hui. Le réalisateur dénonce avec force une prise de pouvoir abusive du gouvernement Poutine sur la Tchétchénie. Pour autant, on ne tombe pas dans le film de guerre classique. Il y a peu d'épanchements sanglants et pas de grandes batailles conquérantes. Le film se construit davantage autour des personnages, à la manière de la série Band of brothers.
Pour autant, il n'est pas une réussite artistique. Le montage est, comme beaucoup de films cannois, trop long et en manque de rythme. Des nombreuses coupures sont nécessaires, notamment au niveau de la première partie qui s'étend sur des expositions inutiles. Le tout est également trop descriptif, sans réelle prise de position.
Bérénice Béjo n'est pas au meilleur de sa forme. Elle est étriquée dans un rôle qui ne lui convient pas. Plusieurs imperfections empêchent le spectateur de s'attacher à son personnage. En parlant anglais à l'orphelin recueilli, elle prend une distance gênante avec lui. De la même manière, la relation avec sa propre famille est indécente lorsque l'on connaît le destin tragique de celle de l'enfant. Maxim Emelianov se débrouille beaucoup mieux. Il est à la fois construit et sauvage.
Sans surprise, les sifflets de la presse russe avaient retenti à la fin de la projection cannoise. Il ne faudra pas se laisser embarquer dans une fausse polémique autour d'un film, certes pamphlétique, mais tout de même au traitement très classique.
Antoine Corte
En savoir plus :
– la bulle cannoise d'Antoine Corte sur le film : #CANNES2014, #BullesIN/#BullesOFF #06 – Une carte du monde/A maps to the world
– http://www.warnerbros.fr/the-search-19673.html (site officiel du distributeur)

Les derniers articles par Antoine Corte
(tout voir)