Dernière mise à jour : avril 5th, 2019 at 01:36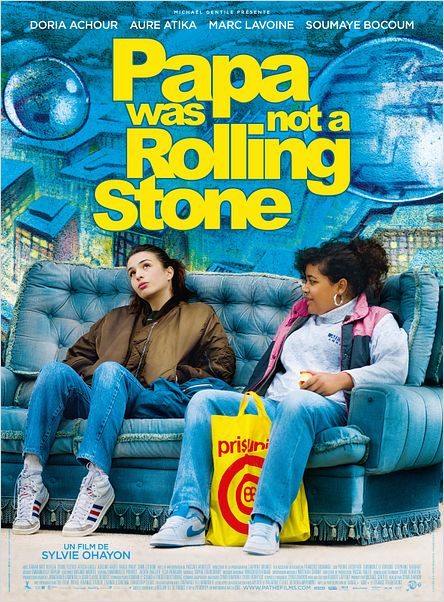 La thématique de la banlieue est récurrente dans le cinéma français. Ce lieu peut être anxiogène et défavorisé, comme dans Tête de Turc de Pascal Elbé. Dans le registre de la comédie, il est un vivier de personnes drôles et cocasses avec notamment Tout ce qui brille de Géraldine Nakache ou De l'autre côté du periph de David Charhon. Dans l'ensemble, peu de films arrivent à décrypter cette banlieue avec sincérité, sans tomber dans la caricature. Originaire de la Courneuve, Sylvie Ohayon adapte sa propre histoire dans Papa was not a rolling stone.
The theme of the suburbs is recurrent in French cinema. This place can be anxiety-provoking and disadvantaged, as in Turk's Head by Pascal Elbé. In comedy, it is a source for strange and funny people including All That Glitters by Geraldine Nakache or On the Other Side of the Tracks by David Charhon. Overall, few films manage to describe this suburb with sincerity, without falling into caricature. Born in La Courneuve, Sylvie Ohayon adapts her own story in Papa was not a rolling stone.
Dans les années 80, Stéphanie (Doria Achour) habite à la Courneuve aux cotés d'une mère distante (Aure Atika) et d'un beau-père violent. Très brillante à l'école, elle se passionne pour la publicité et souhaite sortir de ce ghetto pour aller faire des études dans les plus grandes facultés parisiennes. Pour ce faire, elle peut compter sur le soutien infaillible de sa grand-mère mais également de sa meilleure amie, Fatima (Soumaye Bocoum). Derrière ses ambitions se cache cependant les stigmates de la banlieue : trafic de drogues, inaccessibilité des études pour les personnes défavorisées, …
© Guy Ferrandis
Ce premier film de la réalisatrice Sylvie Ohayon a été fait avec le cœur. Aussi, il comporte évidemment de nombreux défauts et maladresses. En exemple, on trouve évidemment la relation beaucoup trop appuyée de la protagoniste avec son idole, Jean-Jacques Goldman. Sans intérêt pour l'histoire, c'est un peu kitsch de faire écouter aux spectateurs pas moins de trois chansons de JJ sur toute la durée du film, surtout quand l'œuvre porte le nom « Rolling Stones »…
Pour autant, Sylvie Ohayon joue sans cesse avec les codes de la comédie dramatique pour faire rire autant que pleureur. Le film est en cela un ascenseur émotionnel. On est plié en deux lorsque la mère de Fatima décide de tuer avec un marteau une chèvre, soit une méthode pas très hallal. A l'inverse, on est gorgé de sanglots lorsque la mère de Stéphanie, interprétée par la lumineuse et luxuriante Aure Atika, offre enfin son aide à sa fille.
Tari par cette histoire bouleversante, on n'oublie pas que Sylvie Ohayon est aussi révélatrice de jeunes talents : Doria Achour, Soumaye Bocoum, Jocely Laurent, … autant d'acteurs sensibles aux passés écorchés qui peuvent faire la scène française de demain.
© Guy Ferrandis
Enfin, derrière cette histoire personnelle, il y a forcément la grande histoire. Si la pudeur de la réalisatrice se refuse à vouloir faire de son film un pamphlet contre le milieu scolaire actuel, elle ne s'empêche toutefois pas de mettre l'accent sur une réalité qui perdure aujourd'hui : celle de la difficulté pour des étudiants brillants de sortir de la banlieue pour accéder à de bonnes formations. En cela, la scène où Stéphanie parle de son avenir avec sa conseillère d'orientation, avec une Pascale Arbillot en nunuche absolue, apparaît complètement irréaliste pour des personnes n'ayant pas connu les cités. Et pourtant, elle semble être le quotidien de ces élèves prometteurs qui, avec 16 de moyenne au bac, se voient proposer des études pour devenir jardinier de la pelouse du coin.
Derrière les imperfections techniques du film, il y a donc tout un beau message cinématographique. Il est malin, perspicace et fort.
Antoine Corte
Facebook officiel du film : https://www.facebook.com/PapaWasNot?fref=ts
© Guy Ferrandis
In the 80s, Stephanie (Doria Achour) lives in La Courneuve alongside a distant mother (Aure Atika) and a violent stepfather. Very brilliant at school, she is passionate about advertising and wish to get out of the ghetto to go to study in bigger Parisian faculties. To do this, she can count on the unfailing support of her grandmother, but also her best friend, Fatima (Soumaye Bocoum). Behind her ambitions however hides the scars of the suburbs: drug trafficking, inaccessibility of education for disadvantaged people, …
If the modesty of the director refuses to make her film as a pamphlet against the current school system, she does not prevent herself to focus on a reality that continues today: the difficulty for bright students to get out of the suburbs and to access good training. For this, the scene where Stephanie talks about her future with her guidance counselor, with Pascale Arbillot as an absolute simpleton appears completely unreal for people who doesn't known cities. However, it seems to be the lives of these promising students who, with a very cumulative good average at the Baccalaureat, are pushed to become gardener of lawn of the area.
Behind the technical imperfections of the film, there is also a beautiful film message. It is smart, sharp and strong.
Antoine Corte
To learn more: http://en.unifrance.org/movie/37020/papa-was-not-a-rolling-stone

Les derniers articles par Antoine Corte
(tout voir)