Dernière mise à jour : avril 5th, 2019 at 01:34 am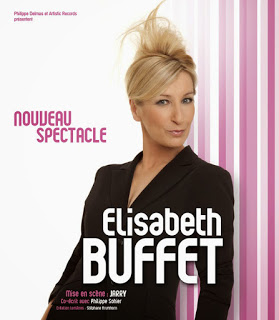 Depuis sa révélation en 2005 au festival
Juste pour rire
,
Elisabeth Buffet
est l'une des humoristes féminines les plus présentes sur la scène française. Profitant de sa fin de quarantaine pour tirer un premier bilan de sa vie, elle avait prolongé son dernier spectacle – intitulé simplement
Nouveau Spectacle
– à l'
Apollo Théâtre
(Paris, France) avant de s'installer maintenant, comme sur un divan, un peu partout en France.
Since her revelation in 2005 at the festival Juste pour rire, Elisabeth Buffet is one of the most present female humorists on French stage. Taking advantage of the end of her forties to conduct a life review, she extended her last show – simply entitled Nouveau Spectacle (aka New Show) – at Apollo Théâtre before now settling, like on a couch, throughout France.
More in English >> (Translation in progress, come bubble later)
Dès les premières minutes, ambiance garantie : la représentation s'ouvre en effet avec du Madonna et comme décor principal une grande barre de pole dance au milieu de la scène. L'artiste arrive complètement déchainée… et bourrée, bien décidée à tout donner avec un lap dance très particulier. Il s'ensuit une avalanche de sketches efficaces, alliant expériences personnelles, tracas existentiels… et besoins sexuels.
© Rebecca Josset
À l'instar de ses consœurs Muriel Robin, Anne Roumanoff ou encore Florence Foresti – dont elle se moque d'ailleurs au cours du spectacle -, Elisabeth Buffet est une femme libérée qui n'a pas peur de vieillir et d'assumer les défauts de son âge. Pour autant, on aurait aimé qu'elle s'aventure dans des thématiques plus diversifiées, se consacrant ici essentiellement à la question de ses rapports intimes avec les hommes… ou les femmes !
On retrouve derrière cette mise en scène caustique et bien ficelée un
Jarry au meilleur de sa forme
, prêt à contorsionner son amie pour faire tordre de rire le spectateur. Le
one woman show est particulièrement dynamique
grâce aux enchainements de sketches énergiques et une musique entrainante.
En somme, avec Elisabeth Buffet, il faut oublier tabou et pudeur pour passer une bonne soirée. Pour les plus sensibles, attention tout de même à la gueule de bois le lendemain…
Antoine Corte
En savoir plus :
– http://elisabeth-buffet.com/nouveau-spectacle/ (site officiel)
– En tournée dans toute la France en 2015

Les derniers articles par Antoine Corte
(tout voir)