Dernière mise à jour : novembre 11th, 2020 at 03:10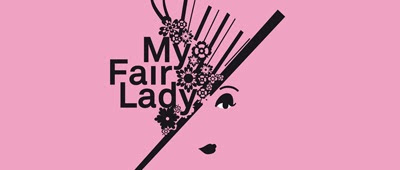 Précipitez-vous pour voir les dernières représentations de l'excellente comédie musicale
My Fair Lady
au Théâtre du Châtelet (05/12/2013-01/01/2014) !
Rush to see the final performances of the excellent musical My Fair Lady at the Théâtre du Châtelet (05/12/2013-01/01/2014)!
Comme toujours, les productions du Théâtre du Châtelet sont d'excellente qualité et cette reprise du chef-d'œuvre de Lerner et Loewe, tiré de la pièce
Pygmalion
de George Bernard Shaw (adaptée au cinéma par George Cukor avec Audrey Hepburn et Rex Harrison), ne déroge pas à la règle. Avec des décors magnifiques, des scènes de danse chorégraphiées avec maestria et d'excellents comédiens, ce
My Fair Lady
, mis en scène par Moss Hart, nous replonge avec délice dans le Londres du début du XXème siècle où un professeur de phonétique, Henry Higgins, fait la connaissance de la marchande de fleurs, Eliza Doolittle, et fait le pari avec son ami et collègue, le colonel Pickering (Nicholas Le Prevost), de transformer cette petite marchande vulgaire en une grande dame raffinée.
Nos coups de cœur de la pièce :
– Le plaisir de la langue anglaise
Si la comédienne-chanteuse principale Katherine Manley qui interprète Eliza Doolittle n'a pas le côté « minaudeur » d'Audrey Hepburn, le plaisir d'entendre tous ces accents anglais (accent du peuple et accent de la cour en tête) reste intact. Mentions spéciales aux comédiens Alex Jennings et Donald Maxwell qui interprètent respectivement et avec brio les personnage de Henry Higgins et de Alfred P. Doolittle (le père d'Eliza).
– Public et comédiens-chanteurs dans un même espace sonore
Il y a aussi cette joie d'entendre les comédiens chanter sans micro, en ces temps de crise et de flemme technologique, et être accompagnés par un véritable orchestre, l'Orchestre Pasdeloup, placé dans la fosse et dirigé par le chef d'orchestre Jayce Ogren.
– Des chorégraphies ébouriffantes
La scène de groupe avant le mariage du père d'Eliza Doolittle (chanson « Get Me To The Church On Time ») est un plaisir visuel et sonore, mis en scène au millimètre près.
– Subtilité de la mise en scène
La metteur en scène Moss Hart dirige ses comédiens et danseurs avec réussite et la fameuse scène de bal de la pièce en est le parfait exemple. Il parvient à multiplier les actions simultanées sans jamais nous perdre.
Bref, il ne vous reste plus que quelques jours pour placer en tête de liste de votre ToDoList cet excellent musical et finir l'année en beauté. Bonnes fêtes à tous !
jici
Site officiel : http://chatelet-theatre.com/2013-2014/my-fair-lady-fr
As always, the productions at Théâtre du Châtelet are excellent and this version of the masterpiece of Lerner and Loewe, from play
Pygmalion
by George Bernard Shaw (adapted in cinema by George Cukor starring Audrey Hepburn and Rex Harrison), is no exception to the rule. With stunning scenery, dance scenes choreographed with skill and great actors, this
My Fair Lady
, directed by Moss Hart, put us with delight back to the London of the early twentieth century, when a professor of phonetics, Henry Higgins, met the flower seller, Eliza Doolittle, and bet with his friend and colleague, Colonel Pickering (Nicholas Le Prevost), that he can transform this vulgar flower seller in a duchess.
Our « coups de cœur » of the musical:
– The pleasure of the English language
If the main actress-singer Katherine Manley who plays Eliza Doolittle has no side « minaudeur » like Audrey Hepburn, the pleasure of hearing all these English accents (accent of the people and accent of upper classe) remains intact. Special mentions to the actors Alex Jennings and Donald Maxwell who interpret respectively and brilliantly character Henry Higgins and Alfred P. Doolittle (Eliza 's father).
– Public and singer-actors in the same acoustic space
There is also a joy to hear the actors sing without a microphone, in these times of crisis and technological laziness, and be accompanied by a full orchestra, the Orchestre Pasdeloup, placed in the pit and headed by the Chief orchestra Jayce Ogren .
– The hair-raising choreography
The group scene before the wedding the father of Eliza Doolittle (song  » Get Me To The Church On Time ») is a visual and acoustic pleasure, staged to the last millimetre.
– A subtle distinction of the staging
The director Moss Hart directs his actors and dancers with success and the famous ballroom scene of the play is the perfect example of that. He managed to multiply simultaneous actions without ever losing us.
In short, you have only a few days to put at the top of your ToDoList this excellent musical and finish the year in style. Happy Holidays to all!
jici
Official website: http://chatelet-theatre.com/2013-2014/my-fair-lady-en

Les derniers articles par Jean-Christophe Nurbel
(tout voir)