Dernière mise à jour : juin 4th, 2020 at 03:34 pm
Suite de notre prise de pouls des séries françaises au Festival Séries Mania. Dans la famille série grand public, après "Le Passager" de France 2 (cf.
TELEVISION: "Le Passager", saison 1 (2014), embarquement immédiat ?
), je demande
Résistance
de TF1. Bonne pioche ?
Following our decision to take the pulse French series at Festival Séries Mania. In large public series family, after "Le Passager" from France 2 (cf. TELEVISION: "Le Passager", season1 (2014), immediate boarding?), I ask for "Résistance" from TF1. Good pick?
Résistance
est une mini-série de 6×52 minutes :
– initiée par Ilan Goldman de Légende (
La môme
,
La rafle
) ;
– écrite par Dan Franck ("Carlos", "Les hommes de l'ombre") ;
– réalisée par David Delrieux (
La prophétie d'Avignon
) et Miguel Courtois Paternina (
Gal
,
Operación E
) ;
– joué par un casting de jeunes acteurs entourés de comédiens plus connus (Richard Berry, Fanny Ardant et Isabelle Nanty).
Synopsis : Paris, 1940. Révoltée par l'injustice de l'Occupation, Lili (Pauline Burlet), 17 ans, rejoint la Résistance pour combattre les Allemands et leurs collaborateurs français.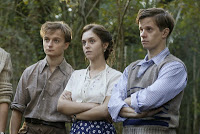 © Claude Medale Gaumont TF1
Évidemment, avec un tel sujet, difficile de ne pas être de ne pas jouer au jeu des comparaisons entre cette série et celle de France 2, Un Village français de Frédéric Krivine, Philippe Triboit et Emmanuel Daucé. Mais si ces derniers abordent la jeunesse dans la Résistance à partir de l'instauration du Service du Travail Obligatoire et de la fuite dans le maquis des jeunes, Dan Franck l'aborde dès le début de l'Occupation, à Paris, au Musée de l'Homme. C'est un projet ambitieux de raconter 4 ans d'Occupation (1940-1944) sur 6 épisodes. Mûri pendant dix ans, la série réussit à nous intéresser à ses péripéties malgré quelques longueurs. Mais ne nous voilons pas la face, il s'agit bien évidemment d'une série grand public de TF1 avec toujours le même cahier des charges de la ménagère de moins de 50 ans :
1/ Tout dialogue ou toute pensée du personnage doit être clairement explicité => ce qui prive le film de sous-entendus qui auraient été en phase avec cette époque où les résistants vivaient dans le secret.
2/ La mise en scène et la photographie doit permettre au spectateur de se situer aisément dans l'espace => alors que cette période trouble aurait pu être si facilement traduite par une perte de cette même notion d'espace ;
3/ Les bons et les méchants doivent être clairement identifiés => on est bien loin de la psychologie de personnages de série comme "Un Village français" où les gentils ne sont pas toujours gentils et les méchants pas totalement méchants.
Malgré ces trois gros défauts, la série a fait l'objet d'un travail de qualité (les acteurs jouent bien et on sent aussi la maîtrise de l'expérimenté scénariste Dan Franck) mais n'est pas toujours à l'abri de temps morts (difficile de s'attacher totalement à ces personnages constitués d'une seule facette). Mais si ces défauts n'ont pas d'importance pour vous, il faut reconnaître qu'on peut passer un agréable moment dans cette immersion dans l'histoire de la Résistance, en compagnie de cette jeunesse qui se sent si invincible.
En résumé : pas mal pour un divertissement grand public mais un peu longuet et des personnages un peu trop idéalisés pour nous.
À suivre.. 🙂
jici
Mise à jour: 20/07/14
En savoir plus :
– Site officiel de la série : http://videos.tf1.fr/resistance
– Site officiel du festival : http://series-mania.fr
– Nos séries coups cœur des éditions précédentes : https://www.bullesdeculture.com/search/label/series%20mania
– Toutes nos séries chroniquées : https://www.bullesdeculture.com/search/label/serie
© Claude Medale Gaumont TF1
Résistance is a French mini-series of 6×52 minutes:
– initiated by Ilan Goldman from Legend Films (La Vie en Rose, The Roundup);
– written by Dan Franck (Carlos, Les hommes de l'ombre);
– By David Delrieux (The Avignon Prophecy) and Miguel Courtois Paternina (Gal, Operación E);
– played by a cast of young actors surrounded by more famous actors (Richard Berry, Fanny Ardant and Isabelle Nanty).
Plot: Paris, 1940. Outraged by the injustice of the occupation, Lili (Pauline Burlet), aged 17, joined the Resistance to fight the Germans and their French collaborators.
This series is testimony to good-quality (the actors play well and we also feel the control of the narration by the experienced writer Dan Franck) but there is some down time (it is difficult to be completely attached to these characters with only one single facet). But if these imperfection do not matter to you, we must recognize that we can have a good time in this immersion in the history of the Resistance, along with this youth who feels so invincible.
In short: not bad for a public entertainment but a bit long and the characters are a little too idealized for us.
To be continued .. 🙂
jici
Update: 14/07/20
To learn more:
– French official website of the series: http://videos.tf1.fr/resistance
– Official website of the festival: http://series-mania.fr
– Our series coups cœur of previous editions: https://www.bullesdeculture.com/search/label/series%20mania
– All the series we wrote about: https://www.bullesdeculture.com/search/label/serie

Les derniers articles par Jean-Christophe Nurbel
(tout voir)