Jorja Smith, Major Lazer, The Cure, Aphex Twin, Johnny Marr (le guitariste de The Smiths), Foals, Royal Blood… aperçu de la programmation du festival Rock en Seine 2019 au Domaine national de Saint-Cloud les 23, 24 et 25 août.
Rock en Seine 2019, une édition événement « unique »
Si l'édition 2018 avait accueilli Justice, Liam Gallagher, Thirty Seconds To Mars, Rock En Seine 2019 fait à nouveau et encore plus place aux grands noms du rock avec comme déjà annoncé la venue exceptionnelle de The Cure à l'occasion des 40 ans du groupe. Une seule date annoncée en France pour ce groupe mythique, celle de Rock en Seine 2019 et au programme un concert du groupe de plus de deux heures. De quoi vibrer à nouveau !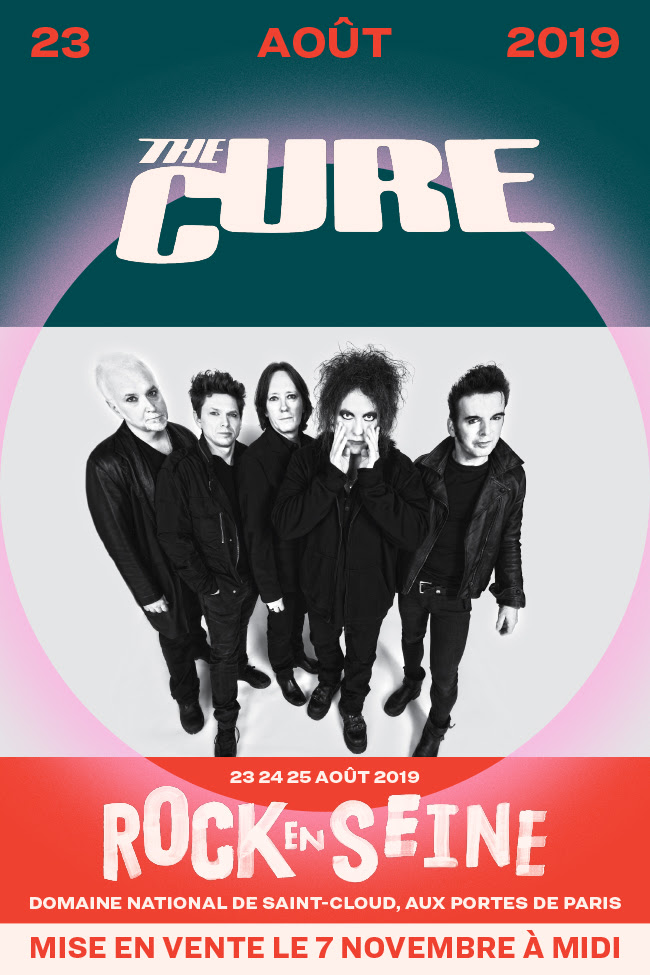 Boys Don't Cry, Close To Me… le mythique groupe de rock britannique The Cure sera en concert le 23 août au festival Rock en Seine 2019. Il fêtera en France son 40e anniversaire. Mise en vente des billets le mercredi 7 novembre 2018 à midi. À propos Articles récents Laetitia DavierRédactrice / Editor chez Bulles …
0 commentaire
Dates uniques de concerts à Rock En Seine
Autre dates de concerts en France uniquement à Rock En Seine 2019, le live de Jorja Smith, la pépite britannique RnB & Soul, et celui de Major Lazer,  le projet electro-dancehall du duo formé par le producteur américain Wes Pentz, alias Diplo, et le britannique Dave Taylor, alias Switch. Autre nouvelle programmation unique, Richard David James, le mythique compositeur électronique de génie britannique connu sous le nom d'Aphex Twin, qui complètent l'affiche de 2019 et dont le dernier concert en France date de 2011.
A leurs côtés, seront de la partie le guitariste de The Smiths, Johnny Marr, le songwriter Eels, le groupe flamand Balthazar ou encore Kompromat (le nouveau projet de Vitalic et Rebeka Warrior).
Le samedi, rendez-vous avec l'électro-pop futée, dynamique et rafraîchissante de Louis Cole Big Band et les deux DJ français Polo & Pan. Jungle et leurs lives fiévreux viendront aussi réchauffer l'ambiance aux cotés d'Alpha Wann, aujourd'hui en solo après s'être d'abord illustré au sein du collectif 1995.
Et dimanche, l'aventure poursuit sa route du rock percutant avec le duo Royal Blood (unique date de festival en France) mais aussi  le rock charismatique de Foals. Au rendez-vous également : Bring Me The Horizon et son savant mélange de metal, hardcore, post-rock et électro ; Deerhunter et son huitième album au menu ; Clairo, la « pop star de l'ère digitale « …
Une édition unique de Rock En Seine attend donc les festivaliers, les 23, 24 et 25 août prochain et cette édition 2019 réserve encore d'autres surprises puisque l'affiche n'est pas encore complète. A suivre donc…
Le programme de Rock en Seine 2019
VENDREDI 23 AOÛT 
THE CURE – BALTHAZAR – EELS – JOHNNY MARR – KOMPROMAT — MERTON – BAGARRE – BICHE – JEANNE ADDED – KING PRINCESS – LEE-ANN CURREN – LET'S EAT GRANDMA – MAX JURY – METEO MIRAGE – SILLY BOY – BLUE – SÜEÜR – WE HATE YOU PLEASE DIE
SAMEDI 24 AOÛT
MAJOR LAZER – JORJA SMITH – ALPHA WANN – JUNGLE – LOUIS COLE BIG BAND — POLO & PAN— 404 BILLY – CATASTROPHE – CELESTE – FILS CARA – GIRL IN RED – LOUIS COLE BIG BAND – MAHALIA – MATHILDA HOMER – PRINCE WALY – TOMMY GENESIS – ZED YUN PAVAROTTI 
DIMANCHE 25 AOÛT
APHEX TWIN – FOALS – ROYAL BLOOD – AGAR AGAR – BRING ME THE HORIZON – CLAIRO — DEERHUNTER – BOY AZOOGA – CANNIBALE – DECIBELLES – LA CHICA – LE VILLEJUIF UNDERGROUND – SAM FENDER – THE MURDER CAPITAL – TWO DOOR CINEMA CLUB – WEVAL 
En savoir plus  :
Festival Rock En Seine 2019 du 23 au 25 août au Domaine national de Saint-Cloud (France)
Pass 3 jours, Pass vendredi, Pass samedi, Pass dimanche, Pass 2 jours et Pass Up déjà en vente sur le site officiel du festival

Les derniers articles par Laetitia Davier
(tout voir)