Dernière mise à jour : juin 25th, 2019 at 02:33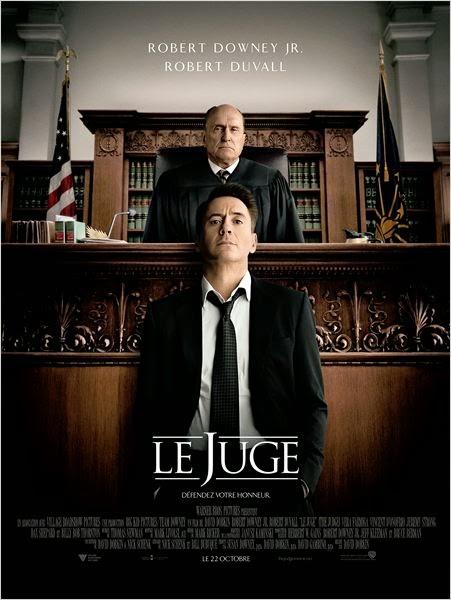 Le réalisateur
David Dobkin,
plus habitué aux comédies (
Serial noceurs, Echange standard
), change complètement de registre pour
Le Juge
. Idem pour
Robert « Iron Man »
Downey Jr.
qui troque son costume de super-héros pour le costard, et se donne pour mission de sauver son père.
The director David Dobkin, who usually does comedy movies (Wedding Carshers, Change-up), is on a complete new field this time with The Judge. And Robert « Iron Man » Downey Jr. exchange is superhero costume for a suit, in order to save his father.
More in English >> (Translation in progress, come bubble later)
Synopsis :
Hank Palmer (
Robert Downey Jr.
) est un avocat talentueux. Lorsque sa mère décède, il retourne chez lui pour l'enterrement. Il y retrouve ses frères Glen (
Vincent D'Onofrio
), Dale (
Jeremy Strong
) et son père, le juge Palmer (
Robert Duvall
), avec qui il entretient des relations compliquées.  Quand ce dernier est accusé de meurtre, Hank décide de rester pour l'aider à se défendre.
Le Juge
a sur le papier tout pour séduire
: une distribution quatre étoiles, une intrigue attirante, et le tout dans un genre de moins en moins courant au cinéma aujourd'hui : le courtroom drama comme disent les américains, ou tout simplement le film de procès chez nous. L'approche que choisit le film est de ne pas vraiment s'attarder sur l'enquête criminelle, et de se concentrer sur les conflits entre un fils et son père. Ce choix en soi n'est pas critiquable. Mais là où le bât blesse c'est que ni l'intrigue policière ni le drame familial ne sont convaincants.
© Warner Bros. 2014
Pour l'aspect enquête, il n'y a pas grand-chose à se mettre sous la dent. Il y a plus d'événements dans la moitié d'un épisode de New York District que dans tout le film : pas de fausses pistes, pas de réel questionnement sur les preuves. Si on s'en tient au talent de Hank Palmer d'ailleurs, il suffit que son père ne témoigne pas pour qu'il y ait un doute, ce qui éloigne de fait le risque de condamnation. La machine judiciaire ne se montre jamais très menaçante, si bien que la carte du suspense n'est pas vraiment jouée. Si vous pensiez voir un film dans la lignée de Présumé innocent (1990) ou encore L'Avocat du diable (1993), mauvaise pioche.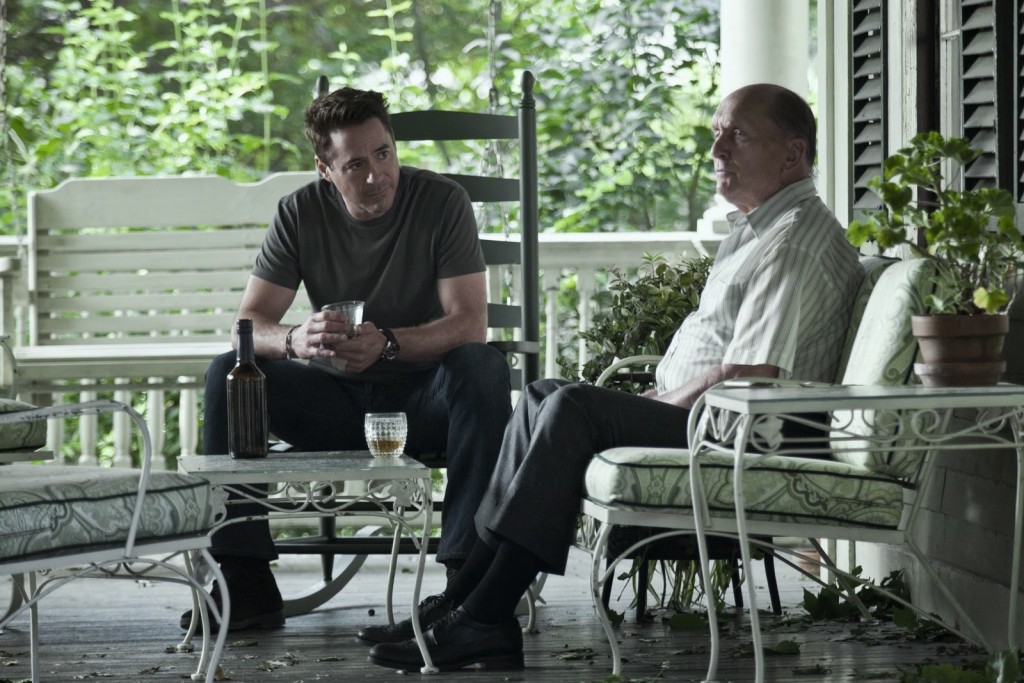 © Warner Bros. 2014
Côté émotion, le film souffre d'un rythme un peu trop sage. Et les origines du conflit entre père et fils arrivent tellement tard, que pendant une trop grande partie de l'histoire, on les voit se quereller sans vraiment comprendre pourquoi ils se supportent si mal. Malheureusement, ce n'est ni la surabondance de gros plans, ni l'utilisation de chansons un peu tire-larmes qui vont remédier à cette absence d'affect pour leur relation.
Dolores Claiborne (1995) avait un postulat très proche : une jeune avocate (Jennifer Jason Leigh) revient dans sa ville natale pour défendre sa mère (Cathy Bates) avec qui elle ne s'entend pas et qui est accusée du meurtre de sa patronne. Mais là, l'intrigue policière et les problèmes relationnels sont plus complexes. Le film ne tente pas de mélanger deux histoires distinctes, mais les mixe pour qu'elles se nourrissent mutuellement. À presque 20 ans d'intervalle, ces deux films traitent un sujet très proche mais avec une sensibilité et une fluidité moins abouties pour le plus récent.
La distribution est intéressante, avec des seconds rôles de grand classe, interprétés par Vera Farmiga (The Conjuring, la série Bates Motel) ou encore le trop rare Billy Bob Thorton (Un plan simple, Fargo). Le Juge est un drame honnête.  Mais son manque d'ambition déçoit ainsi que sa lenteur (2h20). Bref, à moins d'être un inconditionnel de Robert Downey Jr., vous risquez de regarder votre montre de temps en temps.
Dans les films de procès, on ne serait trop conseiller : Peur Primale (1996), La neige tombait sur les cèdres (1999), L'Exorcisme d'Emily Rose (2005), La Faille (2007), …
Maurice
En savoir plus :
– http://www.warnerbros.fr/the-judge-19190.html (site officiel)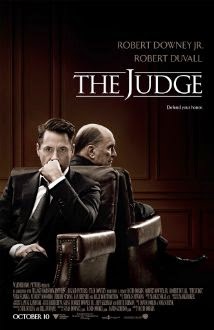 Plot:
Hank Palmer (
Robert Downey Jr.
) is a talented lawyer. When his mother dies, he comes back home for the funeral. He finds there his brothers Glen (
Vincent D'Onofrio
), Dale (
Jeremy Strong
) and his father, Judge Palmer (
Robert Duvall
), with who he has difficult relationship. When his father is accused of murder, Hank decide to stay to help him to defend himself.
The Judge seems to have on the paper everything to be attractive : a nice casting, a good plot, and occurs in a genre which is less and less common in the cinema industry today, the courtoom drama. The film approach is to not focus on the thriller aspect of the story, and prefers to pay more attention to the issues between a father and his son. This choice is not a bad idea, but the problem is that neither the investigations, neither the family drama are actually strong.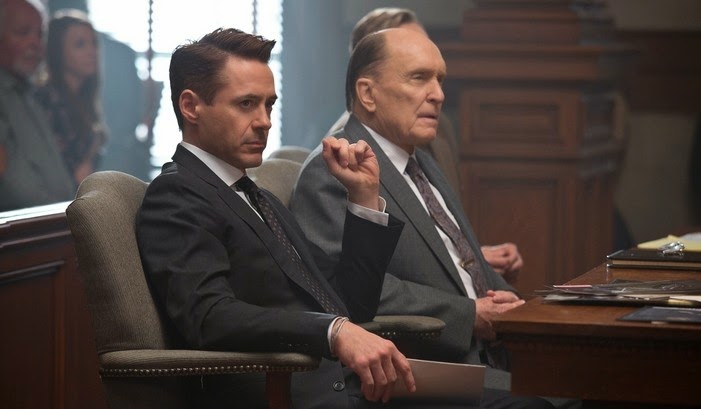 © Warner Bros. 2014
On the criminal aspect, there is not much things that are brought by the film. There is more surprises in the half of an episode of New York District than in the entire movie her : no false lead, no real research on materials evidences. And if you believe the talented Hank Palmer, if his dad does not testify, it will be enough to create a doubt, and by consequence limits the risk of a sentence. The justice system is never showed in a very threatening way. And the result is that suspense is not truly created. If you thought that you were going to watch a movie in the mood of Presumed Innocent (1990) or Guilty as Sin (1993), it's not your lucky day.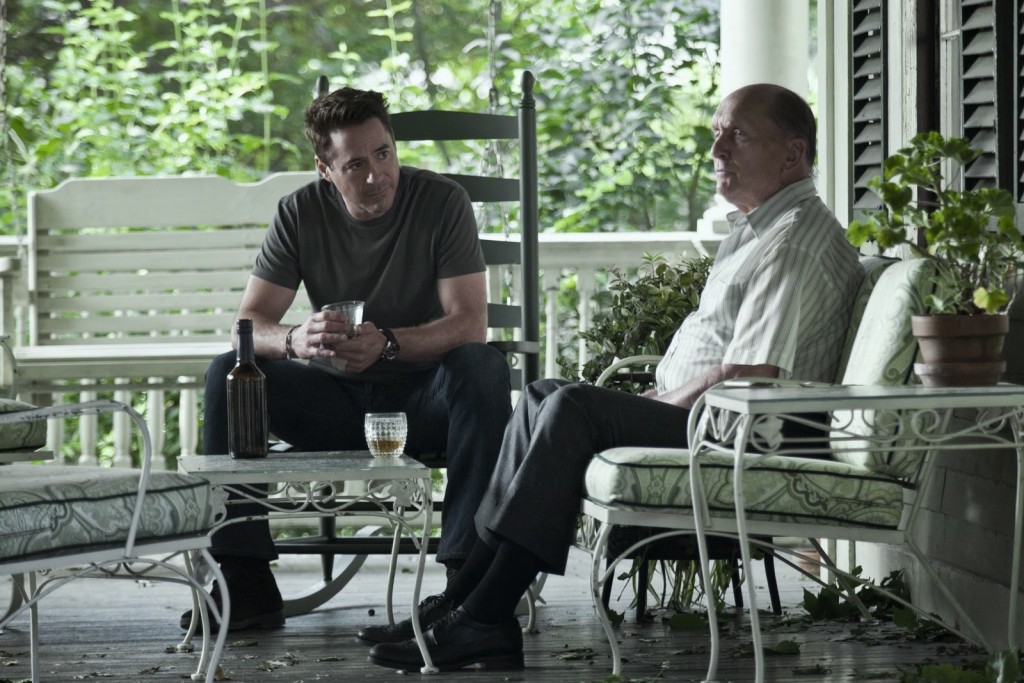 © Warner Bros. 2014
On the emotional aspect, the film has a too gentle rythm. The origins of the complicated relations between the father and the son, are given so late, that during a too long part of the story you don't understand why they almost hate each other. The high number of close-ups or the use of sad soundtrack, can't fill up the lack of empathy for their relation.
Dolores Claiborne (1995) had a pretty same plot: a young lawyer (Jennifer Jason Leigh) comes back home to defend her mother (Cathy Bates) who is accused of killing her boss. But there, the criminal aspect and the emotional issues are deeper. The film does not try to mix up two different stories, but tells them in a way that they fuel each one. With almost a twenty years interval, these two movies deal with the same theme but with a sensitivity and a story telling less effective for the most recent.
The casting is quite sexy, with for example minors roles played by Vera Farmiga ((The Conjuring, the TV show Bates Motel) or the too rare Billy Bob Thorton (A simple plan, Fargo). The Judge is a correct drama but disappointing by its lack of ambition and its slowness (2h20). At the end, if you are not a fanatic of Robert Downey Jr., you might look at your watch several times.
Maurice
To learn more:
– http://thejudgemovie.com/ (official website)
Les derniers articles par Morris Rabemananjara
(tout voir)