Dernière mise à jour : avril 9th, 2021 at 01:27 pm
Par/by Lauriane
Rédactrice/Editor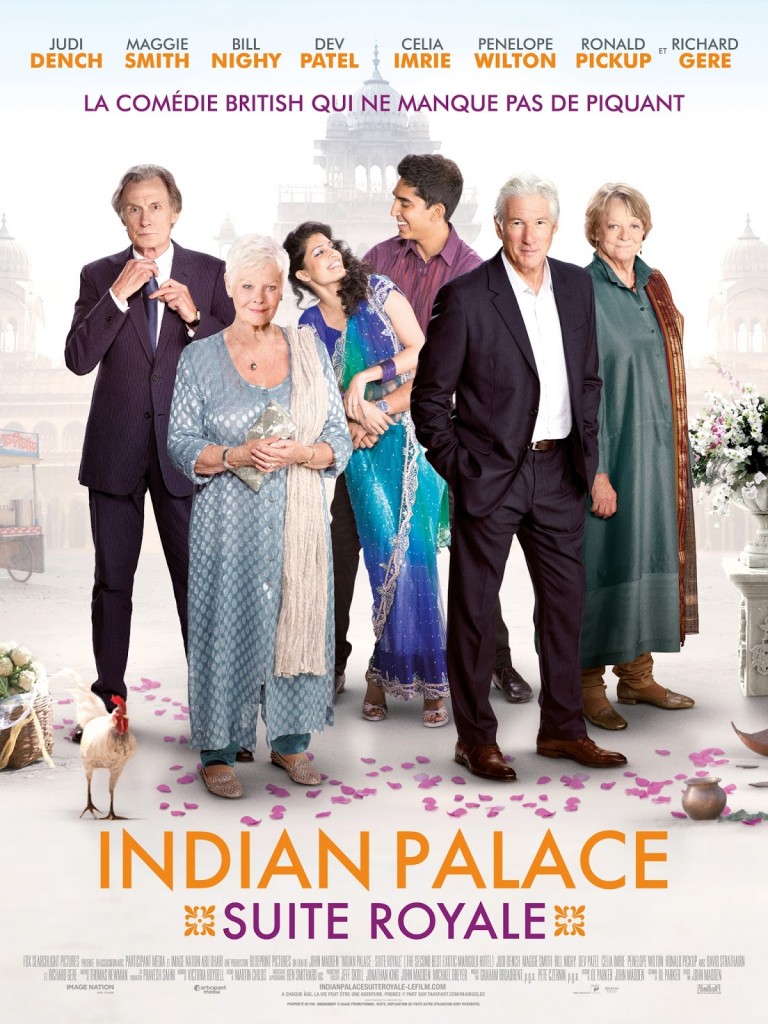 Trois ans après le premier volet, la joyeuse bande de retraités anglais revient sur les écrans dans
Indian Palace
– Suite Royale
, toujours avec
John Madden
aux commandes. Une comédie légère et plaisante servie par un casting de premier choix.
Three years after the first part, the cheerful group of English retired persons comes back in The Second Best Exotic Marigold Hotel with John Madden still in control. A light and fun comedy supported by a first-class cast.
More in English >> (Translation in progress, come bubble later)
Synopsis : Indian Palace : Suite Royale
raconte les rêves d'expansion de Sonny (
Dev Patel
) qui pense ouvrir un second Best Exotic Marigold Hotel après le succès du premier. Conquis par la beauté et le rythme de l'Inde, ses plus fidèles clients, Evelyn (
Judi Dench
) et Douglas (
Bill Nighy
), Norman (
Ronald Pickup
) et Carol (
Diana Hardcastle
), Madge (
Celia Imrie
) et Muriel (
Maggie Smith
) ont décidé de délaisser leur Angleterre natale et de s'y installer pour de bon, quitte à commencer une nouvelle vie. Mais l'extravagante organisation du mariage de Sonny et de Sunaina (
Tina Desae
), l'arrivée de nouveaux clients Guy, (
Richard Gere
) et Lavinia (
Tamsin Greig
), et surtout les jeux de l'amour et du hasard vont perturber ce fragile équilibre.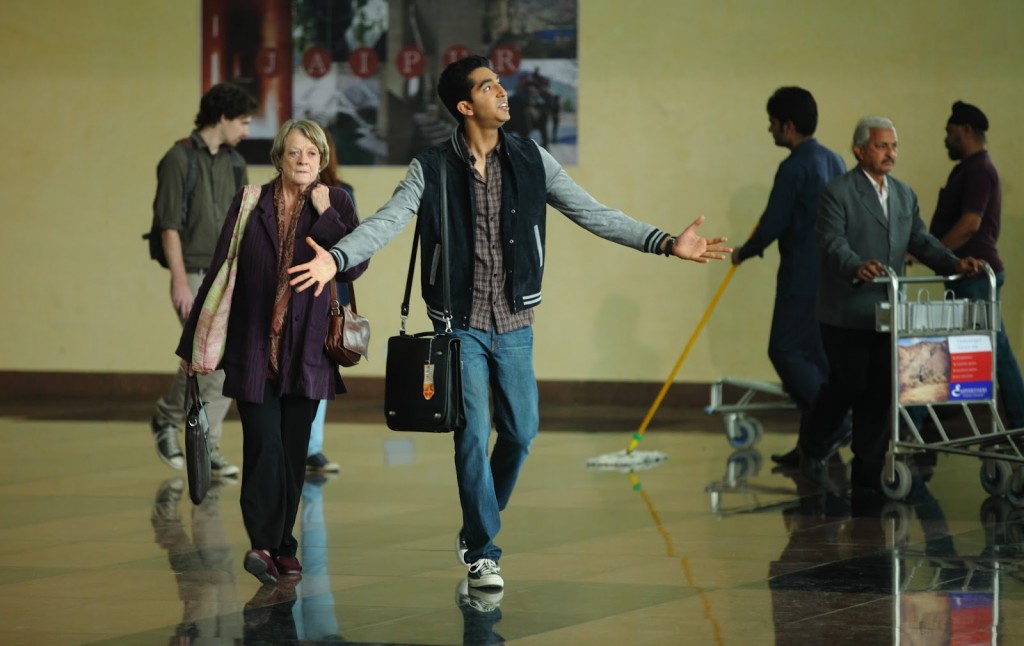 © Twentieth Century Fox 2015
Contre toute attente, c'est sur la mythique Route 66 aux États-Unis que s'ouvre ce second opus d'Indian Palace. C'est avec plaisir que nous retrouvons l'inénarrable Maggie Smith (Harry Potter, Downton Abbey) dans le rôle de Muriel, jamais à court de répliques acerbes mais hilarantes, accompagnée de l'enthousiaste et infatigable Sonny (Dev Patel, inoubliable Jamal dans Slumdog Millionaire). Ensemble, puisque désormais associés, ils tentent de convaincre des investisseurs afin d'ouvrir un deuxième hôtel. Peu convaincus, les hommes d'affaires promettent d'envoyer très vite un inspecteur incognito à Jaipur.
C'est l'un des principaux ressorts scénaristiques de cette suite, et c'est également l'occasion d'introduire un nouveau personnage qui se fait très vite remarquer : Guy Chambers (Richard Gere), dont l'arrivée à l'hôtel n'est pas sans attirer l'attention des résidents, notamment celle de Madge (Celia Imrie), qui s'exclame alors : « Mon dieu, ayez pitié de mes ovaires ! » – l'une des nombreuses répliques de ce film qui déclencheront inévitablement un éclat de rire chez le plus aigri des spectateurs -.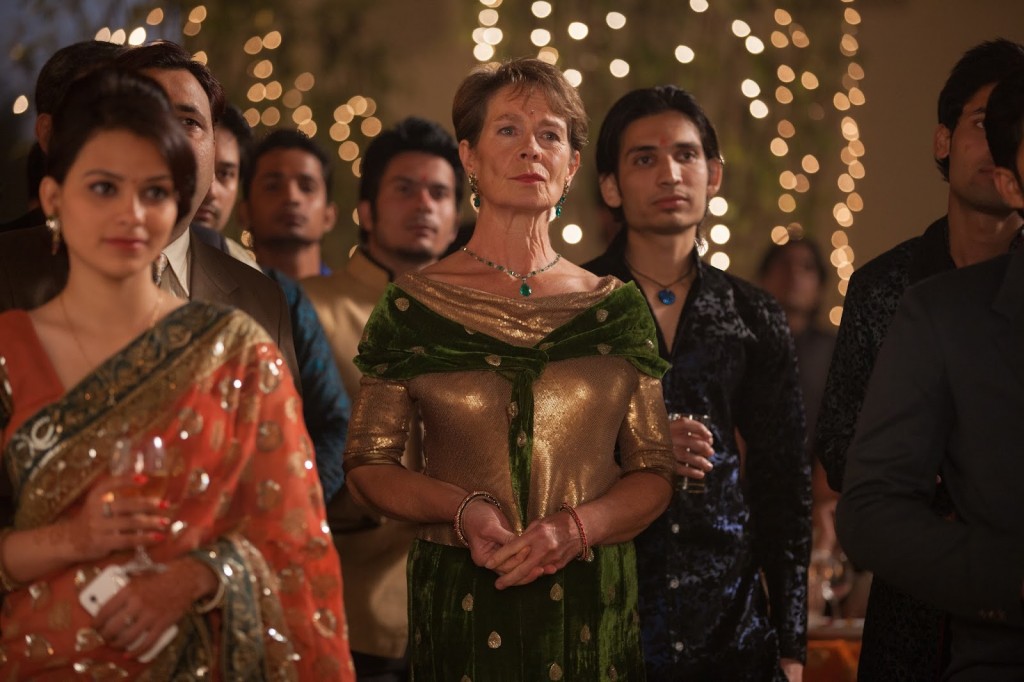 © Twentieth Century Fox 2015
La facétieuse Madge a d'ailleurs visiblement repris du poil de la bête depuis le premier volet, puisqu'elle fréquente deux hommes à la fois, sans pouvoir décider lequel aura sa préférence. Evelyn (Judi Dench, mémorable « M » dans les James Bond) et Douglas (Bill Nighy, récemment vu dans Pride), quant à eux, poursuivent leur charmant flirt, sans toutefois oser faire le premier pas. Sans parler de Norman et de Carol, qui décident de s'engager un peu plus l'un vers l'autre.
Contrairement à ce que pourrait laisser penser ce name dropping, le nombre de protagonistes n'altère aucunement la compréhension de l'histoire, grâce à une mise en scène fluide et légère.
Toute l'intrigue ou presque tourne donc autour des histoires amoureuses de cette sympathique bande de retraités : un parti-pris somme toute singulier, puisqu'il est encore assez rare de voir au cinéma la thématique des seniors – leurs amours, leur sexualité, mais aussi la peur et l'attente de la mort -, traitée de manière aussi légère et agréable, sans condescendance ni pathos.

© Twentieth Century Fox 2015
L'événement que l'on attend tout au long du film est bien sûr un mariage : celui de Sonny avec la sublime Sunaina. C'est l'occasion d'offrir aux spectateurs un pur moment de bonheur bollywoodien avec une jubilatoire danse collective qui clôt la cérémonie. Certains y verront certainement là un exemple typique de la mise en scène d'une Inde de carte postale, mais il est tout de même difficile de ne pas se laisser porter par l'enthousiasme des acteurs.
C'est une Maggie Smith surprenante et touchante qui apporte un point final à cette comédie à l'humour british irrésistible.
Parions qu'en sortant de la salle, même les vingtenaires auront des velléités de vacances indiennes avec cette attachante bande de retraités déjantés… dans un troisième volet ?
Lauriane
En savoir plus:
– http://www.foxfrance.com/indian-palace-suite-royale (site officiel du distributeur)
– date de sortie France : 01/04/2015
amzn_assoc_ad_type = "responsive_search_widget";
amzn_assoc_tracking_id = "bulldecult-21";
amzn_assoc_link_id = "N6K6KHOJMAY7AA3D";
amzn_assoc_marketplace = "amazon";
amzn_assoc_region = "FR";
amzn_assoc_placement = "";
amzn_assoc_search_type = "search_widget";
amzn_assoc_width = "auto";
amzn_assoc_height = "auto";
amzn_assoc_default_search_category = "";
amzn_assoc_default_search_key = "Indian Palace";
amzn_assoc_theme = "light";
amzn_assoc_bg_color = "FFFFFF";

Les derniers articles par Lauriane N.
(tout voir)