Dernière mise à jour : août 17th, 2016 at 05:45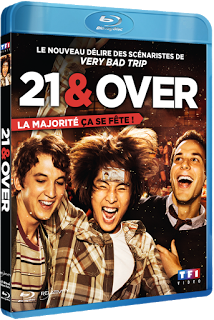 Après le succès surprise de
Very bad trip
en 2009, il n'était guère étonnant de voir l'industrie cinématographique livrer pelletée de pelloches surfant sur la vague du film de Todd Philips en reprenant comme thème la soirée souvent bien arrosée qui va tourner au cauchemar.
A tel point qu'il serait judicieux, au vu des nombreux rejetons engendrés depuis, de trouver un nouveau genre dans lequel tous ces films sentant la vinasse et la sueur pourraient se retrouver comme des coqs en pâte. Retour sur l'un d'entre eux :
21 & Over (2013) de Jon Lucas et Scott Moore
.
After Hangover's unexpected success in 2009, it was not surprising to see the cinematographic industry deliver tons of movies riding the wave of Todd Philips's movie by using the well-known theme of the party turning into a nightmare.
It would actually be smart, in view of the numerous films engendered since then, to find a new genre in which all these cheap-wine-and-sweat-smelling movies could belong. Back to one of them: : 21 & Over (2013) de Jon Lucas and Scott Moore.
Soyons d'emblée honnêtes, le film « de binouze » (appelons-le comme ça) n'a pas pour vocation à déballer de grands discours métaphilosophiques sur la condition humaine au 21ème siècle ou de tisser une habile radiographie sociologique sur les liens intercommunautaires qui se créent ou se délitent lors de ces soirées de beuverie.
Non, il permet surtout au spectateur de poser son cerveau sur le siège du voisin et de se laisser emporter par la folie du réalisateur et des scénaristes capables d'inventer moult situations improbables et loufoques comme nous l'ont prouvé
Projet X
,
Supergrave
, la saga
Very Bad Trip
, la version féminine
Blackout tot
a
l
et plus près de chez nous avec l'excellent
Baby-sitting
.
21 & over ne déroge pas à la règle, empruntant allégrement de-ci, de-là des éléments sur tous les exemples précités, pour accoucher l'histoire d'un trio d'amis (Supergrave) organisant une soirée de biture pour l'un d'entre eux (Projet X) qui fête ses 21 ans, âge où aux États-Unis tu peux enfin acheter de l'alcool…alors que tu peux déjà conduire une bagnole depuis tes 16 ans !! Mais bon passons.
Le tout mis en boîte, pour leur première réalisation, par les deux scénaristes de Very Bad Trip, Jon Lucas et Scott Moore, n'en jetez plus vous avez le tiercé gagnant mesdames et messieurs !!
Évidemment la soirée va rapidement tourner au fiasco lorsque le principal intéressé (Justin Chon) va tomber dans une léthargie éthylique, due aux hectolitres d'alcool ingurgités, à la veille d'un rendez-vous capital pour sa carrière. Une course contre la montre s'engage alors pour les deux comparses tenant encore debout (Miles Teller et Skylar Astin) pour retrouver l'adresse de leur camarade, le ramener à bon port afin d'éviter le courroux de son père, le redoutable Dr Chang.
S'il est de coutume de ne pas trop tirer à boulets rouges sur les défauts des premiers films, comme il est de bon aloi de trouver tous les bébés beaux à leur naissance malgré leur tête d'extraterrestre, on se rend compte très vite que la réalisation ne sera pas forcément le point fort de Lucas et Moore.
Les bougres, ne faisant guère preuve d'originalité, se contentent de reprendre certains poncifs des films qu'ils ont dû visionner, comme les passages clippés sur fond de hip-hop, montages saccadés sur fond de hip-hop et scènes au ralenti sur du hip-hop toujours.
Là où la vraie personnalité des deux bougres se fait ressentir, est lorsque les scénaristes qui sont en eux laissent parler leur imagination. Et le moins que l'on puisse dire est qu'ils n'en manquent pas pour inventer toutes les péripéties qui émaillent le récit afin de faire passer une soirée d'anthologie à leurs personnages (et au spectateur accessoirement) tout en maintenant ce sentiment d'urgence donnant tout son sel au récit.
Tout y passe, du chef des pompoms hystérique voulant les matraquer à coups de batte, à la fraternité tenue par latinos sadomasochistes, en passant par un bison (oui oui un bison) et même si toutes ces idées arrivent bien souvent comme un cheveu sur la soupe, elles parviennent néanmoins à être toutes assez barrées pour que l'on se sente en implication avec ce trio d'acteur, à l'alchimie parfaite, dans leur folle aventure.
On s'attache à ces personnages, entre le looser décomplexé, le coincé très propre sur lui et le fils à papa qui va découvrir la transgression aux cotés de ses potes, le film se permet même une introspection de ses protagonistes qui semblent chacun à leur façon perdus dans un monde qui ne leur laisse aucun libre-arbitre.
Cette soirée est aussi pour eux le moyen de sortir des dictats et des conventions imposés par la société.
Ça excitera la fibre de quelques intellos du fond de la classe.
Bien sûr 21 & over ne fait pas dans l'humour raffiné à la Audiard, et la bonne majorité des gags dépassent rarement le dessus de la ceinture, mais demande-t-on à un film d'être plus intelligent que sa profession de foi ne le prétendait, là ou tant de films festivaliers passent leur temps à péter plus haut que leur derrière auto-satisfait ?
21 & over déballe ses 1h30 de conneries, dans le bon sens du terme, sans qu'on ne s'ennuie une seconde et on rit sans se forcer, au fond que demander de plus ?
Certes cela n'en fera pas un nouveau fleuron de la comédie américaine qui commence à atteindre une certaine fin de cycle, mais peut se voir comme un agréable plaisir coupable à proposer lors d'une soirée arrosée entre potes, et si le message passe, pourquoi pas les dissuader de se prendre une murge la veille d'un entretien.
C'est déjà ça, et l'on ne s'en privera pas.
TomR
Note : Sortie du film en DVD, Blu-Ray & VOD le 2 juillet 2014 en France.
En savoir plus: http://www.allocine.fr/film/fichefilm_gen_cfilm=194474.html
Let us be honnest, the « drunk movie » (let us call it that) doesn't intend to unpack big métaphilosophic speeches on Human condition in the 21th century or to draw a skillful sociological radiography of the intercommunity links which build or split during these evenings of binge drinking.
No, it mostly allows the spectator to put his brain on the neighbor's seat and to get carried by the madness of the directors and the scriptwriters, capable of inventing such absurd situations as proved
Project X
,
Superbad
, the
Hangover
saga,
Walk of shame
(the feminine version) and the excellent
Baby-sitting
, from France
, 21 and over
doesn't break the rules, it cheerfully borrows here and there elements in all the foresaid examples, to deliver the story of a trio of friends (
Supergrave
) organizing an evening of binge drinking for one of them (
Project X
) who celebrates his 21st birthday, age at which, in the United States, you can finally buy some alcohol… while you can already drive a car when you're 16!! But well, te us move on.
The whole was directed, for their first movie, by the two scriptwriters of Hangover, Jon Lucas and Scott Moore; stop everything you have won the lottery, Ladies and Gentlemen!!
Of course the party is quickly to turn into a fiasco when the main character (Justin Chon) falls into an ethylic lethargy, due to the hectoliters of alcohol gulped down, on the eve of an appointment that is crucial for his future career.
A race against the clock starts for the two still standing characters (Miles Teller and Skylar Astin) to find the address of their companion, bring him home, to avoid the wrath of the latter's father, the dreaded Dr Chang.
If it is of custom not to lay too much into the defects of first movies, the same way it is worthy to find all babies beautiful when they are freshly born in spite of their extraterrestrial head, we realize very fast that directing will not necessarily be Lucas and Moore's key point.
The guys, hardly showing an originality, content themselves with summarizing certain clichés of the movies they have seen, as the clipped bits on hip-hop background, a very cut editing hip-hop background and slow motion scenes on hip-hop again.
Where the real personality of both guys is felt, is when the scriptwriters who are in them let their imagination speak. And the least we can say is that they are not lacking it to invent all the events which enamel the narrative and gives the characters (and the spectators) an evening to remember, while maintaining this emergency feeling giving all its salt to the story.
Everything is in here, from the hysteric cheerleader of the soccer team willing to club them with a bat, to the sisterhood held by South American sadomasochists, including a buffalo (yes, yes, a buffalo); and even if all these ideas turn up very often at the awkward moment, they succeed nevertheless in being crazy enough to make us a part of the perfectly balanced trio of actors, in their crazy adventure.
We get attached to these characters, between the uninhibited stuck up looser and daddy's boy who is going to discover breaking the rules with his buddies, the movie even allows itself an introspection of its protagonists who each seem in their own way lost in a world which leaves them no free will.
This evening is also a way for them to take dictats and conventions down, imposed by society.
That will excite the fiber of some intellectuals of the bottom of the class.
Of course 21 and over doesn't look like Audiard's humor, and the great majority of jokes rarely go over the belt, but do we ask for a movie to be more intelligent than its declaration of principles, where so many film-festival-goers are so vainly self-satisfied?
21 and over shows one hour and a half of nonsense, in a good way, without us being bored one second and we laugh without forcing ourselves, in the end, what should we ask more?
Certainly this will not make a new American comedy jewel of it, this genre is getting to a certain end of cycle, but it can be a guilty pleasure to watch it with some friends, and if the message passes, it could help preventing them from getting hammered on the day before an interview.
It is something at least, so why deprive ourselves from that pleasure?
TomR
To learn more: http://www.imdb.com/title/tt1711425/
Les derniers articles par Thomas G.
(tout voir)