Dernière mise à jour : mars 29th, 2017 at 06:29
Preceded by a flattering achievement to have beaten the demigod Hercules (2014) in the United States, the new film by Luc Besson, Lucy, is more discreetly released in France (a few screening before its release) in spite of the presence of Scarlett Johansson and Morgan Freeman in the cast.

Plot:

Forced to be a « mule » (drug smuggler) by a dangerous Korean drug dealer, Mr Jang (Min-sik Choi), a young student, Lucy (Scarlett Johansson), accidentally absorbs the blue mysterious drug she was carrying. As a result, she sees her intellectual capacities to grow to infinity and quickly acquires unlimited powers. Trying to understand what happens to her, she discovers the work of Professor Norman (Morgan Freeman) about what might happen if humans were able to use more than 10% of their brain capacity.
Lucy :
Luc Besson as producer, writer,
and… director!
We were able to see it in preview in the den of EuropaCorp at the shopping mall Aéroville (France), in a splendid room with 400 seats and the famous Dolby Atmos. In short, perfect conditions to express first French impressions.
As a good producer, Luc Besson has shared his days of shooting between Taiwan (Taipei), a country not far from China but more open, and France (in the studios of his Cité du Cinéma). He has also surrounded himself with a very international cast: Morgan Freeman (Million Dollar Baby, Seven), Scarlett Johansson (Lost in Translation, Match Point), Min-sik Choi (Oldboy, Lady Vengeance), Julian Rhind-Tutt (the series The Hour) and Amr Waked (Syriana).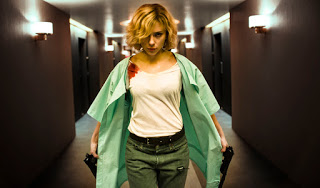 As an efficient writer, Besson has concocted his usual film action but on LSD, he has succeeded to transform a Alain Resnais film, My American Uncle (1980), to an international blockbuster movie: first part of the film where scenes are alternating between Lucy facing Mr Jang and his men scene and Prof. Norman giving a lecture on the underutilization of our brain capacity (only 10% for those who have forgotten).
Finally, as a good director, Besson likes to shoot the body of Scarlett Johansson harassed by violent guys and by the various side effects of the drug on her metabolism. It's too bad that the superpowers of Lucy are not offset by the presence of a super-villain like Marvel one or DC Comics one, which would have brought a more interesting confrontation between the bright and delicate body of Scarlett Johansson and the darker and harder Min-sik Choi's body.
Lucy,
an efficient Besson's film on LSD
but without surprise
Stays the curiosity to see Besson to use plenty of images (nature, dance, cell, etc..) to show the hallucinations and visions increasingly present in Lucy's head. But why do these sequences are almost no logical? And as the film was first conceived for a Dolby 5.1 release before being changed for Atmos to meet the demand of the few theaters equipped with them. Too bad again.
In short, far from interesting thoughts on the subject as in The Lawnmower Man (1992) by Brett Leonard, Lucy is an efficient Besson's film on LSD but without surprise.
To learn more:
French release: 08/06/2014
French film distributor: EuropaCorp Distribution

Les derniers articles par Jean-Christophe Nurbel
(tout voir)